Robyn Rihanna Fenty (born February 20, 1988) is a Barbadian singer, actress, and businesswoman. Rihanna's first two studio albums, Music of the Sun (2005) and A Girl Like Me (2006), both of which were influenced by Caribbean music and peaked within the top ten of the US Billboard 200 chart, helped her quickly gain notoriety after she signed with Def Jam in 2005.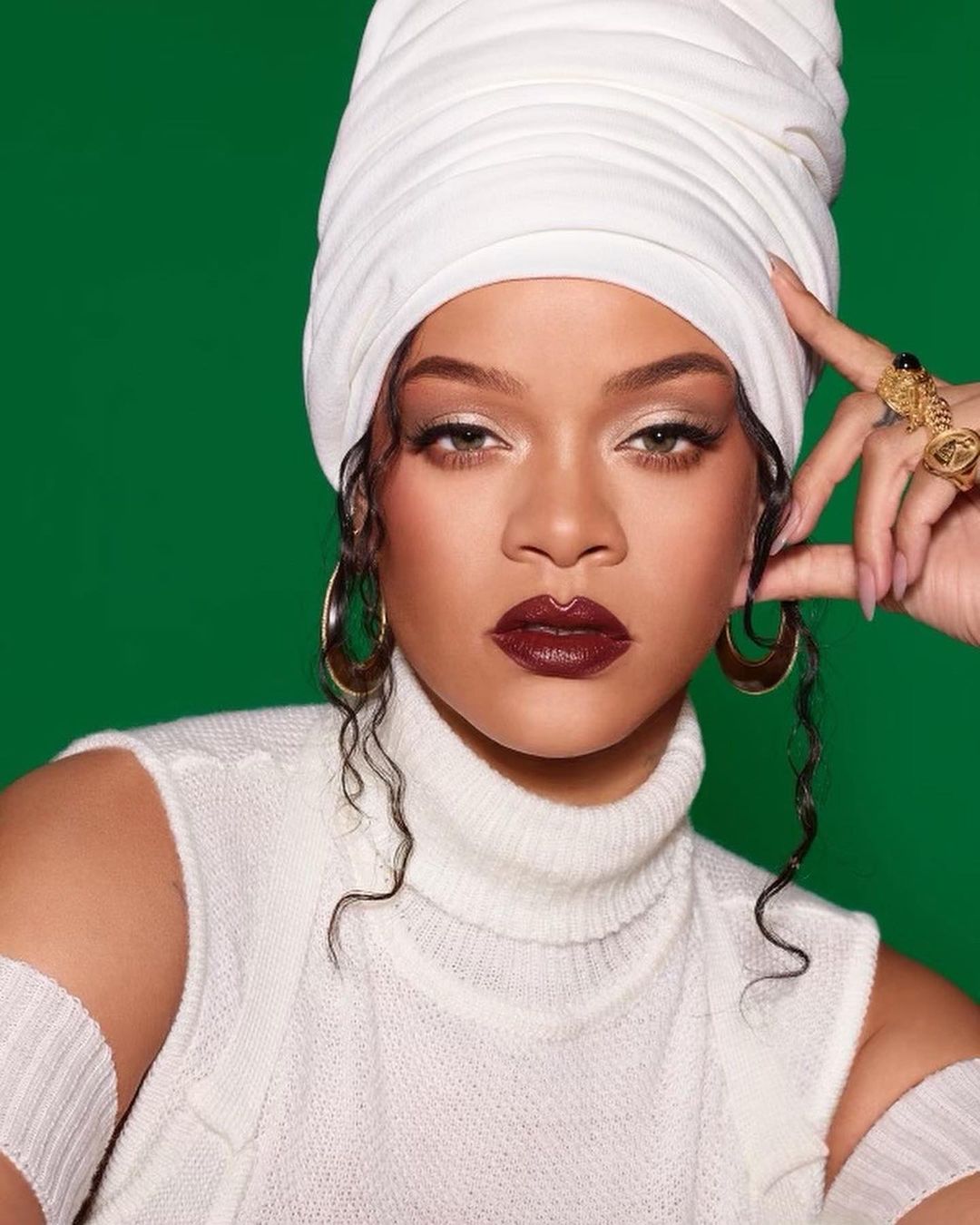 Rihanna Biography
Full Name

Robyn Rihanna Fenty

Date of Birth

February 20, 1988

Place of Birth

Barbados

Occupation

Barbadian singer

Spouse

Hassan Jameel

Net Worth

$1.7 billion

Social Media Handles

Instagram: @badgalriri
Twitter: @rihanna
Early Life
Rihanna was born on the 20th of February, 1988, in Saint Michael, Barbados, but she grew up in Bridgetown. She was born to a Guyanese mother and a Barbadian father. She grew up listening to Caribbean music like reggae and American R&B and hip-hop. From her father's side, Rihanna has two brothers, Rorrey and Rajad Fenty, as well as two half-sisters and a half-brother who were all conceived by various mothers during her mother's past relationships. She was raised in a Bridgetown bungalow with 3 bedroom apartment and worked with her father in a street stall selling garments.
Career
Music Career
With the help of two friends, Rihanna formed a girl trio, and in 2004, she caught the interest of American record producer Evan Rogers. He assisted Fenty with the recording of a demo, which led to an interview with rapper Jay-Z, who at the time was the chairman of the Def Jam record company. Jay-Z quickly signed the up-and-coming vocalist. She decided to use Rihanna as her stage name for her professional career. With the bubbly, dancehall-influenced hit "Pon de Replay" from 2005, Rihanna attracted a large, global fan base.
The song's popularity helped her debut full-length album, Music of the Sun (2005), sell more copies. On the album, traditional R&B ballads coexisted with Caribbean-inspired dance-pop that highlighted her melodic Barbadian lilt. Soon after, Rihanna released the upbeat club-oriented album A Girl Like Me (2006), which included "S.O.S." The song, which featured a sample of the 1981 new-wave smash "Tainted Love" by Soft Cell, became Rihanna's debut number-one record on the Billboard singles list.
For Good Girl Gone Bad (2007), Rihanna sought to transform her youthful image. With the assistance of such high-profile collaborators as Timbaland and Justin Timberlake, she abandoned the tropical rhythms that had adorned her first two albums and recorded a collection of sleek R&B that presented her as a fiercely independent and rebellious woman. The gambit paid off, as the album sold several million copies worldwide, and its anthemic lead single, "Umbrella," featuring an introductory rap from Jay-Z, became one of the year's biggest hits and earned Rihanna a Grammy Award.
In early 2009 Rihanna was beaten by her boyfriend, fellow R&B star Chris Brown, in an incident that was widely covered by tabloid news and gossip blogs. Following their separation, he was convicted of assault. The album that followed later that year, Rated R, much of which she co-wrote, was marked by icily stark production and brooding lyrics that touched on revenge. Despite a little dip in sales, she had another big hit with "Rude Boy." Rihanna made a comeback with less ominous music on the upbeat Loud single (2010). The album's sexually explicit single "S&M," which was released in early 2011, earned her 10th number-one Billboard hit, making her, at age 23, the youngest artist to ever accomplish that feat. Her well-known collaborations with hip-hop artists T.I. and Eminem, which appeared on their albums of theirs, were included in the total. Many people thought her vocals on the latter's "Love the Way You Lie" (2010) song, which depicts an abusive relationship, gave the song depth.
On the albums Talk That Talk (2011), which yielded the contagious global hit "We Found Love," and Unapologetic (2012), which was led by the starry-eyed "Diamonds," Rihanna maintained a steely and seductive persona. The latter album's contentious duet with Brown, with whom she briefly revived her romance, was also included in that edition. Anti, her eighth studio album, was made available in 2016. Later, it was revealed that Rihanna would take the stage for the 2023 Super Bowl halftime show.
Acting Career
In addition to her music career, Rihanna has performed in the films This Is the End and Battleship (2012). She also provided the voice for one of the lead characters in the animated film Home (2015). Later, in Ocean's 8 (2018), a female-driven remake of the Ocean's Eleven franchise from the early 2000s, Rihanna made an appearance as a hacker. She and Donald Glover co-starred in the 2019 Coachella Valley Festival debut of the musical Guava Island, which was later streamed on Amazon.
Fenty Beauty & Fashion
Early in the 2010s, Rihanna and other artists worked together on numerous cosmetics lines before launching her own line, Fenty Beauty, in 2017. Fans of the brand embraced it with fervor and commended it for being inclusive by providing 40 various foundation tones. The fashion label Fenty will be produced by Rihanna in collaboration with LVMH Mot Hennessy—Louis Vuitton, it was revealed in 2019. As a result, she made history by becoming the first woman of color to lead a fashion house at LVMH, the biggest manufacturer of luxury goods in the world. Later that year, Fenty's debut collection was unveiled.
Personal Life
In 2007, Chris Brown, an American singer, and Rihanna started dating. She began dating Canadian rapper Drake after their romance ended in February 2009, and the two had an on-again, off-again relationship that lasted until 2016.
Rihanna started dating Saudi entrepreneur Hassan Jameel in 2017. In January 2020, they broke up. ASAP Rocky, an American rapper, announced on May 19, 2021, that he and Rihanna are presently dating. The couple announced they were expecting their first child on January 31, 2022. It was confirmed that Rihanna has given birth to a son on May 19, 2022.
Discography
2016: Anti
2012: Unapologetic
2011: Talk That Talk
2010: Loud
2009: Rated R
2007: Good Girl Gone Bad
2006: A Girl Like Me
2005: Music of the Sun
Selected filmography
2019: Guava Island
2018: Ocean's 8
2017: Valerian and the City of a Thousand Planets
2015: Home
2013: This Is the End
2012: Battleship
2006: Bring It On: All or Nothing
Influence and Impact
She established the Believe Foundation in 2006 to aid children with terminal illnesses. As one of the 2007 Cartier Love Charity Bracelet Ambassadors, Rihanna represented one of the many international charities. Rihanna and other well-known people created garments for the H&M Fashion Against AIDS collection in February 2008 to help spread awareness and fight HIV/AIDS. Rihanna raised money for the Believe Foundation in 2008 by performing a string of benefit shows dubbed "A Girl's Night Out." The public was given free admission to the concerts. Toys, educational supplies, and medical supplies were to be distributed to children in need with money from sponsors and marketers.
Together with fifteen other female singers, Rihanna contributed to the song "Just Stand Up!" in September 2008. The song was performed live on September 5, 2008, as part of the "Stand Up to Cancer" television program. The single's sales were donated to the charity event. For cancer research, the television spectacular raised $100 million.
In 2012, Rihanna established the Clara Lionel Foundation (CLF) in memory of her paternal grandparents, Lionel and Clara Braithwaite. Rihanna participated in the MAC Viva Glam campaign on January 3, 2014, which supports people living with HIV/AIDS, including men, women, and kids.
Rihanna contributed $5,000,000 to COVID-19 assistance in March 2020. She then gave the state of New York extra donations of PPE and offered to provide $700,000 worth of ventilators to her own Barbados. For a total donation of $4,200,000 in April 2020, Rihanna matched Twitter CEO Jack Dorsey's donation of $2,100,000. She did this to help those experiencing domestic violence and their children during the lockdown by giving an additional $2,100,000.
Controversies
Rihanna's anticipated appearance at the 51st Annual Grammy Awards was postponed on February 8, 2009. According to reports, she had been physically abused by her boyfriend at the time, Chris Brown. He surrendered to the authorities and was taken into custody on a criminal threat charge. Brown was accused of assault and making a criminal threat on March 5, 2009.
Achievements
As of September 2018, Rihanna was one of the best-selling musicians of all time, with over 250 million records sold worldwide. She has won various accolades over her career, including 8 People's Choice Awards, 12 Billboard Music Awards, 9 Grammy Awards, and 12 Billboard Music Awards. At the 2013 American Music Awards, Rihanna won the "Icon Award," and at the 2016 MTV Video Music Awards, she won the Michael Jackson Video Vanguard Award. Six Guinness World Records belong to her. Rihanna has sold more than 10 million albums in the US, and Nielsen SoundScan named her the best-selling digital artist in the nation. As of 2012, she broke the Guinness World Record for the most digital single sales with more than 58 million.
Rihanna passed 100 million Gold and Platinum song certifications on July 1, 2015, according to the Recording Industry Association of America (RIAA). Rihanna is the first and only artist to achieve the RIAA's cumulative 100 million single award threshold and holds the record for most digital single awards. She has sold more than 7 million albums in the UK, making her the third-best-selling female artist of the 20th century. Her album has sold 54 million copies worldwide, according to Billboard.
With 14 No. 1 singles, Rihanna ranks third all-time in the history of the US Billboard Hot 100 list in terms of the number of No. 1 singles. Billboard has declared her the best Mainstream Top 40 chart performer of the last 20 years; she holds the record for most entries (36), top tens (23), and No. 1 hits (60). In the UK, Rihanna has sold over 6 million albums and over 18 million singles as of March 2014. She is the country's second-best-selling female singles artist, just behind Madonna, and the artist with the most million-selling singles overall in the UK, trailing only the Beatles. She is also the tenth best-selling artist overall.
One of the best-selling singles of all time is her duet with Eminem, "Love the Way You Lie," which is included among "Umbrella," "Disturbia," "Only Girl (In the World")," "We Found Love," and "Diamonds." In addition to sixteen No. 1 singles on the Rhythmic chart, Rihanna has seven No. 1 hits on the Hot R&B/Hip-Hop Songs list, the Airplay chart, and both. She is the only artist in the twenty-first century to have so far scored over 30 top-ten singles in the UK and Australia.
Net Worth
According to Forbes, as of October 2022, Rihanna's net worth was $1.7 billion, making her the wealthiest female musician and one of the richest singers globally.
Social Media Handles
Rihanna is very active on social media platforms, most especially on Instagram and Twitter, where she has a verified accounts with 139 million and 107.5 million followers, respectively. You can follow her through the following social media handles:
Instagram: @badgalriri
Twitter: @rihanna