Temitope Balogun Joshua who is fondly called TB Joshua was a renowned religious leader hailing from Nigeria. He founded The Synagogue, Church of All Nations (SCOAN). Many people recognise him for his faith healing, and typically broadcast on Emmanuel TV. He was one of the most popular, controversial, and "enigmatic" religious leaders in the country but also one of the richest pastors in the world.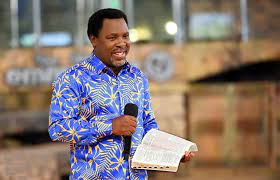 TB Joshua Biography
| | |
| --- | --- |
| Full Name | Temitope Balogun Joshua |
| Date Of Birth | June 12, 1963 |
| Place Of Birth | Arigidi in Akoko, Ondo State, Nigeria. |
| Occupation | Televangelist, faith healer, author, humanitarian. |
| Date Of Death | 5th June 2021 |
| Spouse | Evelyn Joshua |
| Net Worth | $10 million |
| Social Media Handle | Instagram: tbjoshua |
Early Life and Education
Temitope Balogun Joshua was born on June 12, 1963, and was the son of a Yoruba man who's an indigene of Arigidi in Akoko local government in Ondo State, Nigeria. He was born into a humble Christian family, and though details of his parents are not available, we know of his elder brother, who goes by the name Sunday Balogun. His father passed away when he was very young and he was sent to live with an extended family.
The prophet, before his death, claimed to have had an unusual childhood starting from his birth. He claimed he was born 15 months after his mother conceived him. He also claimed to have narrowly escaped death when he was three days old, a large boulder crashed through the roof of their house from a quarry site, missing him by a few inches. After the horrific incident, his mother named him 'Temitope,' meaning 'What God has done for me is worthy of thanks.
Temitope Joshua did have some level of formal education. He had his primary education at St. Stephen Anglican primary school, Agbaluku, Ondo State, after which he proceeded to high school in their village but unfortunately had only one year of secondary education where he dropped out due to his poor background before he left to work on a poultry farm. While in school, TB Joshua was known as a 'small pastor' because of his love for the scriptures and gift to predict things that would happen in his community. He later enrolled in an evening school.
Career
His attempt to venture into the contemporary world was not fruitful, as his efforts to venture into contemporary life failed several times. One of these occasions was when his aspirations to join the military were flawed by a mysterious engine breakdown on his way to an interview at the Nigerian Defense Academy, Kaduna State, Nigeria.
TB Joshua who was already known and called a small pastor in his community, finding TB Joshua toeing the ministerial path won't be a surprise. Joshua grew up teaching people the Bible, which he claimed learned under the tutelage of God Himself. He said he was always taught the scriptures in his dreams. As a member of the Anglican Church in his village, Joshua participated actively in many Church activities and was even called on several occasions to chair the children's Harvest/thanksgiving ceremony in his church.
He was a leader of the Student Christian Fellowship back then in school. However, when it comes to his call to start up a ministry, Joshua had a different story to tell. He said he had a personal encounter with God in 1987 when in a three days trance, he saw a hand that pointed a Bible to his heart, and the Bible entered his heart and was immersed in his heart immediately.
He also said he saw the Apostles and Prophets of old with someone he believed to be Jesus Christ. TB Joshua claimed to have heard God giving him a "divine commission to go and carry out the work of the Heavenly Father." Since then, he said, he had continuously received messages from God Himself through the Holy Spirit. The foundation of the Synagogue Church of All Nation (SCOAN) started shortly afterwards with a handful of members but soon became one of Nigeria's most influential churches in Nigeria.
When TB Joshua started his ministry named The Synagogue, Church of All Nations (SCOAN), in 1987, he was just 24 years of age. He began operating from a dilapidated house in the Agoda-Egbe neighbourhood in Lagos State. As stories of his miraculous healing and prophecies spread wider across the country, more people visited the new ministry. The Synagogue, Church of All Nations, later relocated to the Lagos city outskirts to accommodate many congregants.
Personal Life
The Nigerian televangelist was married to Evelyn Joshua and they have three kids together. He proposed to her during their first meeting, accenting his proposal immediately. Later, he claimed that their meeting was divine and was arranged by God. The prophet claimed that he had seen her four days earlier in a revelation before they met. Evelyn had visited him previously, but he was not around – she was urgently in need of guidance. Her second visit was successful because she was able to find him in his office.
Mr Joshua also kept his family in the background – his wife rarely appeared alongside him, and none of his children was known to the public. Neither were they publicly part of his ministerial business. The couple was blessed with three daughters. Their names are Serah (firstborn) and Promise (second born), and Heart (last born). They are now adults and are pursuing different professions. Serah was admitted to the Nigerian Bar after graduating from the London School of Economics in 2015. She got married to Tanzanian man Brian Moshi on May 8, 2021. Sarah is a lawyer and her husband is a businessman in the tourism industry. On the other hand, Promise Joshua studied International Relations and Politics at the same higher learning institution.
Publications
The Mirror (2006).
What The Future Holds (2009).
Astounding Miracles of God: At the Synagogue (2017).
The Wicked Ordinances (2019).
450 Fire For Fire Prayers For Difficult Situations (2020).
FERVENT Praying Dangerous Prayers Against Stubborn CASE (2020)
Daily Time With God: A Time with Jesus Christ is a Time Well Spent (2020).
How to Cast Out Demons and Evil Spirit (2020).
Deliverance From Marine Spirit Influence & Spirit Spouse & Children (2020).
Demon Possession Evil Spirit Altar & Marine Attacks With Powerful Prayer Points (2020).
Awards
Awards In 2008, TB Joshua was conferred with the National Honor of OFR by the Nigerian government for his humanitarian endeavours.
He was honoured as an Ambassador of Peace by the Arewa Youth Forum for his humanitarian work.
He was one of Africa's 50 most influential people by Pan-African magazines The Africa Report and New African Magazine.
Impact and Influence
The Nigerian preacher, Joshua was mostly known for his philanthropic nature, especially when helping the needy and sponsoring persons. Before his death, he contributed socially and economically both at home and abroad in the course of carrying out his ministry. Forbes in 2011 noted that the Minister spent over $20 million to causes in education, healthcare, and rehabilitation programs for former Niger Delta militants, sex workers, and repentant armed robbers, among others, who come to his church for deliverance and possible assistance.
Other aspects of his impact and influence are his charity acts, providing disaster relief to victims of the Haiti earthquake, among others.
2014 – He donated over $100,000 to the National Metropolitan Police Force in Colombia, and $50,000 was given to Ebola victims in Sierra Leone.
2015 – He donated $40,000 plus food and essential supplies to victims of severe flooding and fire in Accra, Ghana; he donated N10 million plus a Medical Ambulance to the Boko Haram internally displaced persons (IDPs) in the Kuchingoro area of Abuja, Nigeria.
2016, 2017, 2019 – He chartered a cargo plane to carry tonnes of relief aid to the victims of the earthquake in Ecuador, Mexico, and Albania, respectively.
2020 – He donated N30 million to the Lagos State Government for COVID relief, plus hundreds of thousands of dollars to numerous people worldwide who suffered from the economic fallout of the lockdowns.
Net Worth
T.B was, undoubtedly, a wealthy man. He owned a fleet of luxury cars and a beautiful home. The models of the vehicles he owned include a Range Rover and Mercedes Benz. Rumours have also claimed that he owned a private jet worth around $60 million. The preacher was one of the wealthiest religious leaders in Africa his net worth was estimated to be $10 million at the time of his death.
Social Media Handle
Instagram: tbjoshua
TB Joshua is a man who was known for his philanthropic acts around the world and would be missed by all and sundry. how about you?