Ejike Camillus Anthony Ebenezer Mbaka (born July 28, 1957) popularly known as Father Ejike Mbaka. He is a Nigerian Catholic priest who also plays music and is the founder of Adoration Ministries in Enugu State. He is one of the most well-known religious figures in southeast Nigeria, especially in the political and Catholic folds. He was transferred from the Adoration Ministries in Enugu State to the Monastery on the 3rd of October due to various controversies.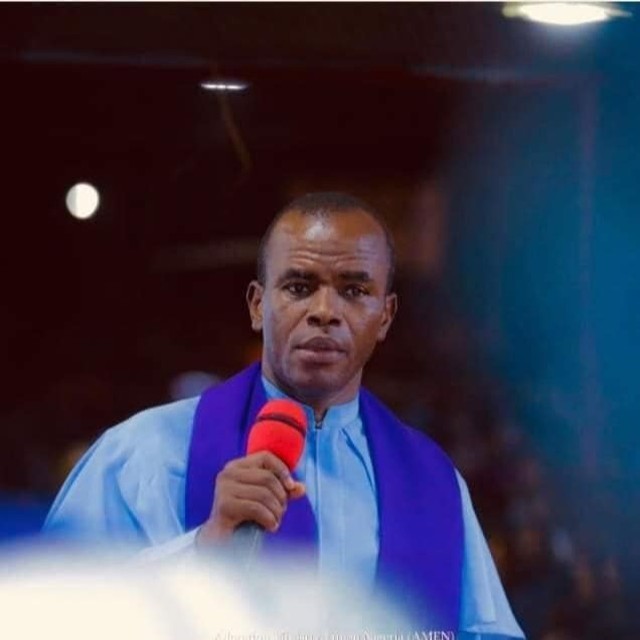 Father Mbaka Biography
Full Name :

Ejike Camillus Anthony Ebenezer Mbaka

Popular Name :

Rev. Fr. Ejike Mbaka

Date of Birth :

July 28, 1957

Nationality :

Nigerian

Place of Birth :

Amata Ituku, Awgu L.G.A, Enugu State, Nigeria

State of Origin :

Enugu State, Nigeria

Occupation(s) :

Catholic cleric, Musician, Entrepreneur

Net Worth :

$5 million

Social Media Handles :

Twitter: @FrMbaka
Instagram: rev.fr.ejikembaka
Early Life and Education
Father Mbaka was born on July 28, 1957, in Amata Ituku, Awgu L.G.A, Enugu State, to the late Chief Humphrey Ogbuefi Mbaka and Felicia Mbaka. He grew up in a village populated by palm wine tappers.
He had his primary and secondary school education in Enugu State, where he attended St. Vincent's Secondary School, Agbogugu, in the Awgu Local Government Area of Enugu State for his secondary education. Mbaka had his priestly training at Seat of Wisdom Seminary in Owerri, Imo State, and St. Joseph's Seminary in Ikot Ekpene, Akwa Ibom State. He received his priesthood ordination on July 29, 1995, in the Roman Catholic Church in the Order of Melchizedek.
Career
When he was a child, Fr. Mbaka organised block rosary prayers in their neighbourhood. He also gave praise to St. Anthony's Parish in Ituku's prayer warrior squad, which was revitalising Catholic Charismatic Renewal. Father Mbaka's pagan father fiercely opposed his aspiration to become a Catholic priest. His father and kin resisted the idea of him becoming a priest. But on July 29, 1995, at Holy Ghost Cathedral in Enugu, His Lordship Bishop Michael Ugwujah Eneja consecrated Fr. Mbaka as a Catholic priest. Following his ordination, Fr. Mbaka was assigned to Holy Ghost Cathedral in Enugu as the Assistant Diocesan Administration.
While serving as an assistant diocesan administrator, Fr. Mbaka went on evangelistic journeys beyond the cathedral. He frequently travelled to Capuchin and G.T.C. Enugu to hold masses for the faithful. The Eucharistic Jesus Word Prayer Centre was then established by him, and it later evolved into Adoration Ministries Enugu, Nigeria (AMEN). He has served as a parish priest in numerous parishes within the Enugu Diocese, including Christ the Kings Parish in GRA and Our Lady of Roses Parish in Emene. Weekly prayers are attended by thousands of followers at Adoration Ministries in Enugu, Nigeria (AMEN). He has recently been transferred to the Monastery.
Personal Life
According to the Punch tabloids, Fr. Mbaka gives over $2 million to charity each month. Additionally, he is the owner of Aqua Rapha Investments, a company that produces bottled water, sachet water, yoghurt, and soft drinks.
Controversies
Fr. Mbaka charged that Governor Chimaroke Nnamani was responsible for the stampede that claimed the lives of ten worshipers and an unborn child in 2001. The late Sani Abacha, Chimaroke Nnamani, Ikedi Ohakim, Rochas Okorocha, Goodluck Jonathan, Muhammadu Buhari, Emeka Ihedioha, and other leaders have received criticism from Fr. Mbaka.
Before the 2020 court ruling, he projected Hope Uzodimma would be elected governor of Imo State. Father Mbaka demanded the resignation of President Buhari in response to the nation's security concerns. According to a statement from Garba Shehu, Fr. Mbaka visited Buhari in April 2021, seeking a contract as payment for backing him in the general election of 2015, but the President rejected him.
Support of Buhari in the 2015 General Elections
On December 31, 2014, Mbaka addressed a congregation and encouraged them to remove the then-president, Goodluck Ebele Jonathan, from office because he had failed to stop the rise of corruption and insecurity in the nation. In line with his priestly and prophetic ministry, Fr. Mbaka has called for a change in the administration. Ever since he received his priestly ordination in the Roman Catholic Church, Fr. Mbaka has consistently directed, advised, and warned every administration in Nigeria.
Compensation for Supporting Buhari
Mbaka demanded that President Buhari step down on April 28, 2021, due to the escalating insecurity in Nigeria. The Nigerian Presidency responded to Mbaka's call with a statement via Garba Shehu, claiming that Mbaka is upset that President Buhari disregarded his request for contracts after he requested them as payment for his support in 2015 and 2019.
Conflict with Ebube Muonso
Both Reverend Fathers Mbaka and Emmanuel Obimma (Ebube Muonso) refuted the false claim that there were instances of rivalry that once existed.
Attack on Peter Obi
Father Mbaka was once seen preaching to his congregation, attacking the presidential candidate of the Labour Party, Peter Obi, for the presidency. He accused him of being a stingy individual and said he would not make a good leader due to his stinginess. He, however, rescinded his statement after receiving backlash from the public because such a statement is unworthy of a priest.
Discography
Albums
Jesus Mu Na Gi Ga-Ebi
Aka Na Agwo Oria
Ike M Kwo Aba (My Dependable God)
Selected Songs
Ayeye Praise Medley
Ike M Kwo Aba (My Dependable God) Medley
Behold the King
AKA Ndi Muo Ozi, Pt. 1
Chukwu Onye Ebere
Onye Oru Ebube Medley
Odogwu Na Agha
Okpala Chukwu Onye Na Eme Nma
Song by Rev Fr. Ejike Mbaka
Jesus Mu Na Gi Ga-Ebi
Chukwu Kere Uwa Echetala M Medley
Mgbe M Bidoro Mebe Nma
Odumegwu Judah Emerigo Onwu Medley
Awards and Nominations
He was honoured by the Performing Musicians Association of Nigeria (PIMAN).
Net Worth
He has an estimated net worth of $5 million.
Social Media Handles
Twitter: @FrMbaka
Instagram: rev.fr.ejikembak