There have been controversies as to the cause of the death of Nigeria's former head of state, Gen. Sani Abacha, who died on the 8th of June, 1998, towards the transition into a civilian government. It will be recalled that from 1993 until 1998, Abacha served as Head of State and Commander-in-Chief of the Armed Forces of the Federal Republic of Nigeria. He issued a decree in September 1994 that effectively placed his government above the courts' authority, effectively giving him full power.
History has it that another edict gave him the authority to detain someone without charge for up to three months. He also repealed Decree 691 of 1993. During his administration, Abacha built a 3,000-strong personal security unit in North Korea. Abacha's head security officer maintained a firm hold on the military-security system. As a result, the Nigerian Police Force was retrained on a vast scale. The state went after criminals and dissidents with a vengeance, and the National Democratic Coalition was blamed for multiple explosions across the country, with several of its members jailed.
About Sanni Abacha
On September 20, 1943, Sani Abacha GCFR was born. In the last successful coup d'etat in Nigerian military history, he seized power on November 17, 1993. From 1985 to 1990, he served as Chief of Army Staff, Chief of Defense Staff, and Minister of Defense. Without skipping a single rank, Abacha became the first Nigerian Army officer to reach the rank of a full military general.
Abacha was born and raised in Kano, Nigeria. After attending the Mons Officer Cadet School in Aldershot, England, he was commissioned in 1963 after attending the Nigerian Military Training College in Kaduna.
During his military career, Abacha was involved in every military coup in Nigeria, including the July 1966 Nigerian counter-coup, which he participated in from the conceptual stage while still a second lieutenant with the 3rd Battalion in Kaduna. He could have also been involved in the Lagos or Abeokuta phases of the coup the previous January. He served as a platoon and battalion commander during the Nigerian Civil War in 1969. In 1975, he was named commander of the 2nd Infantry Division.
In 1983, Abacha was promoted to the Supreme Military Council as the general commander leading the 2nd Mechanized Division. Abacha was a key figure in the 1983 Nigerian coup d'état that brought General Muhammadu Buhari to power, as well as the 1985 Nigerian coup d'état that ousted Buhari and installed General Ibrahim Babangida. Abacha was named Chief of Army Staff when General Ibrahim Babangida was named President and Commander-in-Chief of the Armed Forces of the Federal Republic of Nigeria in 1985. In 1990, he was named Minister of Defense.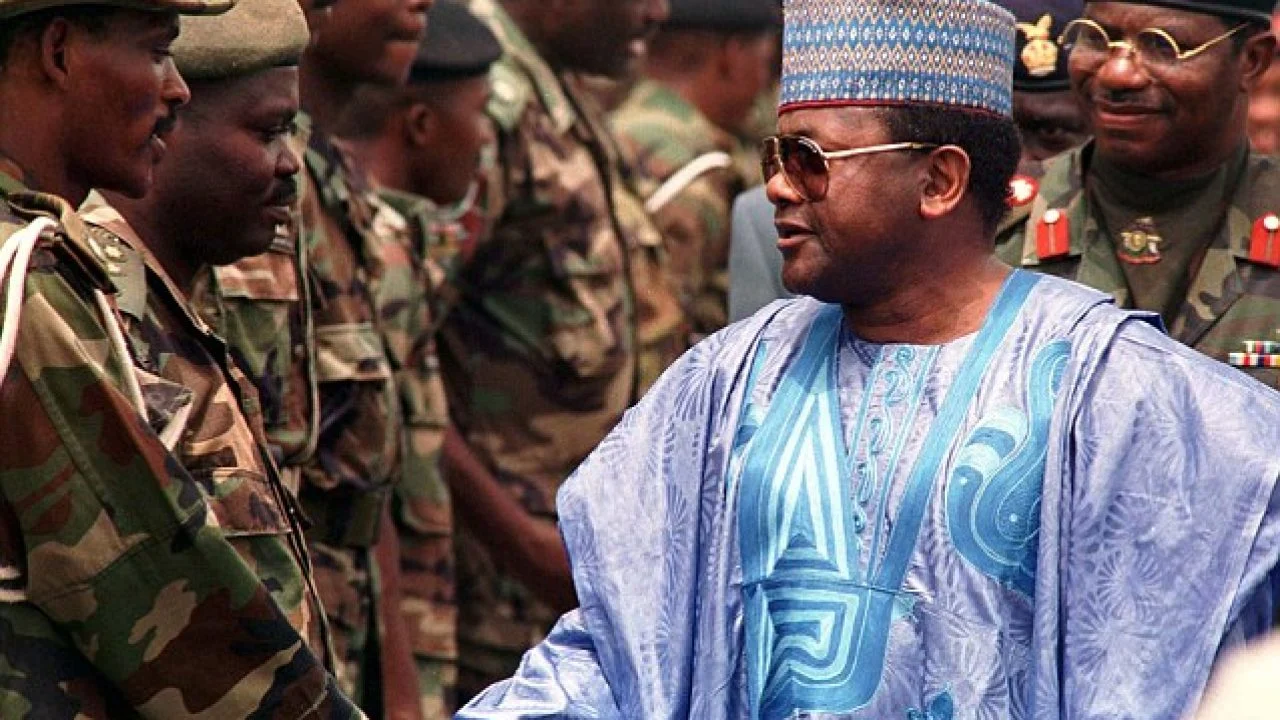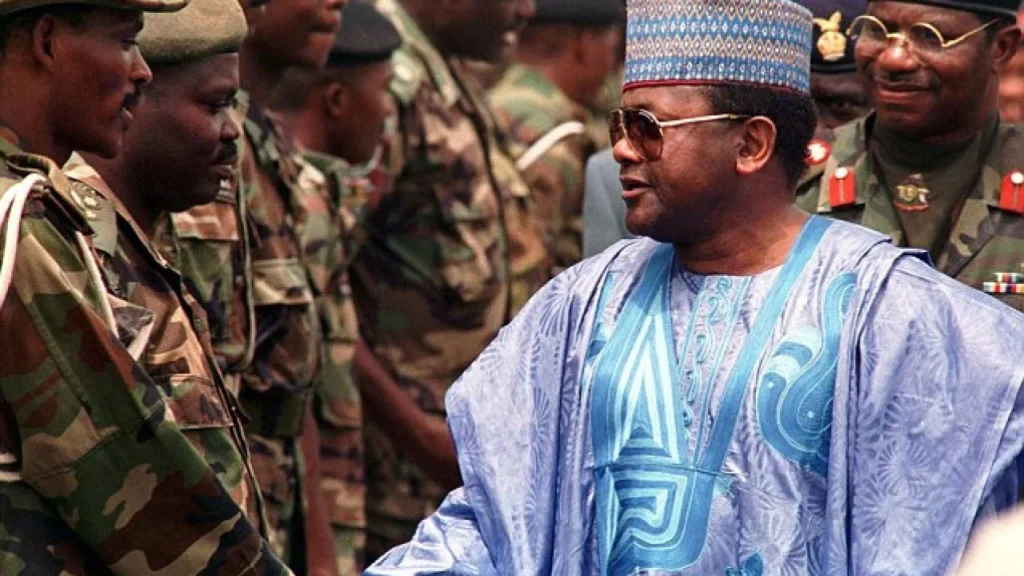 Abacha's Career as the Head of State
Abacha was keen on reducing crimes and corrupt practices in Nigeria in his administration, and because of his security measures, many Nigerian politicians were victims. Moshood Abiola was imprisoned for treason after declaring himself president and died in prison. Olusegun Obasanjo, the former military dictator, was also imprisoned for treason and accused of organizing a coup with General Oladipo Diya. General Shehu Yar'Adua, who was also imprisoned, died in prison in 1997.
Abacha's regime was accused of human rights violations, particularly after the hanging of Ogoni activist Ken Saro-Wiwa, who was one of several Ogoni activists killed in protest of the multinational petroleum company Royal Dutch Shell's exploitation of Nigerian resources and whose death led to Nigeria's expulsion from the Commonwealth Nations. In his absence, Wole Soyinka was charged with treason, and the pro-democracy activists also opposed Abacha's rule from the outside.
Nigeria's foreign exchange reserves increased from $494 million in 1993 to $9.6 billion by the middle of 1997 under Abacha's presidency, and the country's external debt decreased from $36 billion in 1993 to $27 billion by 1997. In important cities such as Kano, Gusau, Benin, Funtua, Zaria, Enugu, Kaduna, Aba, Lagos, Lokoja, and Port Harcourt, Abacha built between 25 and 100 kilometres of urban roads. Between 1993 and 1998, Abacha halted the privatization projects of the Ibrahim Babangida administration and decreased an inflation rate of 54 per cent inherited from Ernest Shonekan to 8.5 per cent, all while the nation's principal commodity, oil, was trading at $15 per barrel on average.
Therefore, despite being greater than the 2.2 per cent growth rate in 1995, GDP growth was mostly limited to the petroleum sector.
Accusations against Abacha
In the purported "Abacha plunder" case, extraordinary economic successes combined with a rapid spread of embezzlement hitherto unparalleled in Nigeria's history of corruption. President Olusegun Obasanjo's government accused Abacha's national security adviser, Alhaji Ismaila Gwarzo, of playing a key part in the stealing and transfer of funds to foreign accounts. Mohammed Abacha, Abacha's son, and Alhaji Mohammed M. Sada, Abacha's best friend, were also implicated. The procedure was documented in a preliminary report produced by the Abdulsalam Abubakar transitional administration in November 1998.
Also, the United States Department of Justice announced the forfeiture of US $480 million to the Nigerian government on August 7, 2014, the largest in its history. More than $267 million in cash was discovered in a Jersey account, which was £210 million in British pounds, after allegedly being laundered through the US banking system. The money was forfeited by the US Justice Department, Jersey courts, and the Nigerian government, and they will be split among the three countries.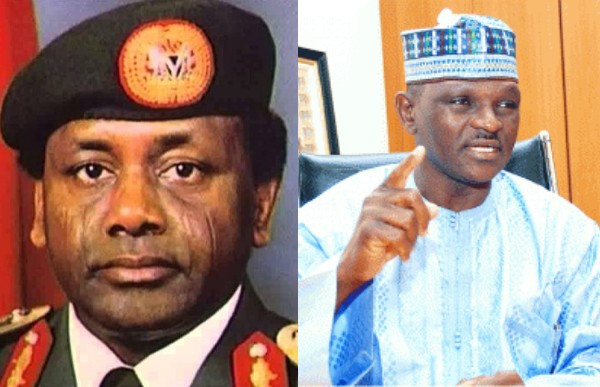 Abacha's Death
Abacha died in the Aso Rock Presidential Villa in Abuja on June 8, 1998. According to Muslim practice, he was buried on the same day and without an autopsy, increasing speculation that he was assassinated. The cause of death was determined to be a sudden heart attack by the authorities. Foreign diplomats, including analysts from the United States Intelligence Community, believe he was poisoned. Hamza al-Mustapha, his main security officer, claimed he was poisoned by Israeli operatives in the company of Yasser Arafat.
However, Abacha's death has created many controversial opinions, which could be summarized as either Abacha died a natural death or he was poisoned. Therefore, as a result of these opinions, many theories have been propounded as explained by eyewitnesses and subordinates.
After his death, The New York Times reported that US analysts explained that General Sani Abacha was allegedly poisoned while in the company of three prostitutes. These prostitutes, according to their report, poisoned him with an apple. However, contrary to their report, the Nigerian Press explained that he died of a heart attack.
Al-Mustapha's Testimony
Al-Mustapha has denied that Abacha died after eating an apple given to him by sex workers. Abacha was allegedly poisoned by Israeli operatives in the company of Yasser Arafat, according to the retired major. The sudden collapse of Abacha's health system, according to the former CSO, began on Sunday, June 7, 1998, right after one of the security operatives accompanying President Yasser Arafat of the Palestinian National Authority shook hands with Abacha at the Nnamdi Azikiwe International Airport in Abuja.
The late Commander-in-countenance Chief's reportedly changed shortly after the handshake, according to Al-Mustapha. Lieutenant-Colonel Abdallah, Abacha's Aide-de-Camp, was tasked with keeping a constant eye on the Head of State.
On June 7, 1998, at about 6 p.m., Abacha's doctor, Sadiq Suleiman Wali, came over and gave him an injection to help him stabilize. The President of the United States was then advised to take a little break. Abacha now hardly ever slept at night. He was still wearing his work attire on the morning of his death. Major Hamza Al-Mustapha was told of the Head-of-instability State's at 5 a.m. on Monday, June 8, 1998.
Dr Wali was driven to the villa via a secret route used exclusively by Abacha after Al-Mustapha placed a call to him. Something didn't feel right to Wali. Abacha was injected twice by the doctor, once in the heart and once near his neck.
Unfortunately, there was no response. The President of the United States had become exceedingly chilly and was foaming at the lips. Dr Wali quickly gathered blood, urine, and hair samples from Abacha in an attempt to determine the reason for the general's death. This conduct by Wali provided a sliver of evidence that Abacha's death was not natural.
After Abacha's Death
According to the news site, after Abacha's death, highly armed soldiers sealed off his home and office in the capital, Abuja. Abacha's relatives did not reveal the cause of his death; rather, they followed the Muslim tradition and buried him within 24 hours. Also, the government refused to make a declaration of his death.
As soon as the news reached other areas of the country in the evening, ecstatic Nigerians, particularly in Lagos, erupted in cheers. Many perceived an opportunity for democracy to return, despite the military's refusal to relinquish power.