Owelle Rochas Anayo Okorocha is a Nigerian politician and businessman of Igbo extraction from Imo State. He is a wealthy and influential politician who served twice as the governor of Imo state from 2011 to 2019. He is currently the Senator representing Imo West Senatorial District in the 9th Nigerian Senate. Rochas Okorocha is the President of the Rochas Foundation; an initiative that provides free education for African children.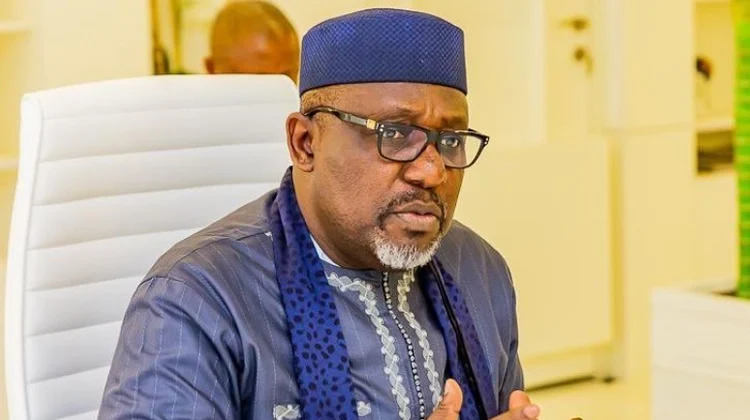 Rochas Okorocha Biography
| | |
| --- | --- |
| Full Name | Owelle Rochas Anayo Okorocha |
| Date Of Birth | 22nd September 1962 |
| Occupation | Politician, businessman, Philanthropist |
| Spouse | Nneoma Nkechi Okorocha |
| Net Worth | $ 1.4 billion |
| Soocial Media | Instagram: rochasokorocha |
Early Life and Education
Rochas was born on 22 September 1962 in Ogboko, Ideato South, Imo State to an Imo father and an Anambra mother. He identifies more closely with his Anambra side which is the source of his natural aggression. He attended Juladaco High School, Jos (1976-1981). He studied at the University of Jos (1990-1991), obtaining a diploma in Public Administration. He returned to the University of Jos (1993-1994) to obtain an advanced diploma in Public Administration.
Career
Rochas Okorocha didn't start his career as a politician, He has an early start in business due to the circumstances around his childhood which he described as "All shades of poverty". At a very young age, Rochas Okorocha hawked groceries in Barkin Ladi, Jos. At age 19, he was the head of a commercial school, He also became the proprietor of a school at age 23. Moving further at age 23, Rochas Okorocha began a trade in the cement business in Gboko, Benue State.
Career positions which he held before venturing into politics include President, Nigeria Red Cross Society, President/Founder, Rochas Foundation Inc, President, Rochas Group of Companies Limited, Pro-Chancellor, African Business School and Former Chairman, Board of Nigerian Airspace Management Agency.
Before becoming the governor of Imo state, Rochas Okorocha once served as the Commissioner of the Federal Character Commission and a Member of the National Constitutional Conference. Rochas Okorocha's ambition to be the governor and President in 1999 and 2003 failed woefully. Under the People's Democratic Party (PDP), he was appointed as the Special Adviser on Inter-Party affairs during former president Olusegun Obasanjo's/ Atiku Abubakar regime.
Rochas Okorocha decamped from PDP to the All Progressives Grand Alliance (APGA) to run as an APGA candidate for the Imo State Governorship election in 2011. Despite being suspended from the APGA on the verdict of 'anti-party activities', Rochas Okorocha went on to campaign and eventually won the governorship seat in Imo state. Following his first tenure, Rochas Okorocha decamped from the APGA to All Progressive's Congress (APC) and contested for the governorship position in 2015. Luckily, he won the election again and served two terms as governor of Imo state.
After his two terms tenure in Imo state, Rochas Okorocha continued his career in politics. He contested for the senatorial seat at the National Assembly in 2019 and won. He is currently the Senator representing Imo West Senatorial district, and also an aspirant in All Progressive Congress contesting to be the flag bearer of the party.
Personal Life
He is married to Nneoma Nkechi Okorocha in 1987 and together they have 6 children (3 girls and 3 boys); Uloma Rochas Nwosu, Uju Rochas-Anwuka, Uchechi Rochas, Aham Rochas, Amen Rochas and Amam Rochas.
Impact and Influence
In 1996, Rochas founded Rochas Foundation as a way of giving back to society. In 2001, Rochas Foundation birthed Rochas Foundation College, which today, has campuses across the Federation. Interestingly, the college offers free education to Nigerian students irrespective of tribe or race. Rochas Okorocha established the college to help to suffering Nigerian masses by giving free education to many Nigerian students so they can live above the poverty line.
Net Worth
Rochas Okorocha is a wealthy and influential politician in Nigeria, he is also a philanthropist who has helped many lives through the Rochas Okorocha Foundation which he created. His net worth is estimated at $1.4 billion.
Social Media Handle
Instagram: rochasokorocha