Atiku Abubakar is a Nigerian politician and businessman who served as the Vice President of Nigeria from 1999 to 2007 under the leadership of Olusegun Obasanjo. He contested as Governor of Adamawa State in 1990, 1997 and later, in 1998, being elected before becoming Olusegun Obasanjo's running mate during the 1999 presidential election and re-elected in 2003.  Atiku Abubakar has vied for the position of the President of Nigeria five unsuccessful times: in 1993, 2007, 2011, 2015, and 2019 and he is currently the flag bearer for the Peoples Democratic Party in the 2023 general election.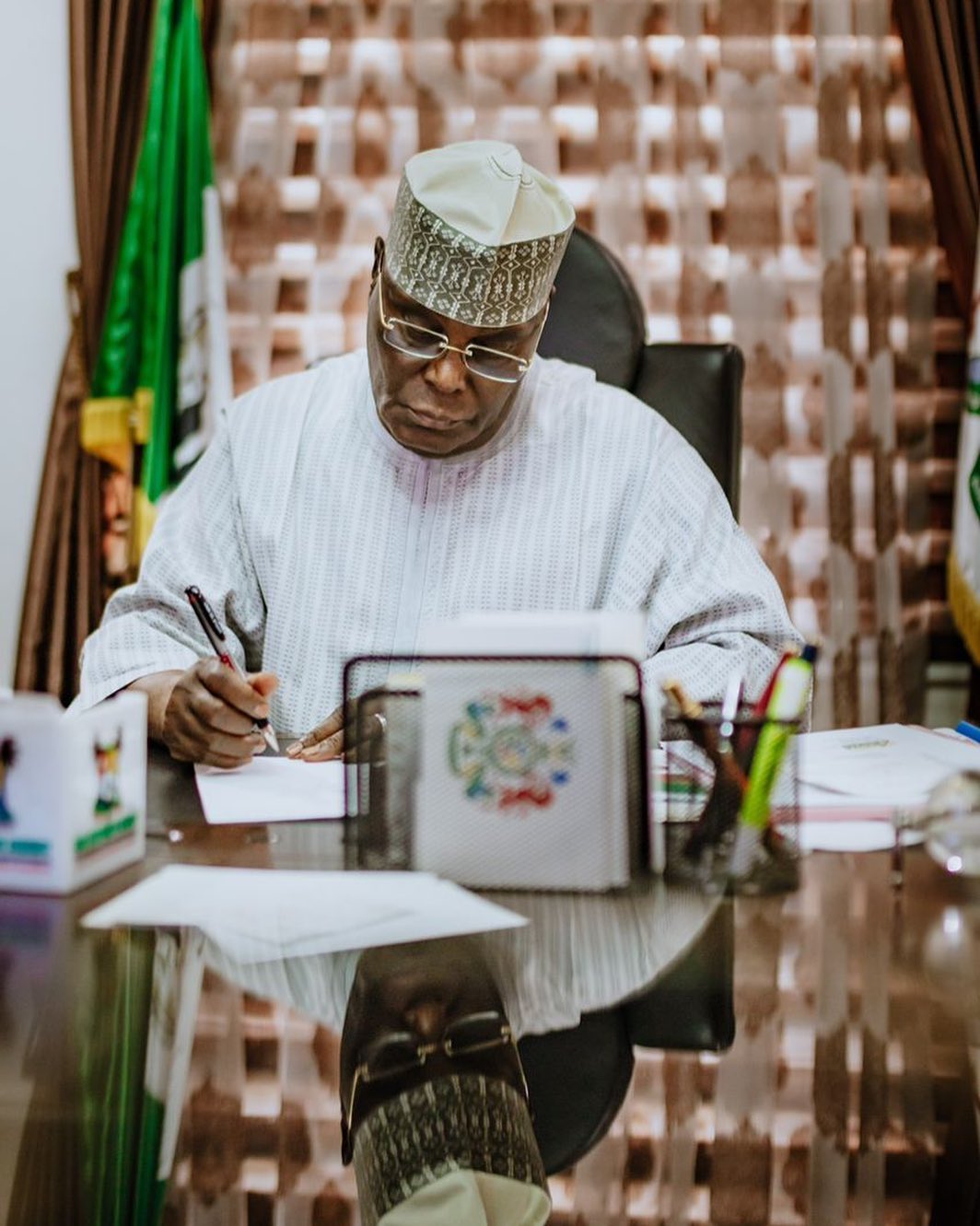 Atiku Abubakar Biography
Full Name :
Atiku Abubakar
Birth Place :
Adamawa, Nigeria.
Date Of Birth :
25 November 1946
Occupation :
Politician, Entrepreneur, Philanthropist
Social Media :
Twitter: @atiku
Instagram: aatiku
Early Life and Education
Atiku Abubakar was born on 25 November 1946 in Jada, a village which was then under the administration of the British=Cameroons, the territory later joined with the Federation of Nigeria in the 1961 British-Cameroons referendum. His father, Garba Abubakar was a Fulani trader and farmer, and his mother was Aisha Kande. He was named after his paternal grandfather Atiku Abdulqadir who hails from Wurno, Sokoto State and migrated to Kojoli village at Jada, Adamawa State, his maternal grandfather called Inuwa Dutse migrated to Jada, Adamawa State from Dutse, Jigawa State he became the only child of his parents when his only sister died at infancy. In 1957, his father died by drowning while crossing a river to Toungo, a neighbouring village to Jada.
While growing up, his father was opposed to the idea of Western education and tried to keep Atiku Abubakar out of the traditional school system. When the government discovered that Atiku was not attending mandatory school, his father spent a few days in jail until Aisha Kande's mother paid the fine. At the age of eight, Atiku enrolled in the Jada Primary School, Adamawa. After completing his primary school education in 1960, he was admitted into Adamawa Provincial Secondary School in the same year, alongside 59 other students. He graduated from secondary school in 1965 after he made grade three in the West African Senior School Certificate Examination.
For his secondary school education, Atiku studied a short while at the Nigeria Police College in Kaduna. He left the College when he was unable to present an O-Level Mathematics result, and worked briefly as a Tax Officer in the Regional Ministry of Finance, from where he gained admission to the School of Hygiene in Kano in 1966. He graduated with a Diploma in 1967, having served as Interim Student Union President at the school. In 1967 he enrolled for a Law Diploma at the Ahmadu Bello University Institute of Administration, on a scholarship from the regional government. After graduation in 1969, during the Nigerian Civil War, he was employed by the Nigeria Customs Service.
In 2021, Atiku successfully completed and passed his Master's degree in International Relations at Anglia Ruskin University, Cambridge, United Kingdom.
Career
Atiku Abubakar worked briefly as a Tax Officer in the Regional Ministry of Finance before he went back to school, after graduation, he was employed in the Nigeria Customs Service where he worked for twenty years, rising to become the Deputy Director, which was the second highest position in the Service; he retired on April 1989 and took up full-time business and politics.
Business Career
He was accused of conflict of interest on account of his involvement in business while he was a civil servant, who exercised supervisory authority. On his part, Abubakar defended the decision by saying his involvement was limited to the ownership of shares (which government rules permitted), and that he was not involved in the day-to-day running of the business. His company NICOTES was later rebranded into INTELS and went on to feature prominently in accusations of money laundering levelled against Abubakar by the U.S. government during his vice presidency.
His journey into Real Estate started in 1974, he received a 31,000 naira loan to build his first house in Yola which he put up for rent. From the proceeds of the rent, he purchased another plot and built a second house. He continued this way, building a sizeable portfolio of property in Yola, Nigeria. In 1981, he moved into agriculture, acquiring 2,500 hectares of land near Yola to start a maize and cotton farm. The business fell on hard times and closed in 1986. He then ventured into trading, buying and selling truckloads of rice, flour and sugar.
Abubakar's most important business move came while he was a Customs Officer at the Apapa Ports. Gabrielle Volpi, an Italian businessman in Nigeria, invited him to set up Nigeria Container Services (NICOTES), a logistics company operating within the Ports. NICOTES would later go on to become Intels Nigeria Limited and provide immense wealth to Abubakar. He is a co-founder of Intels Nigeria Limited, an oil servicing business with extensive operations in Nigeria and abroad. Atiku's other business interests are centred within Yola, Adamawa; which include the Adama Beverages Limited, a beverage manufacturing plant in Yola, an animal feed factory, and the American University of Nigeria (AUN), the first American-style private university to be established in Sub-Saharan Africa. He retired in April 1989 and took up
full-time business and politics.
Political Career
Atiku Abubakar began his political career as an underground agent during Bamanga Tukur's campaign as the Governor of his State. Thereafter, he met Shehu Musa Yar'Adua, who invited him to a political meeting that was usually held in his house. Not long after, he manoeuvred his way and became the People Front of Nigeria's national vice-chairman. After holding several offices within his political party, he tried becoming the Governor of Adamawa State in 1991 but he failed. Subsequently, he cross-carpeted to the People's Democratic Party where he later emerged as the Governor of Adamawa state.
On the 29th of May, 1999, Atiku Abubakar was sworn in as the vice-president of Nigeria under the leadership of President Olusegun Obasanjo. In 2006, Abubakar and his boss, President Olusegun Obasanjo had a clash over his move to amend the constitution of the land. It was said that Obasanjo's motive for amending the Constitution is to allow him to run for the presidency for the third time. This caused big chaos between them and they became enemies of each other.
In the same vein, Atiku Abubakar's race to become the president continues as he contested for president in the 2011 general elections, this time, representing the Peoples Democratic Party. Unfortunately again, he lost the primaries to the former president, Goodluck Ebele Jonathan. He decamped to the All Progressive Congress in 2014 to realise his ambition, but he lost to Muhammed Buhari, the current president of the Federal Republic Of Nigeria.
On his ambition of becoming the president, Atiku Abubakar announced his intentions to run for Nigeria's President under the auspices of PDP in 2018. He however won the nomination at the party's convention on October 7th. A feat he attained after spending a huge amount of dollars on delegates. But unfortunately enough, Atiku Abubakar lost the presidential election again to President Muhammadu Buhari this time around on the 27th of February, 2019. He would also be vying for the position of President in 2023.
Personal Life
Atiku Abubakar has been married four times and has twenty-eight children. He elaborates: "I wanted to add to the Abubakar clan. As a child, I was extremely lonely. I had no brothers or sisters. I didn't want my kids to feel as lonely as I did. This is why I married multiple wives. My wives are my sisters, friends, and advisers, and they balance each other out."
He secretly married Titilayo Albert in Lagos in 1971 while she was 19 years old but her family was initially opposed to the union. He married Ladi Yakubu as his second wife in 1979, he has six children with Ladi Yakubu. Atiku Abubakar later divorced Ladi Yakubu, allowing him to marry Jennifer Iwenjiora Douglas as his fourth wife.
In 1983, he married his third wife, Princess Rukaiyatu, daughter of Adamawa's Lamido, Aliyu Mustafa. Fatima Shettima, his fourth wife married him in 1986.
Controversies
Atiku was implicated in an international bribery scandal along with William Jefferson and one of Atiku's wives, Jennifer Atiku Abubakar. Following rumours by pundits that Atiku was unable to visit the United States of America, in January 2017, the U.S. government released a statement saying it would need the consent of the politician before it can disclose the true state of his immigration status to the United States. Abubakar has publicly claimed that the true reason is that his visa is still being processed. However, In recent times, Atiku in company with Bukola Saraki visited the United States on 17 January 2019 with the aid of Brian Ballard.
Another controversy in which Atiku was mentioned, was the accusation from the former President, Olusegun Obasanjo. He affirmed that Atiku is very corrupt due to his handlings when he was in charge of the sales of the country's national assets and also the chairman of the National Economic Council.
It was also reported that one of his wives, Jennifer Atiku Abubakar divorced him due to his call for her to sell their properties in the United States of America and relocate to Nigeria. She divorced him and also sought the custody of their kids.
Titles and Honours
In 1982, Abubakar was given the chieftaincy title of the Turaki of Adamawa by his future father-in-law, Adamawa's traditional ruler Alhaji Aliyu Mustafa. The title had previously been reserved for the monarch's favourite prince in the palace, as the holder is in charge of the monarch's domestic affairs. In June 2017, Abubakar was given the chieftaincy title of the Waziri of Adamawa, and his previous title of Turaki was transferred to his son Aliyu.
In 2011, while celebrating the 50th anniversary of the US Peace Corps, the National Peace Corps Association (NPCA) – an independent nonprofit organisation, separate from the Peace Corps, that serves as an alumni association for Returned Peace Corps Volunteers – honoured Abubakar with the Harris Wofford Global Citizen Award. In 2012, Abubakar donated $750,000 to the National Peace Corps Association in the United States, "to fund a new initiative featuring global leaders who will discuss Peace Corps's impact." It was the largest ever individual donation in the Association's history.
Net Worth
Atiku Abubakar has a net worth of US$1.8 billion and numerous valuable assets. He owns a US$4.1 million Embraer Phenom 100 personal luxury plane and a US$2.95 million chateau near Potomac, Maryland, USA. He drives a Range Rover, a Mercedes S550, a Lexus 570, a Toyota Land Cruiser car, and other high-end vehicles.
Social Media Handles
Twitter: @atiku
Instagram: aatiku