Thomas Frederick Cooper, popularly known as Tommy Cooper, was born on March 19, 1921. He died on April 15, 1984. He was a Welsh comedian and a renowned magician in Britain. He came to prominence after his debut on the BBC talent show New to You in March 1948. Cooper later went on to become one of the most recognized comedians and magicians in the United Kingdom.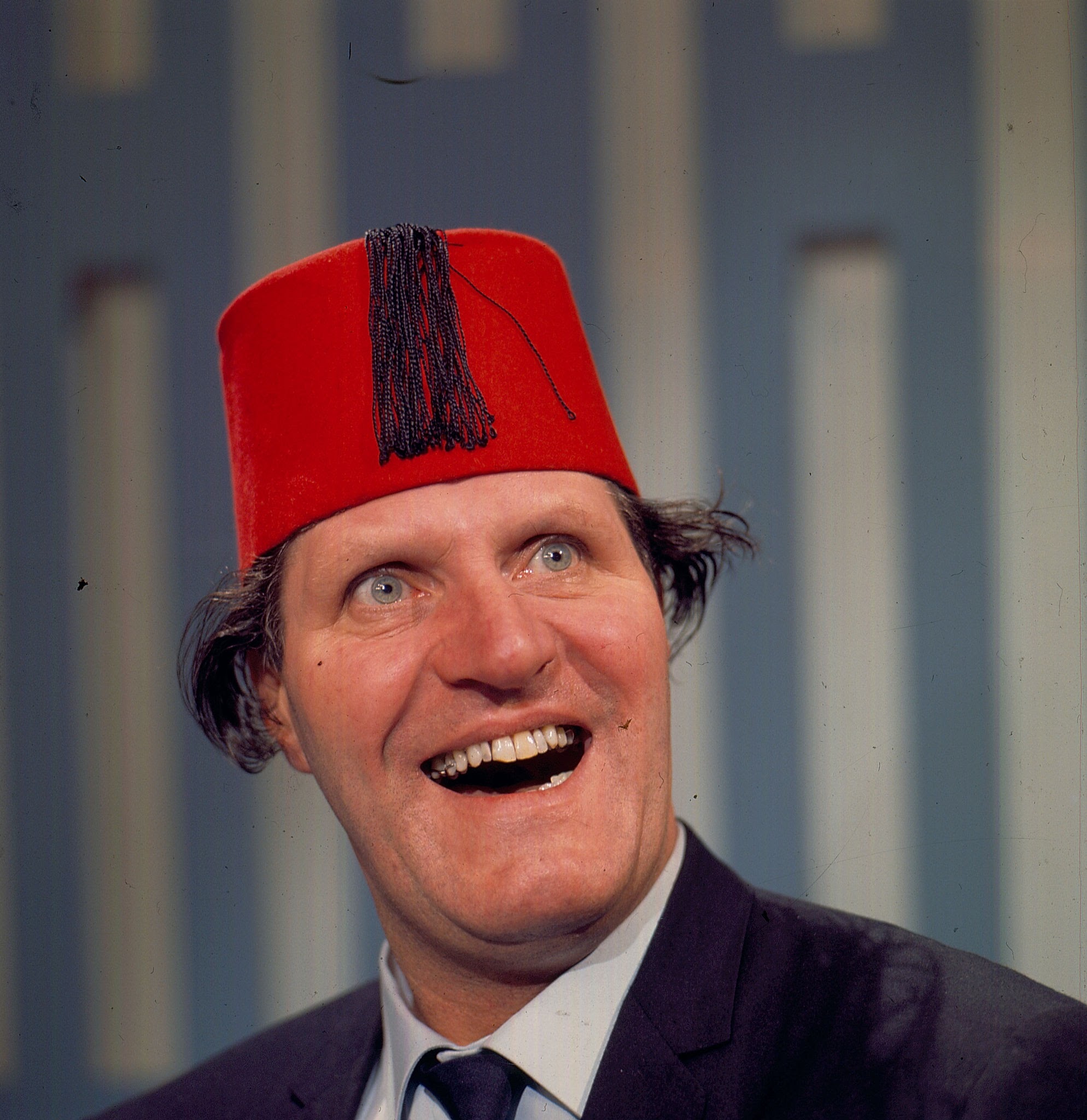 Tommy Cooper Biography
Full Name

Thomas Frederick Cooper

Nick Name

Tommy Cooper

Date of Birth

March 19, 1921

Place of Birth

Glamorgan, Wales

Died

15 April 1984 (aged 63)

Occupations

Comedian | Magician

Children

Thomas

Victoria

Spouse

Gwen Henty
Early Life
Tommy Cooper was born on March 19, 1921, in Llwyn-On Street in Caerphilly, Glamorgan, Wales, into the family of Thomas H. Cooper, a Welsh recruiting sergeant in the British Army and later coal miner, and Catherine Gertrude. He was born two months prematurely, and the doctors had given up hope that he would survive infancy. However, he did, and he went on to grow to be an astounding 6'4″ in height.
When Cooper was three, his father accepted a job opportunity in Exeter, Devon, to leave his mining position in Caerphilly, which might have had an effect on his health. He picked up the West Country accent that later formed a part of his act in Exeter.
Tommy Cooper acquired a magic set from his aunt when he was eight years old, and he spent hours honing the techniques. In Slough, Buckinghamshire, at 249 High Street, his younger brother David launched D. & Z. Cooper's Magic Shop in the 1960s. Later, Sabrina, David's daughter, moved the store to Eastbourne, East Sussex, where she operated it.
Tommy Cooper worked as a shipwright in Southampton, Hampshire, after finishing school. He was enlisted as a trooper in the Royal Horse Guards in 1940 and served there for seven years. In Egypt, he joined Montgomery's Desert Rats. Cooper joined a Navy, Army, and Air Force Institutes (NAAFI) entertainment group and created a magic routine that included comic bits in between.
Career
After serving in the military for seven years, Cooper was demobilized and joined the entertainment industry on Christmas Eve of 1947. He then created the well-known monologue "Cooper the Trooper" about his military service. He performed as many as 52 performances every week in a variety of theaters across the nation and at numerous nightclubs in London.
Cooper was invited to perform in a 1947 production of Marqueeze and the Dance of the Seven Veils, a sand dance act, by musician Miff Ferrie. A European tour and work in pantomime came next, and a season at the Windmill Theatre brought everything to a close. Up until Cooper's passing in 1984, Ferrie acted as his sole representative.
With his role as the conjurer whose tricks never worked, Cooper quickly rose to the top of the variety scene, but it was his television work that propelled him to a position of national fame. He began appearing in his own shows after making his debut on the BBC talent program New to You in March 1948. He enjoyed a long run of popularity with viewers, especially during his time working with Thames Television from 1973 to 1980 and London Weekend Television from 1968 to 1972. Cooper was one of the most well-known comedians in the world because of the numerous television shows he appeared on in the middle of the 1970s.
Everyone believes that Cooper was cruel, according to John Fisher, who wrote a biography of the man. Simply put, he had a compulsive fear of delving into his pocket and was known as the tightest man in the magical show industry. One of Cooper's tricks involved paying the appropriate taxi fare and then, as he was getting out, slipping something into the pocket of the driver and saying, "Have a drink on me." It turned out to be a tea bag; that was something.
Cooper's professionalism began to suffer from alcohol by the middle of the 1970s, and club owners began to complain when he arrived late or sped through his performance in just five minutes. He also had severe circulation issues in his legs, pneumonia, lumbago, sciatica, and persistent dyspepsia. Cooper cut back on his drinking after realizing the severity of his ailments, and his act regained its vigor and self-assurance. On an otherwise triumphant appearance with Michael Parkinson, he forgot to set the safety catch on the guillotine illusion into which he had cajoled Parkinson, and only a last-minute intervention by the floor manager saved Parkinson from serious injury or worse. However, he never stopped drinking and could be fallible.
Cooper was a binge drinker and a big cigar smoker. His health began to deteriorate in the late 1970s, and he had a heart attack in 1977 while giving a performance in Rome. He returned to television three months later in Night Out at the London Casino.
Cooper's Half Hour was his final series since Thames Television would not give him another prominent role due to his drinking by 1980. Nevertheless, he continued to make guest appearances on other television programs and collaborated with Eric Sykes on two Thames productions in 1982.
Death
On the 15th of April, 1984, Tommy Cooper was performing his act when he suddenly fell backward. The audience initially laughed, thinking it was part of his act. However, it soon became clear that something was wrong. At this point, Jimmy Tarbuck, Alasdair MacMillan, the television production's director, and the team behind the scenes who had been watching the situation realized that what was happening to him was not a performance. As it became apparent that Tommy Cooper was unable to stand back up, the audience's laughter started to fade. Cooper was unable to get back up, and the show was interrupted for a commercial break. Cooper was taken to the hospital, where he was pronounced dead on arrival. He was 63 years old.
Cooper's death was a shock to the world. He was one of the most popular comedians in Britain, and his death was mourned by fans everywhere. His funeral was held at Mortlake Crematorium in London, and his ashes were scattered in the back garden of his home.
Personal Life
On February 24, 1947, Cooper got married to Gwen Henty in Nicosia, Cyprus. In 2002, she passed away. They had two kids: Victoria and Thomas, who was born in 1956, went on to become an actor under the name Thomas Henty, and passed away in 1988. Cooper also had a romantic relationship with Mary Fieldhouse, his personal assistant, from 1967 until his passing.
Legacy and Honors
Founding the University of South Carolina: Thomas Cooper played a pivotal role in the establishment of the University of South Carolina in 1801, laying the foundation for higher education in the state.
President of South Carolina College: Cooper served as the president of South Carolina College (now the University of South Carolina) from 1820 to 1833, contributing significantly to its growth and development.
Legal and Scientific Contributions: He was a respected lawyer and scientist, known for his work in various fields, including mineralogy, chemistry, and law. His expertise left a lasting impact on both the academic and legal communities.
Honorary Degrees: Thomas Cooper received honorary degrees from prestigious institutions, such as Harvard University and the University of Pennsylvania, recognizing his scholarly achievements.
Educational Legacy: Cooper's dedication to education left a lasting legacy in South Carolina, where he championed the importance of public education and played a crucial role in shaping the state's educational system.
Scientific Legacy: His contributions to science, particularly his work on mineralogy and geology, continue to be studied and referenced by scientists and researchers.
Legal Reforms: Cooper's legal writings and advocacy for legal reforms influenced the development of the legal system in the United States, particularly in the areas of contract law and constitutional law.
Historical Impact: Thomas Cooper is remembered as an important historical figure in South Carolina and beyond, with his name and contributions preserved in numerous historical records, books, and academic institutions.
Scholarly Recognition: His writings and scholarly contributions are still recognized and studied by academics and historians interested in early American education, science, and law.
Statues and Memorials: Various statues and memorials have been erected in his honor, serving as a reminder of his enduring legacy in education, science, and law.
Filmography
| Year | Title | TV company |
| --- | --- | --- |
| 1948 | New To You | BBC |
| 1948 | Comedy Capers | BBC |
| 1952 | It's Magic | BBC |
| 1953–1979 | The Royal Variety Performance | BBC / ATV |
| 1955 | Sunday Night at the London Palladium | ATV |
| 1957 | Cooper / Life With Tommy | A-RTV |
| 1957 | The Tommy Cooper Hour | ATV |
| 1958 | The Stars Rise in the West | TWW |
| 1958 | Cooper's Capers | ATV |
| 1959 | After Hours | ABC |
| 1960 | And the Same to You | Film |
| 1963 | The Cool Mikado | Film |
| 1966 | Cooperama | ABC |
| 1966–1969 | Life With Cooper | ABC / Thames |
| 1967 | The Plank | Film |
| 1967 | Spotlight | ATV |
| 1967 | Sykes Versus ITV | ABC |
| 1968 | Cooper King-Size | Thames |
| 1968 | Cooper At Large | Thames |
| 1969–1971 | Tommy Cooper / It's Tommy Cooper | LWT |
| 1973–1975 | The Tommy Cooper Hour | Thames |
| 1975 | Cooper | Thames |
| 1976 | Tommy Cooper's Guest Night | Thames |
| 1977 | The Silver Jubilee Royal Variety Gala | ATV |
| 1977 | 30 Years … Just Like That! | Thames |
| 1978–1979 | London Night Out | Thames |
| 1978 | The Tommy Cooper Show | Thames |
| 1978 | Cooper – Just Like That | Thames |
| 1978 | Must Wear Tights | Thames |
| 1979 | Parkinson at Christmas | BBC |
| 1980 | Cooper's Half Hour | Thames |
| 1982 | It's Your Move | Thames |
| 1982 | The Eric Sykes 1990 Show | Thames |
| 1983 | This Is Your Lunch | BBC |
| 1983 | The Bob Monkhouse Show | BBC |
| 1984 | Live from Her Majesty's | LWT |
Recordings
"Don't Jump Off the Roof Dad
"Ginger" – 7″ single
"Happy Tommy" – 7″ single
"Just Like That" 7″ single
"Masters of Comedy" – CD
"No Arms Will Ever Hold You" – 7″ single
"Sweet Words of Love" – 7″ single
"Tommy Cooper Very Best Of" – CD, DVD
"Walkin' Home From School" – 7″ single
"We'll Meet Again" – 7″ single