Trevor Noah is a South African comedian, writer, political commentator and television host. He is the current host of the popular The Daily Show, an American satirical news program that airs on comedy central. 
Trevor is one of the most successful stand-up comedians in his country as he has toured the United State and all other international countries. He has won many notable awards and has hosted several high-class events in and out of South Africa.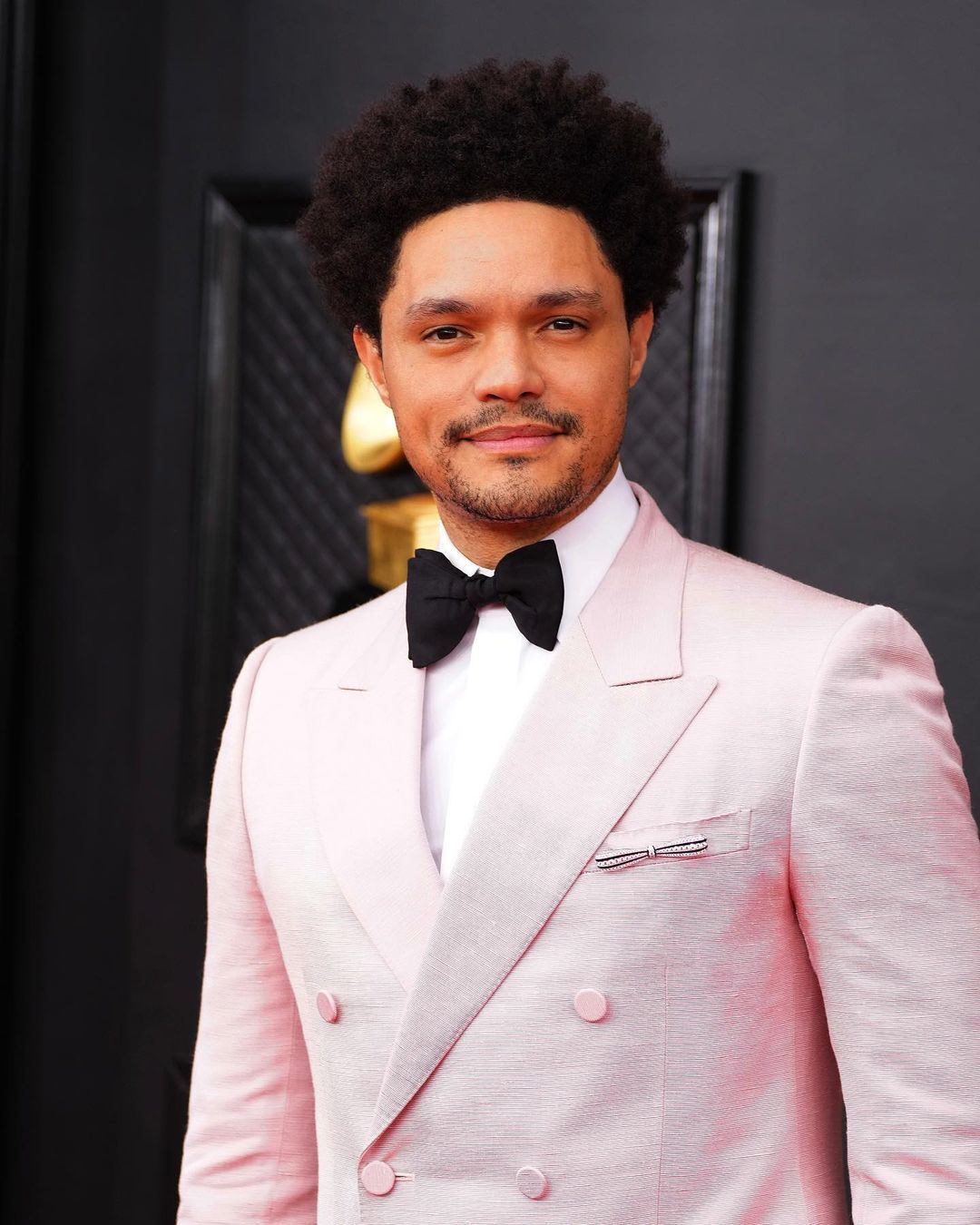 Trevor Noah Biography
Date of Birth :
20th of February, 1984
Nationality :
South Africa
Occupation :
Comedian, Writer
Parents :
Patricia Nombuyiselo (Mother)
Social Media Handles :
Instagram: trevornoah
Twitter: @Trevornoah
Facebook: Trevor Noah
Early Life and Education
Born on the 20th of February, 1984 in Soweto, South Africa, Noah was born to a Black Xhosa mother and a white Swiss-German father. The union of his parents was an illegal one and that was due to the apartheid system that existed then. The system supported and encouraged racial oppression and segregation so their union was more of a taboo.
Although Trevor's parents made their relationship a secret, a child cannot be hidden forever. When Trevor was born, his mother was frequently jailed for a short period of time and young Trevor was often hidden from authorities.
Being a half-cast, Trevor experienced some tragic situations some of which include the deep poverty his family endured, segregation and other limitations. This is why the majority of Trevor's comedic works are based on his past experiences.
For his education, Trevor has his primary and secondary education in a private Roman Catholic primary and high school in Johannesburg, Maryvale College. However, Trevor has no records of obtaining a university degree.
Career
Trevor started his career in a small role he played on an episode of the South African soap opera Isidingo in 2002. Later, he hosted his own radio show Noah's Ark on Gauteng's leading radio station, YFM. Being a lover of comedy, Trevor dropped his job as an on-air personality to focus on his comedy.
In his early stages in the industry, he performed with notable comedians including Darren Simpson, Marc Lottering, Kagiso Lediga, Barry Hilton and David Kau among others. He not only performed with South African comedians but also with international comedians such as Carl Barron, Dan Ilic Paul Rodriguez etc.
While exploring the comedy industry, Trevor was gaining prominence each time he performs. In 2007, he was an opening act for the Canadian comedian Russell Peters and American comedian, Gabriel Iglesias when he toured South Africa.
After a long while, Trevor returned to hosting and he became the host of "Run the Adventure", an educative television program that was aired on SABC 2. He was also the host of the popular gossip show on SABC 2," The Real Goboza". Siyadlala was also part of the television show he hosted. Soon after working, Trevor co-hosted with Pabi Moloi on a dating game show, The Amazing dates. He appeared on Strictly come dancing as a host in the show.
In 2009, he hosted the 3rd annual South African Music Awards and in the same year, he co-hosted Eugene Khoze on a reality competition tagged The Axe Sweet life. Trevor consistently gave his fans a show as he was also the host of the 6th Annual South African Music Awards.
Due to his enormous fan base, he started a show with DSTV, Tonight with Trevor Noah on MNet. The show was eventually moved to DStv's Mzansi Magic which help boost the reach of the show.
Among other Trevor comedies include; the Vodacom Campus Comedy Tour, the Jozi Comedy Festival, and Bafunny Bafunny to mention but a few. His special stand-up comedies include Daywalker (2009), That's Racist (2012), Crazy Normal (2011) etc.
Subsequently, Trevor became a consumer protection agent for South Africa's third largest mobile phone network provider, Cell C. In 2011, Trevor relocate to the United State and in January of the second year, he became the first South African stand-up comedian to feature on The Tonight Show.
In 2012, Trevor's life was officially documented in a documentary titled You Laugh But It's True. Also, in 2013, he made his debut appearance on Late Show with David Letterman and was the roastmaster in the Comedy Central Roast of South African Afrikaans singer Steve Hofmeyr.
In 2014, he worked closely with The Daily Show as a recurring contributor. However, in March 2015, he succeeded John Stewart as the host of the Daily show and began his tenure on the 28th of September 2015.
In November 2016, Trevor released his first book Born a Crime; Stories from a South African Childhood, which became a bestseller in New York almost immediately after it was released. It also became a highly rated audiobook in 2016.
In the subsequent year, Comedy central extended his contract for more than five years through 2022, as the President of the station said Daily Show under Trevor was the number one show for centuries.
Being one of the best, Trevor uses his humorous deliveries to address contemporary issues in society and the reality the people of American society face on a daily basis. He also uses the platform to engage with some prominent and influential people such as Oprah, Kevin Hart, Ellen, Bill gates and other most influential figures.
Philanthropy
In 2018, Trevor Noah started a foundation which was established with the aim of helping vulnerable youth and orphanages in South Africa. The foundation is a non-profit organization that is based in Johannesburg but works across all neighbouring places.
The organization also helps to empower youths with the relevant skills they need to scale through life. It provides educational background and grooms youths with sufficient skills and capacity to pursue their dreams.
Personal Life
Trevor is a speaker of many languages as he can fluently speak, English, Afrikaans, Zulu, Tswana and Sotho. He can as well speak Tsonga, German and Xhosa.
In 1992, Trevor's mother, Patricia Nombuyiselo, got married to Ngisaveni Abel Shingange and was blessed with two sons; Andrew and Isaac. In 1996, the couple divorced and Trevor's mother remarried. She got married to Sfiso Khoza.
When Shingange heard about her marriage, he shot her but she survived with minor injuries. Trevor confronted Shingange for his actions but he rather threatened which led Trevor to leave Johannesburg for Los Angeles. In 2011, Shingange was convicted of attempted murder and was sentenced to three years in imprisonment.
Trevor is a man of the people who frequently address himself as being progressive and having a global perspective. However, he emphasized that the progressive he means doesn't imply political progressive as he is not involved in US partisanship.
Trevor is single at the moment. Before then, Minks Kelly was Trevor's girlfriend and they started dating in 2020. However, in May 2021, the relationship was brought to an end amicably. Between 2015 and 2018, Trevor dated Jordyn Taylor and between 2014 and 2015, he was with Dani Gabriel.
Currently, Trevor resides in New York city but reports had it that he suffers from a condition called ADHD.
Controversies
In 2015, Trevor almost lost his The Daily Show gig as he was shamed for a joke he made about Jewish women. The statement was received as a derogatory statement and he was dragged for that. However, he was pardoned by the station because Comedy Central received the joke as a natural nature of comedy. He was also allowed to continue hosting the show.
Later, he was caught up in a controversial plot but this came as a death threat. After the outbreak of Covid-19, people started spreading myths and speculations as regards the virus. After some time, Many believed Bill Gates might not have the best interest of the people at heart when he said he would produce a vaccine.
This was following an interview Trevor had with Bill Gates. During the interview, Bill Gates said that he wanted to try the vaccine for the pandemic in Africa but the news doesn't sit well with Africans. Later, Trevor Noah started receiving death threats as people labelled him a sell-out but he responded by saying he was only doing his job.
Awards and Nominations
Trevor is one of the most awarded creatives in Africa. He has earned himself 62 Grammy Nominations and has become South Africa's most decorated creative and comedian.
Below are some of his awards and Nominations;
2012 – South African Comics' Choice Award for Comic of the Year
2014 – MTV Africa Music Awards for Personality of the Year
2016 – NAACP Image Awards for Outstanding Talk Series, Outstanding Variety,
Outstanding Host in a News, Talk, Reality, or Variety
2016 – Critics' Choice Television Award for Best Talk Show
2017 – Zora Neale Hurston Award for Born a Crime
2017 – NAACP Image Awards for Outstanding Literary Work – Biography / Autobiography, Outstanding Literary Work – Debut Author
2017 – Guild of America Award for Comedy/Variety with Trevor Noah
2017 – Nickelodeon Kids' Choice Award for favourite African Star
2017 – GLAAD Media Award for Outstanding Talk Show Episode
2018 – MTV Movie & TV Awards for Best Host
2018 – Primetime Emmy Award for Outstanding Short Form Variety Series
Thurber House
2018 – NAACP Image Awards for Outstanding Talk Series
2018 – Outstanding Host in a Talk or News/Information Writers Guild of America Award
2018 – GLAAD Media Award | Outstanding Talk Show EpisodeThe Opposition with Jordan Klepper
2018 – Primetime Emmy Award for Outstanding Variety Talk Series, Outstanding Interactive Program
2018 – Outstanding Short Form Variety Series at People's Choice Awards
2019 – Dorian Awards for TV Current Affairs Show of the Year
2019 – Producers Guild of America Award for Outstanding Producer of Live Entertainment & Talk Television
2019 – NAACP Image Awards for Outstanding Talk Series
2019 – Outstanding Host in a Talk or News/Information (Series or Special) – Individual or Ensemble
2019 – Outstanding Writing in a Comedy Series
2019 – Outstanding Variety (Series or Special)
2019 – Critics' Choice Real TV Awards for Best Late-Night Talk Show
2019 – MTV Movie & TV Awards for Best Host
2019 – Primetime Emmy Award for Variety Talk Series
2019 – Outstanding Interactive Program
2019 – People's Choice Awards
2020 – Critics' Choice Television Award for Best Comedy Special
2020 – Producers Guild of America Awards for Outstanding Producer of Live Entertainment & Talk Television
2020 – Grammy Award for Best Comedy Album
2020 – NAACP Image Awards for Outstanding Talk Series
2020 – Outstanding Host in a Talk or News/Information (Series or Special) – Individual or Ensemble
2020 – Outstanding Writing in a Comedy Series
2020 – GLAAD Media Award | Outstanding Talk Show Episode
Trevor Noah Net Worth
Throughout his contribution as one of the best comedians in the South African entertainment industry, coupled with his shows and book; Born A Crime, Trevor is estimated to be $100 million.
Social Media Handles
Instagram: trevornoah
Twitter: @Trevornoah
Facebook: Trevor Noah