Tunde Kelani better known as TK is a renowned photographer, filmmaker, movie director, ace storyteller, cinematographer, and movie producer.
From his background to his early career. Then his awards and recognitions; I will share with you every other thing you need to know about Tunde Kelani.
Of course, I will share with you his current marital status; whether or not he is married, single, divorced, and or single but unavailable.
Scroll down a bit. Then a bit and a little more. Naija Biography is here as always to feed your curiosity from her wealth of knowledge. Keep scrolling.
Tunde Kelani Background
Tunde Kelani was born in the late '40s to the family of Mr. and Mrs. Kelani Lagos State Nigeria. Born precisely on 26th February 1948 in Lagos, Tunde was sent to live with his grandparents in Abeokuta at the age of 5.
As it were, Tunde's grandparents were as of then the "Balogun of Ijaiye Kukudi." This, in fact, made it easier for him to learn more about the Yoruba culture, philosophy, literature, and world view of arts.
Most certainly, Tunde's love for arts, and literature started early enough.
He had his elementary and secondary education at the Oke-Ona Primary School Ikeja, Abeokuta, and Abeokuta Grammar school respectively. Of course, these were all in Abeokuta.
As stated earlier, Tunde developed an interest in arts and others while he was much younger. Evidently, he developed an interest in photography while he was in elementary school.
Being a go-getter, Tunde, when he finally entered secondary school invested not only his time but money in learning the art of photography. Then, he worked as an apprentice.
Shortly, he went to the former Western Nigerian Television to train as a cameraman. This training lasted for almost 4 years before he finally traveled to London.
In London, Tunde took a two-year course on the Arts and Techniques of Filmmaking at the London Film School.
Early Career
While he studied at London Film School, Tunde Kelani was an employee. He worked as a correspondent for Reuters and BBC TV. At Reuters, Tunde covered the Independence of Zimbabwe and the drought in Ethiopia.
On graduation, Tunde returned to Nigeria. Then, he co-produced 'The Dilemma of Reverend Father Michael' with Adebayo Faleti; his first movies.
After his first production, Tunde Kelani got more jobs and recognition.
In 1992, he established Mainframe Productions. This establishment is a production company based in Lagos; it promotes the Nigerian culture and beliefs. It does this through its production. It produces high-quality movies rich in culture.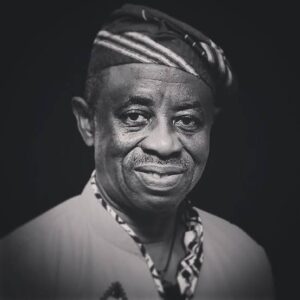 Is Tunde Kelani Married?
Yes, kindly, Tunde Kelani has been married for decades to his beautiful wife. Notably, the marriage is blessed with three children.
Movies of Mainframe Film and Television Productions
These among others are some of Tunde Kelani Productions.
° Life in Slow Motion (Short Film)
° Saworoide (Feature)
° Yeepa (Filmed Play)
° Arugba (Feature)
° Maami (Feature)
° Dazzling Mirage (Feature)
° Agogo Eèwò (Feature)
° The Narrow Path (Feature)
° Abeni (Feature)
° Abeni 2 (Feature)
° Thunderbolt: Magun (Feature)
° O Le Ku 1 (Feature)
° O Le Ku 2 (Feature)
° White Handkerchief (Short Film)
° Ti Oluwa Ni Ile (Feature)
° (Feature) Ti Oluwa Ni Ile 2
° Ti Oluwa Ni Ile 3 (Feature)
° Kòseégbé (Feature)
° Tunmigbe (TV Show) Feature
° Arambada (TV Show)
° Ayo Ni Mo Fe (Feature)
° Ayo Ni Mo Fe 2 (Feature)
Awards and Recognitions
These are some of Tunde Kelani awards and recognitions;
° African Magic Viewer's Choice (AMVCA) Industry Merit Award in 2018
° Elected to vote in the Directors Category of the Board of the Academy of Motion Picture Arts and Sciences also known as 'The Oscars' in 2019
° Angenieux Award (Prix du Public) at Nollywood week 2015
° Arambada (TV Show)
Tunmigbe (TV Show) Feature
Ti Oluwa Ni Ile (Feature) – 1993
(Feature) Ti Oluwa Ni Ile 2 – 1993
Ti Oluwa Ni Ile 3 (Feature) – 1993
Ayo Ni Mo Fe (Feature) – 1994
Ayo Ni Mo Fe 2 (Feature) – 1994
Kòseégbé (Feature) – 1995
O Le Ku 1 (Feature) – 1997
O Le Ku 2 (Feature) – 1997
Saworoide (Feature) – 1999
White Handkerchief (Short Film) – 2000
Thunderbolt: Magun (Feature) – 2001
Agogo Eèwò (Feature) – 2002
Abeni (Feature) – 2006
Abeni 2 (Feature) – 2006
The Narrow Path (Feature) – 2006
Life in Slow Motion (Short Film) – 2008
Arugba (Feature) – 2009
Maami (Feature) – 2010
Yeepa (Filmed Play) – 2014
Dazzling Mirage (Feature) – 2014
° NMA Lifetime Achievement Award in 2014
° Ecran d'Honneur award at the 22nd edition of the Ecrans Noirs Film Festival in July 2018
° Member of Emmy Awards International Jury in 2015
° Leopold Sedar Senghor Prize for African Cultural Creativity and Impact in 2019
° Recipient of the prestigious 'Africa Reel Award' at the Silicon Valley African Film Festival (SVAFF), California, the USA in 2012
Over to you! What else do you want to know about Tunde Kelani? Tell me about it with a comment box…