If we are talking about a legend in the Nigerian music Industry then Dagrin must be Number one or two, DaGrin broke the door down and created a worthy blueprint that rappers like Olamide, Reminisce, and to an extent, Phyno and Classiq could follow.
Dagrin Short Biography
Nigerians on Social Media are eulogizing late rapper, Oladapo Olaitan Olaonipekun also known as Dagrin was born on 25 October 1984 in Ogun state, Nigeria
READ: List of banks in Nigeria
Dagrin also nicked named, Barack O'Grin died April 22, 2010, in a ghastly motor accident in the early hours of April 14, 2010, after his car collided with a stationary trailer in front of Alakara Police Station, off Agege motor road, Mushin, Lagos; claimed his life. He was later pronounced dead in the intensive care unit of Lagos University Teaching Hospital after several efforts to save his life. Below is 10 fact you need to know about Dagrin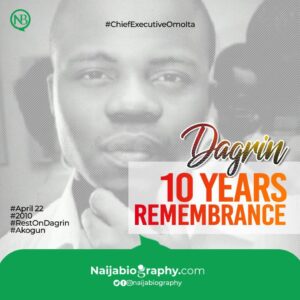 10 Fact You Need To Know About Dagrin
Dagrin's sophomore album was held as the hottest thing with millions of hailing him as the new rap messiah In 2009 and 2010

His father's speech at the candle Light ceremony was the rap he did to the song he was featured in by YQ, titled: 'Efimile'

Dagrin's father nicked named Nelly, confirmed his son's death in front of LUTH hospital to the large crowd waiting anxiously.

He was 26 years old when he died in a car accident

Dagrin's father owns a music store located at Meiran bus stop, as at then called 'House of Nelly sounds' store, where he used to stay before moving to Surulere.

His ill-fated car, Nissan Maxima was a 2008 model and carried the number plate, DAGRIN 03

Dagrin attended community primary school, Roseille Nursery and Primary School, Meiran Community high school, and Egbado College. 

He got the nickname Barack O'Grin from the remix song he did with General Pype titled 'Champion.

Dagrin's mother, Mrs. Olaonipekun, is the second of his father's three wives

He logged into his Twitter account for the last time on Thursday, April 8, 2010.
That is the 10 fact you need to know About Dagrin, I believe you found out New things about the Legend artist