For a Nigerian like me who was born in the late '90s, the histories of people like Ishola Oyenusi were seen on screen and not witnessed. Movies like "The Rise and Fall of Dr. Oyenusi" by Eddie Ugbomah released in 1977,  and "Oyenusi" by Odunlade Adekola, describing the notorious armed robber, have made it easy for such people to boast about knowing his history.
Many Nigerians grew up knowing that Oyenusi is a deadly robber, but not everyone knows his true story. At the mention of Doctor Oyenusi's name, history has it that people fret- no one wants to name his or her child 'Oyenusi'. Also, people that are familiar with the story use his personality to rebuke their children for stealing.
In this piece, Naijabiography compiled the true story of Oyenusi; his birth, work-life, profession, and how he was killed.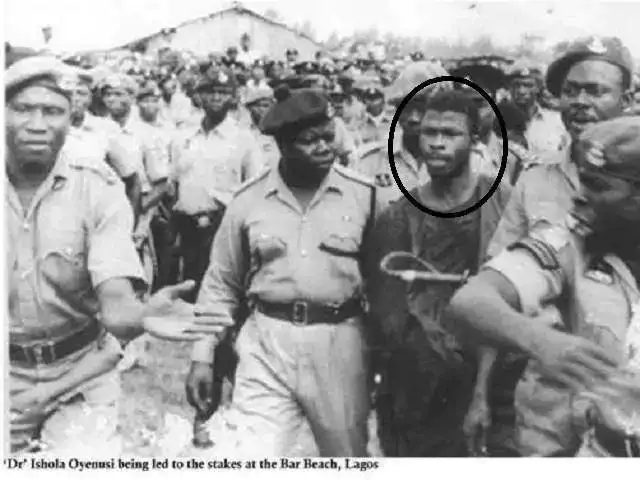 Who was Ishola Oyenusi?
Doctor Ishola Oyenusi, with the robbery name 'Doctor Rob and Kill' was a Lagos-based man with creativity and confidence. Although people know him for his deadly robbery activities, he was a talented young man.
In the 1970s, he became a threat to people in Lagos and later extended his outfitted armed robbery activities to other neighboring urban areas across the country. Oyenusi was talented in the areas of burglary, grabbing vehicles, killing people, looting banks, and fraud.
Rumour has it that Oyenusi was a Medical Doctor and that he became jobless and not interested in a 'white collar job.' The true story behind the name 'Doctor Ishola Oyenusi' pronounced by him during his interrogation, was given to him for entertainment or fun. He was neither a clinical specialist nor a medical practitioner- according to him, he wished to attempt an auxiliary training to become a specialist, but his parents could not afford it, which led to his robbery pursuit.
Oyenusi's Robbery Career
Oyenusi's personality became known during one of his operations. His girlfriend needed money and he couldn't give her. And because of his soft heart for his girl, he decided to hijack (steal) a professor's car, and when the owner dragged him, he murdered him.
Oyenusi sold the stolen car for four hundred naira and gave it to his sweetheart. Since then, he became a professional in stealing and killing- he began to rob people day and night. In one of his interviews, he said "I never let any of my victims live, I killed them all."
'Doctor Rob and Kill' was arrogant and ill-tempered, he used to emphasize his belief with pride that "the bullet has no power" and sometimes ignore the saying that 'he who lives by the sword must die by the sword.' To him, a bullet is not enough to abort his mission to loot and murder. This also gave him the confidence to rob banks.
Oyenusi became notorious that he was ranked the ''first most celebrated armed robber in Nigeria.'' After him, were notorious robbers like the 'popular Anini (Lawrence Anini), Shina Rambo, Buraimo (Jimoh Buraimo), Baba Onilace (Babatunde Folorunsho), among others.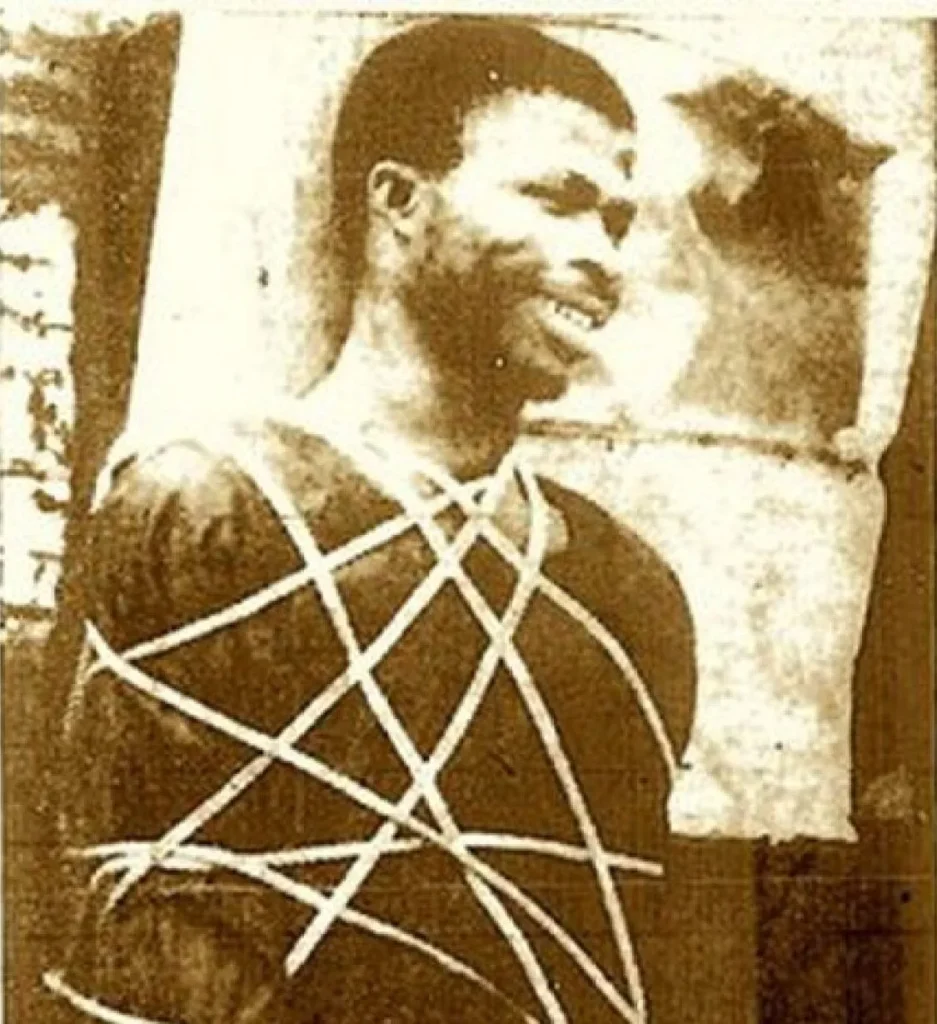 How Ishola Oyenusi was Arrested
Oyenusi was arrested on the 27th of March, 1971 during his attempt to burglar and when he was apprehended by police called Constable Nwi, he killed him and absconded with cash worth about 28, 000 dollars. Unfortunately for the smart robber, he was caught and arraigned to face the wrath of the law.
Doctor Ishola confessed to the accusations stating the names of people in his team, which include; Joseph Osamedike, Ambrose Nwokobia, as well as Joel Amamieye, and Philip Ogbolumain, Ademola Adegbitan, and Stephen Ndubuokwu. According to him, he didn't carry out the operations alone but had support from people who are also professionals.
During his arraignment, Oyenusi spoke rudely to a police officer who was dragging him. He said with a smile, 'people like you don't have the confidence to face me when I'm armed.'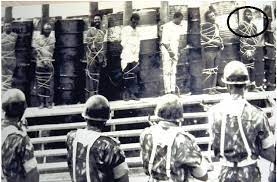 Oyenusi's Execution and Death
History has it that over 30 thousand people were enthusiastic and overjoyed to witness the execution of Nigeria's notorious armed robber. In the past, people who commit grievous crimes, especially murder were given open execution- they were usually tied to metal drums or big trees and fired with the criminals' eyes wide open.
With his hands cuffed alongside his gang, Oyenusi smiled till his death stating that he was dying for the offense he committed. He and his team were driven to the bar mainstream beach in Lagos around 10 am. Oyenusi was tied to the drum and was shot with no mercy.]
Meanwhile, before his execution, Oyenusi told journalists and officers present at the execution that he blame his parents for not sponsoring his secondary education. Thus, he felt no guilt and smiled till his death.