Ekiti State is located in the southwestern part of Nigeria, which is bordered to the north by Kwara State, as well as to the northeast by Kogi State, to the south and southeast by Ondo State, and to the west by Osun State. History has it that Ekiti was carved from a part of Ondo State in the '90s, having Ado-Ekiti as its capital.
The Ekiti are a culturally uniform people that speak the Ekiti variety of the Yoruba language. Due to its homogeneous makeup, Ekiti has a considerable distinction among the states of the federation. The Yoruba dialects spoken by the border populations of neighbouring states in Ekiti differ slightly from each other.
The state has a very diverse culture. They have distinctive traditional methods of dressing, dancing, celebrating holidays, practising their faith, and living in general. Like other Yoruba towns, they had obas as their rulers. The Yoruba people of Ekiti State are traditionally considered to have sacred or divine kings as their natural rulers.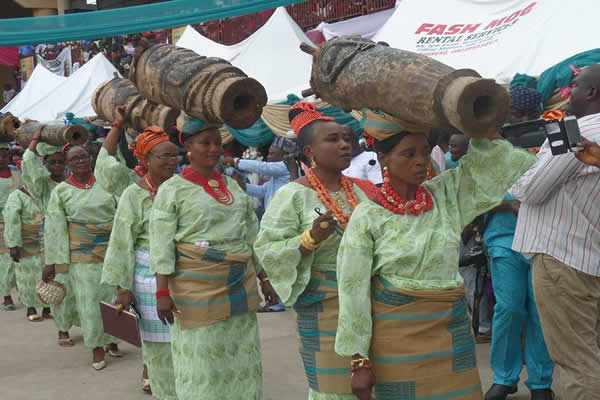 Ekiti State Anthem
Oun abajoro kiipe kun
Oun asepo nileye
Ehin ola wa tidara o
Awa Ekiti ati parapo
Kaparapo katun panupo
Awa Ekiti ati gbominira
Okan lawansee
Chorus: Ekiti, Ekiti ati gbominira (2ce)
Awa Ekiti iwaju laomalo lagbara Olorun
Awa Ekiti okan soso ma ni'wa o lailai.
Oriki Ekiti
omo Owa omo ekun
omo oro ninu waya agbele sebi eko, aidamo ro o yangba
omo otiriki ju Ida, ki keri ogun hun won l'ule Owa
Elila oke isa, okan din nibe eyin ra kan si, okan le nibe inse leyin pa kan je
Omo agesin re popo ukoro,
Omo ogbogan gbogan leti
Omo aroyin royin kan se po e yo run lule aran
Omo ekun peran dagba aya si,
Omo jiwajiwa ileke
Eyin lomo olulu oro kii ro loru.
Omo olupepe ka sokasoka ka mebibo sere, ka
soloko segbe ogiri lule eyigbo
Eyin lomo irafi eemi, omo agbona bi ado
Omo elewure funfun ilasa ki fun bi okin
Omo obanla ba odo, omo arabaribi akuta
Omo Aalaere gbendeke, Omo aji be gbaa ji
Udile Ekiti Omo aji mogun sano omo
opababa lesi lodo ose oko.