The Ijebu kingdom was founded in the fourteenth century and grew wealthy and strong in the eighteenth and nineteenth centuries as a result of its location on the Lagos-Ibadan trade routes. The Ijebus have long been admired for their economic aptitude and trading skills.
The Ijebu Dynasty
The Ijebu Dynasty has managed to remain unified as one, despite being split into major sections – Ijebu-Ife, Ijebu-Igbo, Ijebu-Ode, Ijebu-Ososa, and Ijebu-Remo – under the direction and authority of the Awujale. Awujale in the Ijebu dynasty is referred to as the royal title of the King of the Ijebu Kingdom, who sits in Ijebu-Ode.
Another prominent god of the dynasty is Agemo, who is a famous Ijebu deity celebrated twice a year. The celebration, according to history, is an occasion utilized to unite and resolve problems between Ijebu villages by collecting delegates from the affected groups, known as Alagemos, to discuss and resolve their differences.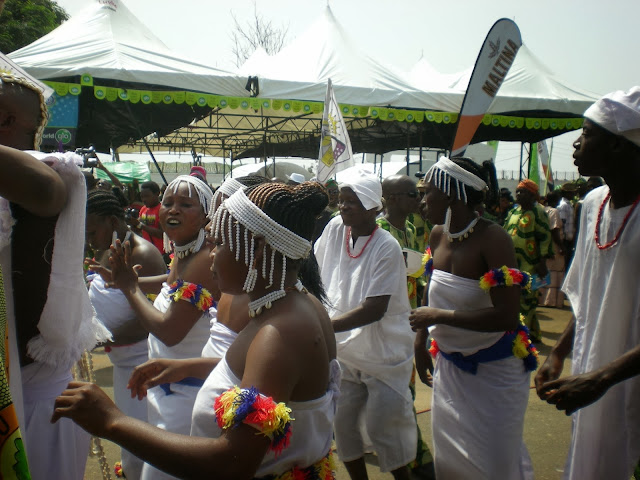 The Oro is another important Ijebus deity who is said to cleanse society of wickedness. The Oro celebration is often held before the Agemo festival to ensure that the communities are free of evil spirits in the days leading up to the Alagemos' reunion.
Oriki Ijebu
Ijebu omo alare,
omo awujale,
omo arojo joye,
omo alagemo ogun woyowoyo,
omo aladiye ogogomoga,
omo adiye balokun omilili,
ara orokun,
ara o radiye,
omo ohun seni oyoyonyo,
oyoyo mayomo ohun seni olepani,
omo dudu ile komobe se njosi,
pupa tomo be se okuku sinle,
omo moreye mamaroko,
morokotan eye matilo,
omo moni isunle mamalobe,
obe tin benile komoile baba tobiwan lomo,
Omo onigbo ma'de,
omo onigbo mawo mawo,
omo onigbo ajoji magbodowo,
ajoji tobawo gboro yio di ebora ile baba tobi wan lomo.
Ijebu omo ere niwa,
omo olowo isembaye,
towo kuji to dode,
koto dowo eru,
koto dowo omo.
Orisa jendabi onile yi,
niwan finpe igba ijebu owo,
kelebe ijebu owo,
ito ijebu owo, dudu ijebu owo,
pupa ijebu owo,
kekere ijebu owo,
agba ijebu owo.
Ijebu ode ijebu ni,
ijebu igbo ijebu ni,
ijebu isara ijebu ni,
ayepe ijebu,
ikorodu ijebu ijebu noni,
Ijebu omo oni Ile nla,
Ijebu omo alaso nla!
Ajuwaase ooo!