Not many people know Simeon Apata, Teni Makanaki's father until She (Teni) and Niniola (Teni's sister) became popular musical artists to reckon with in Nigeria and beyond. Teniola Apata described her father in one of her songs titled "Wait" where she eulogized the strength, love and bravery of her father.
Simeon Apata was a lovable man who cared for his family as well as his neighbourhood and the country at large. He was known for his bravery during the Nigerian Civil War between 1967 and 1970 and how he, alongside other armies fought in the war.
Simeon Olaosebikan Apata who was born in 1945, hailed from Ilejemeje in Ekiti State, but he lived in Lagos. Before his death on January 8th, 1995, he was a retired Brigadier General of the Nigerian Army and also, and he was the third Marine Commando during the former President Olusegun Obasanjo's regime.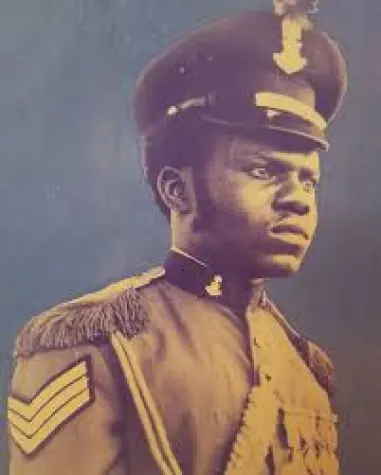 History has it that aside from his job in the army, he was a philanthropist, a business enthusiast and an entrepreneur, as well as an educator and mentor. As part of his passion for developing his community, he founded a boarding school in Lagos in 1980, which is now named in his memory "Apata Memorial Schools." He started the school with just a few benches and desks, but his aim was to ensure that every child in his community has access to quality education. Later, he became a founding member of the adult education board through his investment in Success Tutorial Academy in the 80s.
Teni's father was married to three women and had ten children, but during his lifetime, he was hardworking to ensure he could provide for the basic needs of his family. Also, he ensured that he sustained the legacy of unity in his family.
According to Niniola during one of her interviews, said her father left the army because of a leg injury, and that in their area in Ire-Akari Estate, Isolo, in the 90s, he acted as a vigilante. At the time, everyone could trust him because he was capable to discipline armed robbers, which earned him some accolades from the Lagos State Police Command.
In the early hours of January 8th, 1995, armed robbers came to the neighbourhood and as usual, Simeon was called. Later, he was shot by the armed robbers.
In their separate interviews, Teniola and Niniola said their father was shot in their presence, which was traumatizing for them. They said they would never forget their father, who was a hero to them.