The Batá drum is a two-headed hourglass-shaped drum with one end larger than the other. The Yoruba still utilize the percussion instrument for its original purpose as part of their traditional religious activities. Since the 1800s, batá drums have been utilized in the Santera religion in Cuba, and since the 1950s in Puerto Rico and the United States.
They are now employed in Nigeria for semi-religious musical amusement as well as secular, popular music. The batá's early function was as a drum of various gods, monarchs, ancestors, and politicians, with an impact on many aspects of Yoruba life.
The batá drums, for over 500 years, have had a narrative that exemplifies the force and breadth of the faith and culture in which they are deeply rooted. Because the batá drums are not solely a musical instrument, and what they play is not simply music in the common Western sense, we must discuss religion and culture in order to explain the tale of the batá drums.
These drums are also linked to the Yoruba's worship of the Orishas, which is being done in that area today. The distinctive polyrhythms played on the batá drums have greatly enriched Cuban music; as a result, numerous parts of these polyrhythms have been incorporated into many of the music's different forms. Finally, in Cuban culture, they have been adopted by other musical instruments.
These drums are also used in Candomblé music in Brazil. Nonetheless, we will just discuss their Cuban classification here. The current Cuban batá drums are the consequence of an evolution that incorporates the restoration of African instruments and laws on Cuban soil by Yoruba slaves.
The slave trade brought drumming knowledge from Yorubaland to Cuba in the 1800s. The Yoruba were one of two primary African ethnic groups to be transported to Cuba (the other being the Bant). During the 1820s and 1860s, 275,000 Yorùbá were brought to Cuba, largely from what is now southwestern Nigeria. The Yorùbá brought religious practices to Cuba, which became known as Santera or Regla de Ocha. The first batá with aá (holy batá) was manufactured in Cuba around 1830. There were probably 15 to 25 sets by 1951.
Santera, or Regla de Ocha, is a broad range of religious and spiritual practices created in Cuba, primarily based on Yorùbá traditional religions, but with influences from other African ethnic groups, such as Bant-speaking people in the Congo region and, to a lesser extent, European spiritism. Batá drumming is an integral aspect of this religious activity that has spread throughout the United States, particularly in Miami, New York, Los Angeles, and San Francisco. The religion acknowledges a creator god, as well as a multitude of deities that symbolize various natural elements, such as lightning, or concepts, such as war or love. The Orishas are a group of deities that include Eleegun, Ogun, Sangó, Yemojá, and others.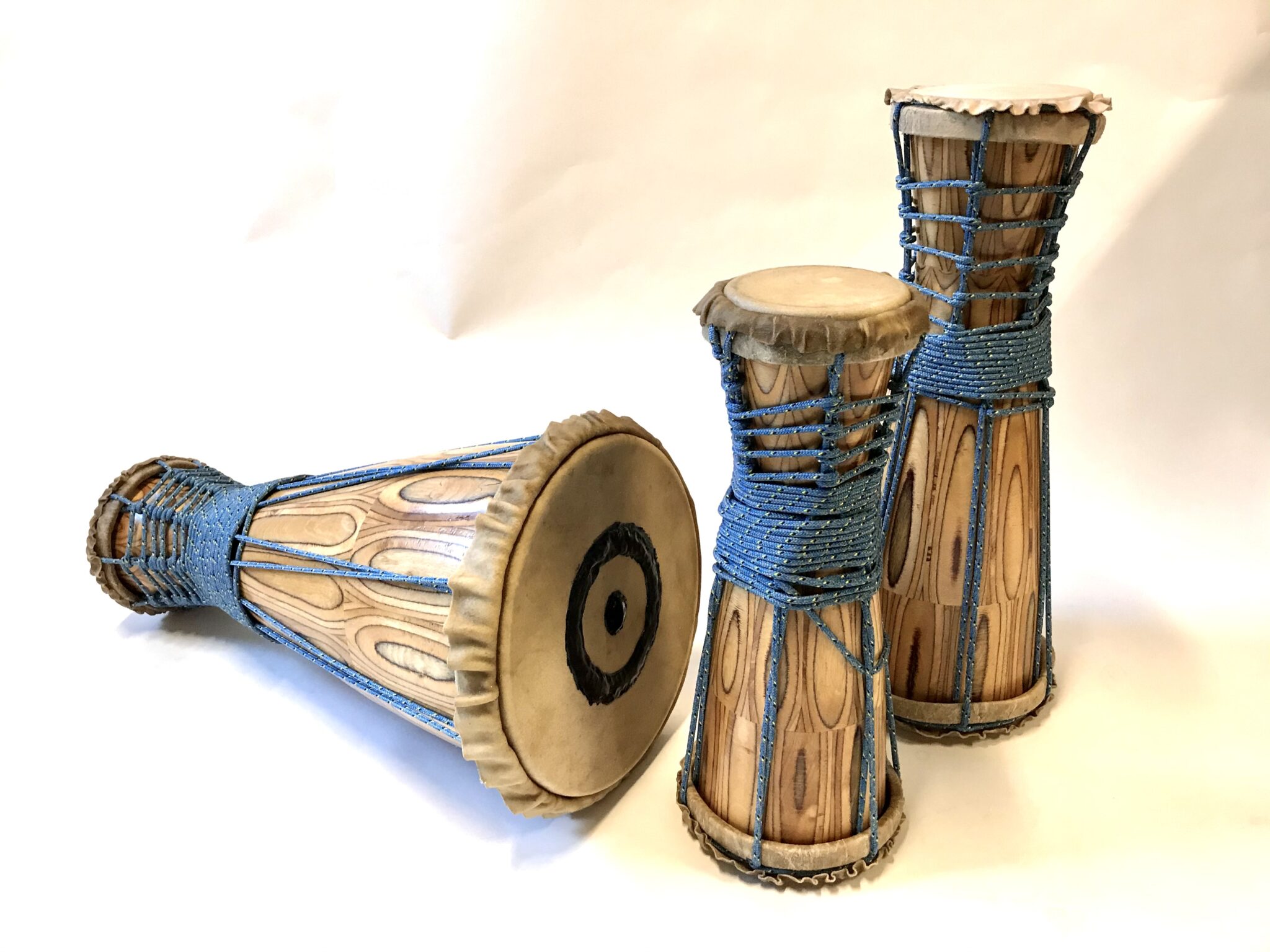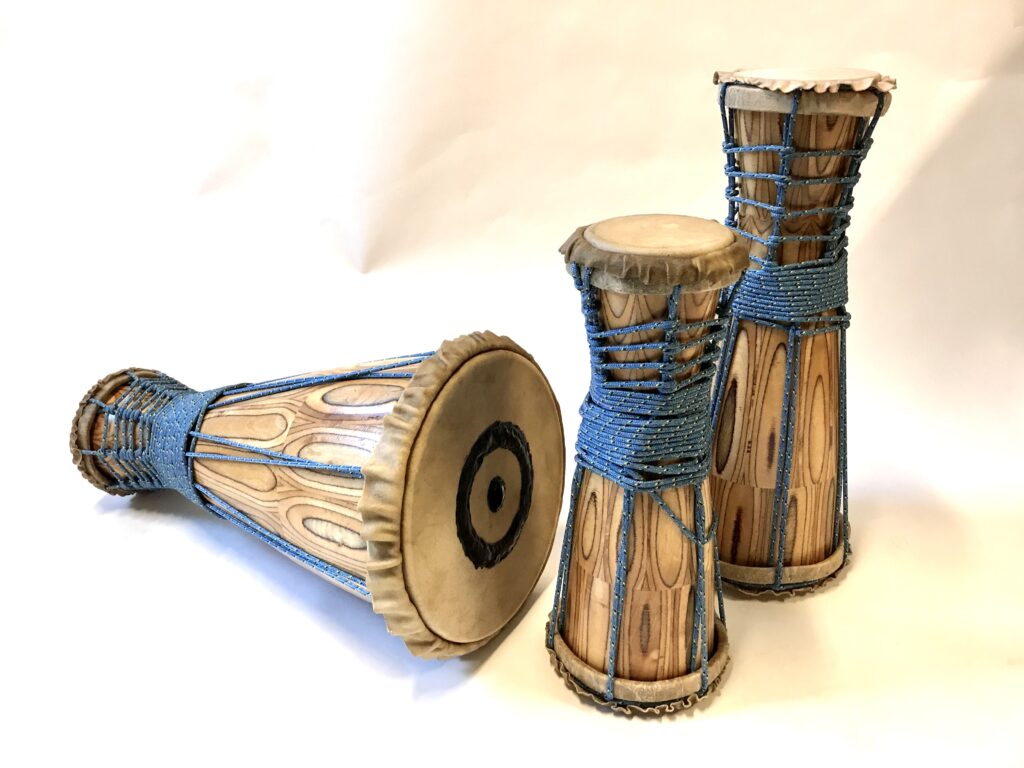 The batá drums have the ability to communicate. They can be used to speak Yorùbá in a literal sense, and have traditionally been used to recite prayers, religious poetry, greetings, announcements, plaudits for leaders, and even jokes or taunts. The Yoruba language, which is spoken by about 10 million people, is tonal, similar to Chinese and many African languages. As an integral aspect of how words are pronounced, Yorùbá speakers use three primary tones, or pitches, and glide between them. This is how Yorùbá praises and sayings are communicated through the hourglass-shaped "talking drums" (called dundun in Yorùbá). Batá and other drums can also communicate in this manner.
The batá was gradually assimilated into Cuban culture, and it began to play more secular roles. They were first heard in public in 1935 as part of folk music broadcast on Cuban radio. As the instrument's popularity grew, so did the number of applications. Beyond Lukum, more and more performers are incorporating renditions of the drums into their records or live performances. Abernkula—profane Batá—is the name given to these "non-sacred" Batá drums (see Sacred-profane dichotomy). Other genres began to use batá drums and rhythms, most notably Cuban timba, jazz, and hip hop. Son-Batá or Batá Rock, a genre heavily influenced by Irakere, became popular in the 1970s as a combination of Batá drumming and Big Band.
Throughout the twentieth century, skilled secular artists such as Julito Collazo made appearances in the United States, promoting the use of the drum in Latin music.
The Lukumi Religion and Bata Drum
The Batá drums and the Lukumi, also known as the santera religion are inextricably linked. During santera ceremonies, the drums are played simultaneously (sometimes with a rattle or "atchere") to form polyrhythmic compositions, or "toques." A ceremony using batá drums is known as a "toque," "tambor de santo," or "bembé," but ceremonies with shaken gourd-rattle "chékere" which in English is "shekere" ensembles are also common (usually with tumbadora, also called conga drums).
At least 140 different toques are thought to exist for the spirits (saints, or santos) and their many incarnations. The sacred batá drums are used in two significant "rhythm suites." The first is a liturgical series of rhythms known as "Oru del Igbodu," also known as "Oru Seco" (meaning "Dry Oru," or a sequence of beats without vocals), which is normally played at the start of a "tambor de santo" that includes 23 standard rhythms for all orishas.
The vocal part is to be performed by a vocalist/chanter (akpwon) who engages those attending the ceremony in a call-and-response (African) style musical experience in which a ritual is acted out in which an "initiate" (one who is granted the ability to perfectly play the Batá drums through the great spirit Aá (Ayan)) plays the new Batá set, and then is introduced to the old Batá set) plays the new Bat This is considered to "transfer" the spirit or Aá of the drums from the old set to the new set (through the initiate).
The popularity of batá drums has grown so much in recent decades that they are now being produced in greater numbers by both large western drum companies and individual artisans in Africa, using a variety of "non-traditional" materials such as fibreglass drums, with some instrument builders preferring cow skins or even synthetic membranes, while some traditionalists may object to this trend and insist on strict orthodoxy (as others and newcomers embrace the unique tonal ranges of the drums purely for their abstract musical possibilities without observance of traditional rules and rituals).
Those who practice Lukumi believe that specific sacred rhythms played on the batá contain the spiritual elements necessary to summon Orishas, who then occupy or possess (in the sense of angelic rather than demonic possession) one or more of the worshipers and/or ritual participants. Lukumists believe that Orishas are in charge of all natural and life-related elements, although the most frequently claimed primary goal of the batá is merely to glorify the deified Changó, also known as "The Great Spirit" or more casually as thunder and lightning. As a result, such ceremonies and rituals are frequently used to sanctify significant life changes and events, such as weddings and festivals.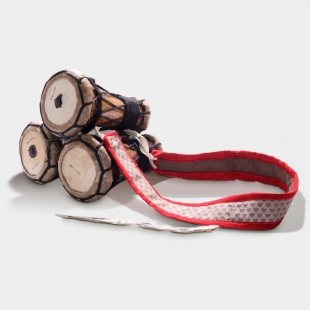 The Different Parts of Bata Drum
Batá drums are a three-headed tapered cylinder with a little hourglass shape that comes in three sizes. They are named after their sizes, which cause differences in pitch: iyá, the larger drum, is considered the mother; itótele, the medium-sized drum; and okónkolo, the smaller or baby drum. They are not made of staves but are cut out of solid wood. Batá drums are a three-headed tapered cylinder with a little hourglass shape that comes in three sizes.
Cuban drums are made of cedar wood or, on rare occasions, mahogany. Male goat or deer skins are used. The chacha, or small head, is known as the chacha, and the enu, or large head, is known as the enu, or mouth. On the larger heads of the iyá and itótele, a wax-like substance called ida, or fardela, is used to change the tone and produce a duller sound. There are normally two belts with bells connected around the iyá, around the heads. These are referred to as chaguoro. Drums have embroidered skirts or aprons, as well as decorative strips of cloth.
Batá drums have established a holy and secular identity in Cuba and the United States, where they are almost exclusively used for religious or semi-religious rituals in Yorubaland, Nigeria, and Benin. The batá is used in Nigeria to worship Shangó, the deified historical leader of Oyo and God of Thunder and Lightning, and produce what believers believe to be celestial music. They're also utilized for ancestor (egungun) worship, with masked dancers known as agbegijo portraying both comical and modern figures, as well as serious and old ones.
In the Yoruba cultural activities, the bata drum is one of the most ancient musical instruments, which has many parts. These parts play different functions and are used majorly for bata dances.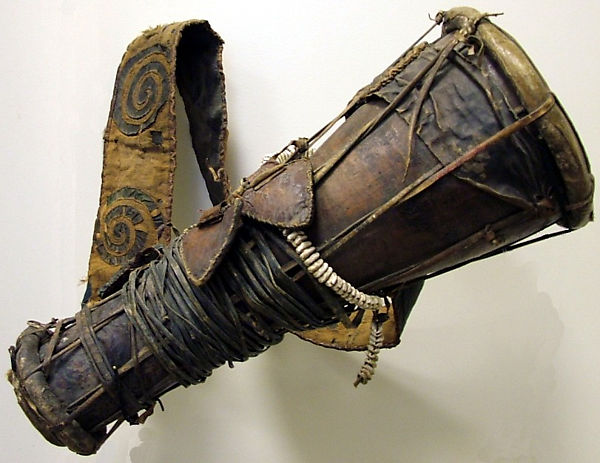 Igi Ilu: This is the drum's wooden framework.
Leather: This is the part of the drum that emphasizes the drum's tone. In a Bata drum, there are two heaps of leather. One is for bringing out the drum's tone, while the other is for covering the one for bringing out the drum's tone.
Egi Ilu: This assists in keeping the leather firmly attached to the wooden frame. Small bunches of thick brooms, also known as Igbale gbaro, are typically used to make it. The brooms are curled to fit the top and bottom of the drum's hardwood frame in the correct form and size.
Osan: This is a thick leather item. This functions as the drum's wire work. It aids in the securement of both the leather and Egi Ilu.
Iro: This is the black material found on the leather of the Bata drum's surface. Its principal function is to change the tones produced by the drum's many faces. It is usually obtained by cutting down a tree. All the faces of the bata have this material, apart from the face known as Ako, which produces the highest tone in the drum.
Bulala: Bulala is composed of thick leather as well. It's for playing the drums. Flexible plastics are now being cut to resemble leather bulala.
Cowry: it is a type of cowry that is always placed into Bata drums. It's known as AYAN.
Bata Drum in the Modern Day
The batá drums are increasingly being used in commercial recordings of popular music, not simply folklore records, so many people have heard them and may not have realized it. These double-headed drums can be found on many Latin popular music CDs, as well as in jazz and Latin jazz, and frequently as a prelude to or break in a salsa tune.
The approach to playing technique is almost always influenced. The musical nutrients inherent in the Alujo genre of neo-traditional music have been contaminated with agglutination of rhythmic patterns acquired from commercial music, Islamized music, and separatist churches.