Christopher Ifekandu Okigbo (16 August 1932 – 1967) was a poet, teacher, and librarian from Nigeria who lost his life for Biafra's independence. He is now widely regarded as one of the greatest postcolonial English-language African poets of the 20th century as well as a significant modernist author.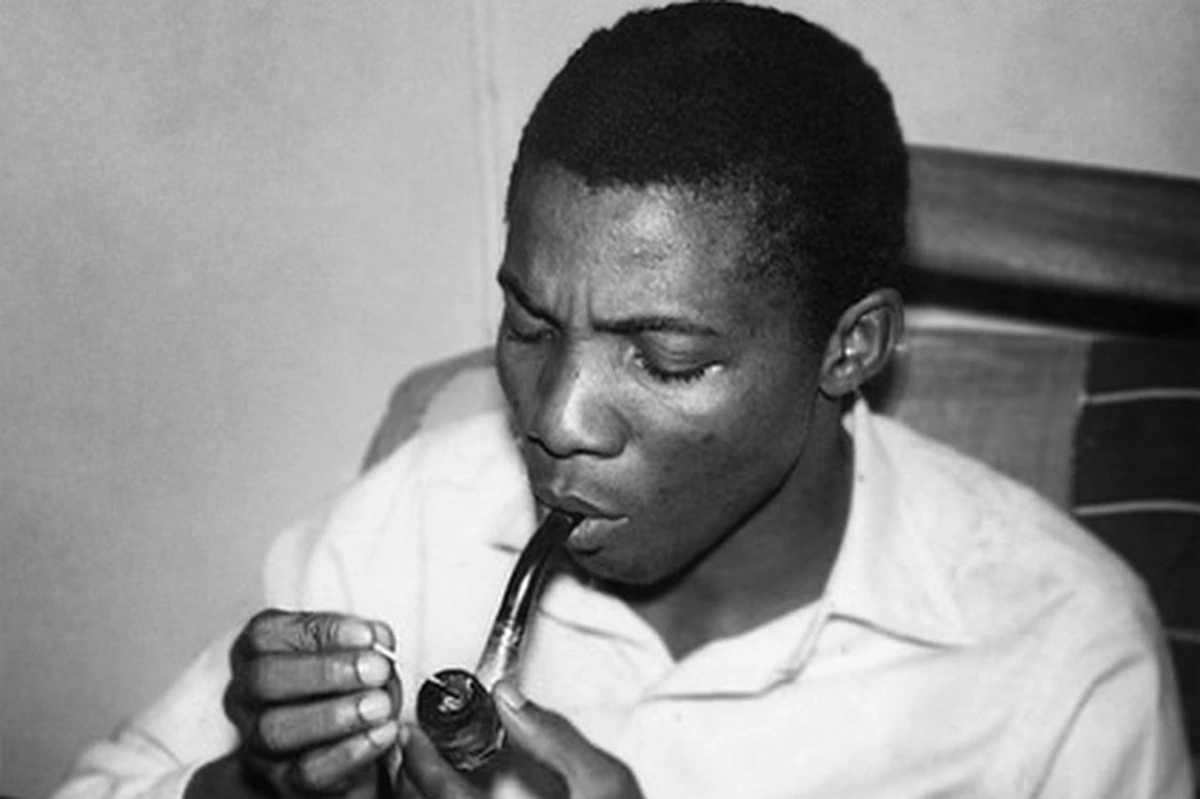 Christopher Okigbo Biography
| | |
| --- | --- |
| Full Name | Christopher Ifekandu Okigbo |
| Popular Name | Christopher Okigbo |
| Date of Birth | 16 August 1932 |
| Nationality | Nigerian |
| Place of Birth | Ojoto, Anambra State, British Nigeria |
| State of Origin | Anambra State, Nigeria |
| Died | 1967 (aged 34–35) in Nsukka, Nigeria |
| Relative | Lawrence Chkwuemeka (brother), Pius Okigbo (brother), Susie Anakwenze Onodugo (sister), Victoria Okuzu Iyom (sister), Judith Safinat Atta (wife). Obiageli Annabel Ibrahimat Okigbo (daughter). |
| Occupation | Writer, Teacher, Liberian |
| Subject | Comparative Literature |
| Genres | Drama, Poetry |
| Net Worth | Unavailable |
| Social Media Handles | Unavailable |
Early Life and Education
Christopher Okigbo was born on August 16, 1932, to Mrs Anna Onugwalobi Okigbo in the Anambra State hamlet of Ojoto, which is about 10 miles (16 km) from the capital of Onitsha during the height of British colonial control in Nigeria. Okigbo's father, Chief James Okoye Okigbo (Onyeamaluligolu Oda), worked as a teacher in Catholic missionary schools, and he spent his early years going from station to station. Despite the fervent Christianity of his father, Okigbo felt a connection to and eventually came to think that the soul of his maternal grandfather, a priest of the Igbo deity Idoto, had been reborn in him. Idoto is embodied in the same-named river that flows through Okigbo's town, and the "water goddess" is a significant character in his 1962 piece "Heavensgate."
Pius Okigbo, a renowned economist and the first Nigerian Ambassador to the European Economic Commission (EU), was another prominent figure in Okigbo's formative years.
Two years after another well-known Nigerian author, Chinua Achebe, Okigbo, who was known as a voracious reader and talented athlete, graduated from Government College Umuahia (in current-day Abia State, Nigeria). He was admitted to University College Ibadan the next year (now known as the University of Ibadan). He changed his course of study to Classics in his second year of medicine. He gained a reputation as a talented pianist in college by accompanying Wole Soyinka in his debut performance as a singer. Although none of this has been preserved, it is thought that Okigbo also composed original music during that period.
Career
After earning his degree in 1956, he worked a series of jobs in different cities around the nation while beginning to write poems. He held positions at the United Africa Company, the Nigerian Tobacco Company, the Fiditi Grammar School (where he taught Latin), and eventually as assistant librarian at the University of Nigeria in Nsukka, where he contributed to the establishment of the African Authors Association.
He started submitting his writing to periodicals during that time, most notably Black Orpheus, a literary journal dedicated to showcasing the best writing by African and African-American authors. While some of his poetry can be seen as a potent expression of postcolonial African nationalism, he was vehemently opposed to negritude, which he saw as a romantic pursuit of the "mystique of blackness" for its own sake. He also rejected the idea that Africans and black Americans shared a common experience, which stands in sharp philosophical contrast to Black Orpheus' editorial policy. He declined the first prize in African poetry that had been given to him at the 1966 World Festival of Negro Arts in Dakar on the basis of precisely these arguments, claiming that there is no such thing as a Negro or black poet.
In 1963, he left Nsukka to assume the position of West African Representative of Cambridge University Press at Ibadan, a position affording the opportunity to travel frequently to the United Kingdom, where he attracted further attention. At Ibadan, he became an active member of the Mbari literary club, and completed, composed, or published the works of his mature years, including Limits (1964), Silences (1962–65), Lament of the Masks (commemorating the centennial of the birth of W. B. Yeats in the form of a Yoruba praise poem, 1964), Dance of the Painted Maidens (commemorating the 1964 birth of his daughter, Obiageli or Ibrahimat, whom he regarded as a reincarnation of his mother), and his final highly prophetic sequence, Path of Thunder (1965–67), which was published posthumously in 1971 with his magnum opus, Labyrinths, which incorporates the poems from the earlier collections.
Personal Life
Okigbo enlisted as a major in the Nigeria-Biafra conflict and was killed in action in 1967 in Nsukka, Enugu State. Okigbo was married to Judith Safinat Atta. She was an Igbira princess and supposedly the first woman in Northern Nigeria to receive a university degree, and he followed her from the time they met in 1951 until they married in 1962. The marriage is blessed with a daughter, Obiageli Annabel Ibrahimat Okigbo.
He was the fourth out of five siblings; Chief Lawrence Chkwuemeka (Onwa of Ojoto), Chief Dr Pius Nwabufo (Ebekuodike of Ojoto), Mrs Susie Anakwenze Onodugo and Mrs Victoria Okuzu Iyom.
Biafra War
The Nigerian crisis reached a boiling point in 1966. On May 30, 1967, Okigbo, who had been residing in Ibadan at the time, moved to the eastern part of Nigeria to wait for the outcome of the turn of events that led to the eastern provinces' separation as independent Biafra on May 30, 1967. He co-founded Citadel Press, a new publishing business, with Achebe while residing in Enugu.
Okigbo instantly enlisted in the new state's military as a voluntary, field-commissioned major after Biafra's separation. He was a decorated soldier who died in the line of duty while fighting when the Nigerian military struck against Nsukka, the university town where he discovered his voice as a poet and which he promised to defend with his life.
Legacy
His hilltop home in Enugu, where he kept many of his unpublished works (perhaps including the first draught of a novel), was bombed by the Nigerian air force in July 1967. Pointed Arches, a poetry autobiography that he described in a letter to his friend and biographer Sunday Anozie as a chronicle of the life experiences and letters that worked together to help him develop his creative imagination, was also burned.
However, it is known that some of his unpublished papers made it through the war. The papers were inherited by his daughter, Obiageli, who founded the Christopher Okigbo Foundation in 2005 to carry on his legacy. Chukwuma Azuonye, a professor of African literature at the University of Massachusetts Amherst in Boston, helped the foundation nominate the papers for the UNESCO Memory of the World Register by cataloguing them in January 2006. According to Azuonye's preliminary analysis of the materials, Okigbo's unpublished papers also contain poems written in the Igbo language, in addition to new poems in English, such as early versions of an Anthem for Biafra. The Igbo poems are intriguing because they challenge some critics' assertions, particularly those made by the troika (Chinweizu, Onwuchekwa Jemie, and Ihechukwu Madubuike) in their 1980 essay Towards the Decolonization of African Literature, that Okigbo sacrificed his native African sensibility in order to pursue obscure Euro-modernism.
The penultimate poem in Path of Thunder, "Elegy for Alto," is now regarded as the poet's "last testament" and contains a prophecy of his own demise as a lamb sacrificed for human freedom.
In 1987, Wole Soyinka created the Okigbo Award in his honour. Jean-Baptiste Tati Loutard won the first prize for La Tradition du Songe (1985).
Bibliography
Heavensgate, 1962 (Mbari Publications)
Limits, 1964 (first published in Transition, July-August 1962, Mbari Publications)
Silences, 1965
Path of Thunder, 1968 (in the literary magazine Black Orpheus)
Labyrinths with Path of Thunder, 1971
Collected Poems, 1986 (with a preface by Paul Theroux, introduction by Adewale Maja-Pearce)
Elegy for Alto
Awards and Honours
After his passing, Okigbo received the National Order of Merit of Biafra, and Boston University hosted the Christopher Okigbo International Conference in 2007. The Christopher Okigbo Foundation expands its reputation and power. At the Festival of Black African Arts in Dakar, Okigbo earned the Langston Hughes Award for African Poetry in 1966, but he declined it because he thought that art shouldn't be constrained by racial issues.
Net Worth
His estimated net worth was unknown before and after his death.
Social Media Handles
The social media pages created on his behalf are not active.