Albert Chinụalụmọgụ Achebe (16 November 1930–21 March 2013) was a Nigerian novelist, poet, and critic, widely recognised as a key figure in contemporary African literature. Things Fall Apart (1958), his debut book and magnum opus, is still the most researched, translated, and read African novel and holds an important place in African literature. The so-called "African Trilogy" is completed with Things Fall Apart, No Longer at Ease (1960), and Arrow of God (1964); further works include A Man of the People (1966) and Anthills of the Savannah (1987). He vehemently denied the label "father of African literature," which is often used to refer to him.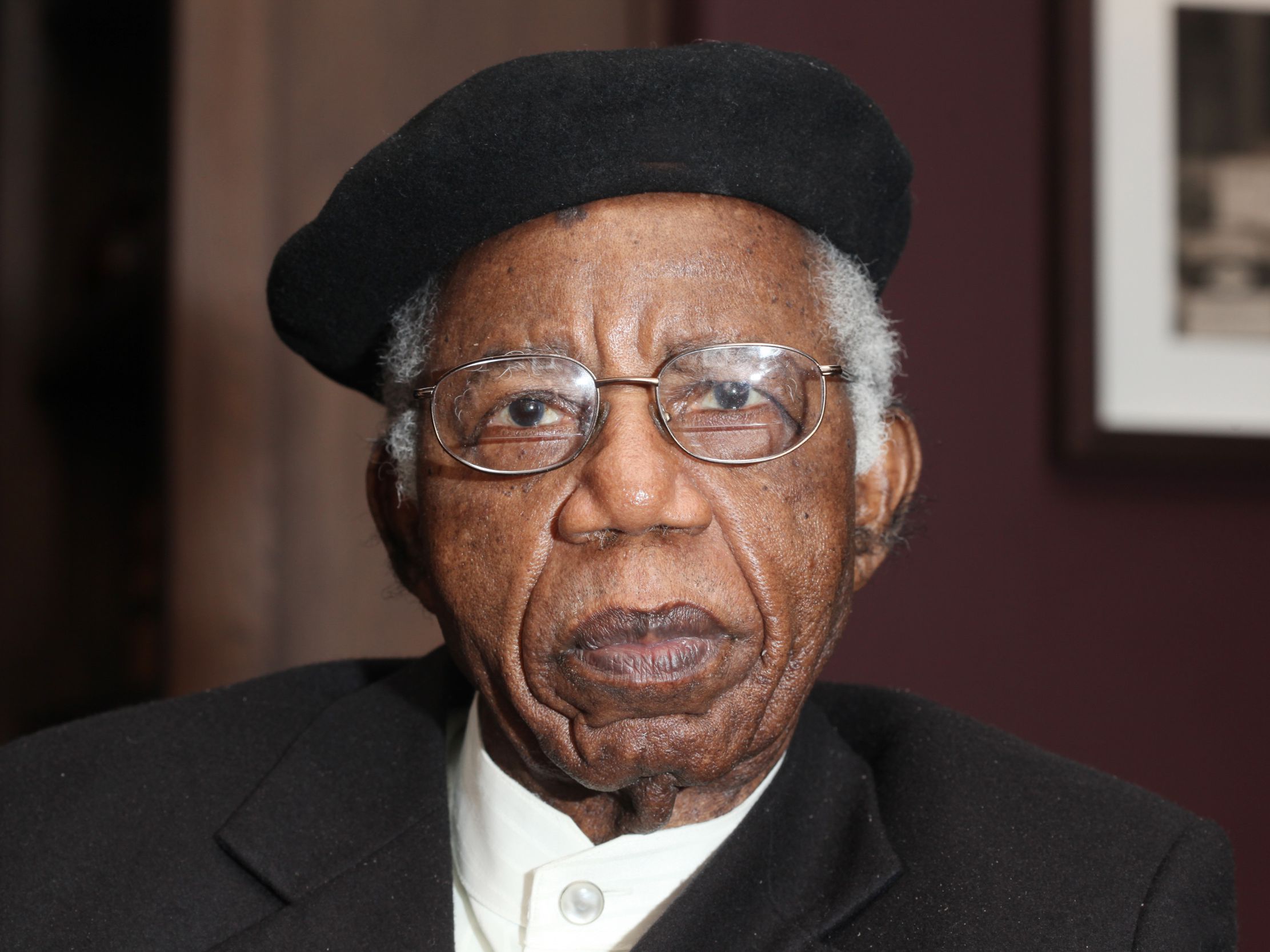 Chinua Achebe Biography
| | |
| --- | --- |
| Full Name | Albert Chinụalụmọgụ Achebe |
| Pen Name | Chinua Achebe |
| Date of Birth | 16 November 1930 |
| Nationality | Nigerian |
| Place of Birth | Ogidi, British Nigeria |
| State of Origin | Ogidi, Anambra State, Nigeria |
| Died | 21 March 2013 |
| Spouse | Christie |
| Children | Chidi, Nwando, Ikechukwu, and Chinelo |
| Occupation | Writer, Lecturer, Novelist |
| Net Worth | Unavailable |
| Social Media Handles | Unavailable |
Early Life and Education
Chinua Achebe was born on November 16, 1930, in the Ogidi town of Igbo land, in the Old British Empire of Eastern Nigeria, at Saint Simon's Church, Nneobi. His father, Isaiah Okafo Achebe, was a teacher and evangelist, and his mother, Janet Anaenechi Iloegbunam, was a leader among church women and a vegetable farmer. Isaiah was an early Ogidi convert to Christianity; he was the nephew of Udoh Osinyi, a leader in the community with a "reputation for tolerance." Both Isaiah and Janet stood at a nexus of traditional culture and Christian influence, which had a profound effect on the kids, especially Chinua.
In Nigeria, his parents joined the Protestant Church Mission Society (CMS). As a result, Isaiah ceased adhering to his forefathers' religion, "Odinani," but he still respected its customs. The Achebe family had five more children, and they were named Frank Okwuofu, John Chukwuemeka Ifeanyichukwu, Zinobia Uzoma, Augustine Ndubisi, and Grace Nwanneka. After the birth of the youngest daughter, the family relocated to Isaiah Achebe's ancestral town of Ogidi, which is now in the state of Anambra.
He attended St Philips' Central School in the Akpakaogwe region of Ogidi; Nekede Central School, outside of Owerri, in 1942; and then Government College, Umuahia, before proceeding to the University College (now the University of Ibadan). It was an associate college of the University of London. Achebe was admitted as the university's first intake and given a bursary to study medicine. During his studies, Achebe became critical of European literature about Africa, particularly Joseph Conrad's Heart of Darkness. He decided to become a writer after reading Mister Johnson by Joyce Cary because of the book's portrayal of its Nigerian characters as either savages or buffoons. Achebe recognised his dislike for the African protagonist as a sign of the author's cultural ignorance.
He abandoned medicine to study English, history, and theology, a switch that cost him his scholarship and required extra tuition fees. To compensate, the government provided a bursary, and his family donated money—his older brother Augustine gave up money for a trip home from his job as a civil servant so Achebe could continue his studies. In order to make up for this, the government offered a bursary and his family contributed money. For example, Augustine forwent taking a trip home from his job as a civil servant so that Achebe could continue his education.
Career
Before working for the Nigerian Broadcasting Corporation in Lagos, where he held the position of director of external broadcasting from 1961 to 1966, Achebe briefly taught. Together with the poet Christopher Okigbo, he co-founded a publishing house in Enugu in 1967. Okigbo passed away soon after in the Nigerian civil war for Biafran independence, which Achebe openly supported. Achebe travelled to the United States in 1969 with authors Gabriel Okara and Cyprian Ekwensi to give university lectures. He was named a research fellow at the University of Nigeria upon his return to Nigeria, where he later rose to the rank of professor of English, which he held from 1976 to 1981. (professor emeritus since 1985). Heinemann Educational Books Ltd. and Nwankwo-Ifejika Ltd., two Nigerian publishers, were under his direction beginning in 1970. He moved to the United States and began teaching at Bard College in Annandale-on-Hudson, New York, following a car accident that left him largely paralysed in Nigeria in 1990. Achebe left Bard in 2009 to become a professor at Providence, Rhode Island's Brown University.
Achebe's first book, Things Fall Apart (1958), is about traditional Igbo life during the era of missionaries and colonial rule in his native region. His main character is unable to embrace the new order, despite the fact that the old one has already fallen. He played a newly appointed government worker in the 1960 follow-up No Longer at Ease, who had just returned from attending university in England and who was unable to uphold the moral principles he believed to be just in the face of the demands and temptations of his new post.
The main character of Arrow of God (1964), which is set in the 1920s in a community under British rule and whose son becomes a devout Christian, uses his wrath at the position the white man has given him against his own people. Corruption and other facets of postcolonial African society are discussed in A Man of the People (1966) and Anthills of the Savannah (1987).
Achebe also authored a number of children's novels and anthologies of short stories, such as How the Leopard Got His Claws (1973; with John Iroaganachi). Beware, Soul-Brother (1971) and Christmas in Biafra (1973) are also available. Achebe's pictures are paired with an essay, poems, and photographs in Another Africa (1998). Morning Yet on Creation Day (1975), Hopes and Impediments (1988), Home and Exile (2000), The Education of a British-Protected Child (2009), and There Was a Country: A Personal History of Biafra (2012) are only a few of Achebe's works of essays. He received the Man Booker International Prize in 2007.
Teaching Strides
Achebe pursued a successful teaching career in addition to his writing career. He received appointments as a visiting professor for three years at the University of Massachusetts at Amherst in 1972 and as a visiting professor for one year at the University of Connecticut in 1975. When conditions in Nigeria were stable enough in 1976, he returned as an English professor at the University of Nigeria, Nsukka, where he had been associated since 1966. He was named the Charles P. Stevenson, Jr., professor of literature at Annandale, New York's Bard College in 1990.
Political Crises
Between 1966 and 1972, Achebe experienced equal amounts of turbulence as Nigeria. A coup d'état was carried out by young Igbo officers in the Nigerian army in 1966. A second revolution led by non-Igbo officers ousted the Igbo-dominated administration six months later. Knowing that Achebe's opinions were inimical to the new leadership, they chose to persecute him. Achebe ran away to the mostly Igbo-speaking city of Nsukka in eastern Nigeria, where he eventually accepted a senior research fellow position at the University of Nigeria, Nsukka. Eastern Nigeria proclaimed its independence as the country of Biafra in 1967. This event set off a civil war that lasted thirty months and was only concluded by the defeat of Biafra. After leaving Africa, Achebe travelled to Europe and America, where he wrote and spoke about Biafran issues.
Personal Life
Achebe and Christie were married on September 10, 1961, with the ceremony taking place in the Chapel of Resurrection on the University of Ibadan campus. Their first child, a daughter named Chinelo, was born on July 11, 1962. They then had two more children, a boy named Chidi on May 24, 1967, and a boy named Ikechukwu on December 3, 1964.
When the kids started going to school in Lagos, their parents started to worry about the worldview—especially in terms of race—expressed there, especially due to the mostly white teachers and books that presented a prejudiced view of African life. In order to address some of these worries, Achebe published his first children's book, Chike and the River, in 1966. Achebe died on March 21, 2013, at the age of 82, in Boston, Massachusetts.
Legacy
After a brief illness, Achebe passed away in Boston, Massachusetts, on March 21, 2013. By illustrating the impacts of European colonisation from the perspective of Africans, he is credited with altering the course of world literature. He chose to write in English in particular, which garnered some criticism, but his goal was to inform the entire globe of the true issues that Western missionaries and colonialists' influence had brought about in Africa.
For his lifetime's work, Achebe earned the Man Booker International Prize in 2007 and he has received more than 30 honorary doctorates. He continued to denounce corrupt Nigerian politicians and anyone who stole or wasted the country's oil assets. He was a successful author himself, but he was also an enthusiastic and engaged supporter of Nigerian writers.
Publications
2010: The Education of a British-Protected Child
2005: Collected Poems
2000: Home and Exile
1992: The Heinemann Book of Contemporary African Short Stories
1988: Hopes and Impediments: Selected Essays
1987: Anthills of the Savannah
1984: African Short Stories
1984: The Trouble with Nigeria
1977: The Drum
1977: The Flute
1975: Morning Yet on Creation Day
1972: How the Leopard Got His Claws
1972: Girls at War and other stories
1971: Beware, Soul Brother and Other Poems
1966: A Man of the People
1966: Chike and the River
1964: Arrow of God
1960: No Longer At Ease
1958: Things Fall Apart
Awards and Nominations
2010: Dayton Literary Peace Prize (US)
2010: Dorothy and Lillian Gish Prize
2007: Man Booker International Prize
2002: German Booksellers Peace Prize
1996: Campion Award (US).
1987: Booker Prize for Fiction (shortlist)
1975: Lotus Award for Afro-Asian Writers
1974: Commonwealth Poetry Prize
1964: New Statesman Jock Campbell Award for Commonwealth Writers
1959: Margaret Wong Memorial Prize
Net Worth
His net worth was unknown before his death.
Social Media Handles
There is no social media handle connected to him.