Akinwande Oluwole Babatunde Soyinka, famously known as Wole Soyinka, is a Nigerian playwright, novelist, poet, and essayist. He was awarded the 1986 Nobel Prize in Literature, the first sub-Saharan African to be honoured in that category. Soyinka is a strong critic of successive Nigerian (and African at large) governments, especially the country's military dictators, as well as other political tyrannies, including the Mugabe regime in Zimbabwe. He was imprisoned for 22 months during the Biafra Civil War by the Federal Government of Nigeria.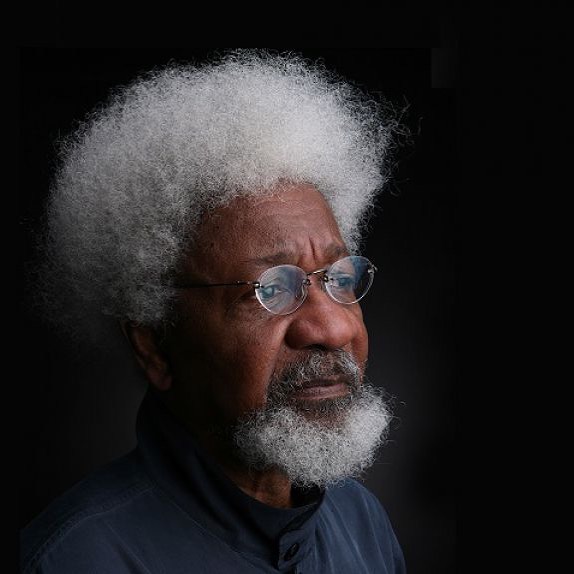 Wole Soyinka Biography
Full Name

Akinwande Oluwole Babatunde Soyinka

Popular Name

Wole Soyinka

Date of Birth

July 13, 1934

Nationality

Nigerian

Place of Birth

Abẹokuta, Ogun State

State of Origin

Abẹokuta, Ogun State

Profession

Playwright, Novelist, Poet, and Essayist

Active Years

1957–present

Relatives

Ransome-Kuti family

Net Worth

$20 million

Social Media Handles

Instagram: wolesoyinka
Twitter: @WSoyinkaCentre
Early Life and Education
Professor Wole Soyinka was born on July 13, 1934, in the city of Abeokuta, Ogun State, Nigeria, to Mr Samuel Ayodele Soyinka, an Anglican minister and the headmaster of St. Peters School in Abeokuta, and Mrs Grace Eniola Soyinka (née Jenkins-Harrison), whom he dubbed as a "Wild Christian." She was a trader and a community activist. Soyinka was born the second of seven children of his parents. His siblings were Atinuke "Tinu" Aina Soyinka, Femi Soyinka, Yeside Soyinka, Omofolabo "Folabo" Ajayi-Soyinka, and Kayode Soyinka. His younger sister, Folashade Soyinka, died on her first birthday.
After graduating from St. Peter's Primary School in Abeokuta in 1940, Soyinka enrolled at Abeokuta Grammar School, where he received numerous literary composition awards. He was accepted in 1946 by Government College Ibadan, one of the most prestigious secondary schools in Nigeria at the time. He began his studies at University College Ibadan (1952–1954), a school affiliated with the University of London, where he studied English literature, Greek, and Western history. A British literary expert named Molly Mahood was one of his lecturers.
Soyinka started working on "Keffi's Birthday Treat," a little radio drama, in July 1954 for the Nigerian Broadcasting Service in the academic year 1953–54 that was broadcast in 1954. Soyinka and six other individuals established The Pyrates Confraternity, the first fraternity in Nigeria, as an anti-corruption and justice-seeking student organisation.
Later, in 1954, Soyinka moved to England, where he pursued his studies in English literature at the University of Leeds (1954–1957) under the guidance of his mentor, Wilson Knight. He met several up-and-coming, talented British writers. Soyinka started writing and editing for a parody magazine called The Eagle before defending his B.A. He authored a section on academic life in which he frequently criticised his university friends.
Career
After receiving an upper second-class diploma, Soyinka continued his studies for an MA while still living in Leeds. He wanted to create new plays that combined Yorùbá's indigenous heritage with European theatrical traditions. His second big work, The Lion and the Jewel, a comedy that caught the attention of several actors from London's Royal Court Theatre, came after his debut, The Swamp Dwellers (1958). Soyinka relocated to London and began working as a play reader for the Royal Court Theatre after receiving encouragement. Both of his plays were presented in Ibadan at the same time. They discussed the uncomfortable coexistence of tradition and modernization in Nigeria.
The Invention, the first of his plays to be staged at the Royal Court Theatre, debuted in 1957. Poems like "The Immigrant" and "My Next Door Neighbour," which were printed in the Nigerian magazine Black Orpheus, were his only published works at the time. Ulli Beier, who had been a professor at the University of Ibadan since 1950, founded this in 1957.
In his political remarks at the time, Soyinka criticised corruption in government and the cult of personality in African dictatorships. His piece Kongi's Harvest was revived and presented at the World Festival of Negro Arts in Dakar, Senegal, in April 1966. The Road was awarded the Grand Prix. In June 1965, his play The Trials of Brother Jero was produced at the Hampstead Theatre Club in London, and in December 1966, The Lion and the Jewel were staged at the Royal Court Theatre.
In December 2017, Soyinka was awarded the European Theatre Prize in the "Special Prize" category, awarded to someone who has "contributed to the realisation of cultural events that promote understanding and the exchange of knowledge between people."
Literary Career
When the civil war ended in October 1969, an amnesty was declared, and Soyinka and other political prisoners were set free. Soyinka sought isolation at a friend's property in southern France for the first few months after his release. He revised the Pentheus tale in The Bacchae of Euripides, which he authored in 1969. Poems from Prison, a collection of his poetry, was soon published in London. He returned to his position as Chair of Drama at Ibadan at the end of the year.
He simultaneously created the play Kongi's Harvest in 1970 and turned it into a movie with the same name. He completed another piece titled "Madmen and Specialists" in June 1970. His book of poems, A Shuttle in the Crypt, was released in 1971. In that year, Ibadan hosted the production of Madmen and Specialists. In the Paris staging of his play Murderous Angels, Soyinka travelled there to play Patrice Lumumba, the murdered first prime minister of the Republic of the Congo. He has also gone on to publish other literary works from 1971 to date.
Soyinka was increasingly politically involved from 1975 to 1984. His administrative responsibilities at the University of Ife included overseeing traffic safety. He denounced the corruption of Shehu Shagari's legitimately elected administration. Soyinka frequently disagreed with the military before being succeeded by army general Muhammadu Buhari. His 1972 book, "The Man Died": Prison Notes. Rex Collings published his drama Requiem for a Futurologist in London in 1985.
Civil War and Imprisonment
Soyinka increased his political activism after accepting the position of Chair of Drama at the University of Ibadan. In an effort to prevent the Nigerian civil war after the military coup of January 1966, he discreetly and informally met with the military governor, Chukwuemeka Odumegwu Ojukwu, in the town of Enugu in the southeast (August 1967). He was forced to go into hiding as a result. As the civil war broke out between the Federal government of Nigeria and the Biafrans, he was held captive for 22 months. While imprisoned, he continued to write a sizable body of poetry and notes critical of the Nigerian government despite being denied access to supplies like books, pens, and paper.
His drama, The Lion and The Jewel, was staged in Accra, Ghana, in September 1967, despite his imprisonment. The Trials of Brother Jero and The Strong Breed were presented at New York City's Greenwich Mews Theatre in November of that year. Soyinka's trip to the Yoruba deity Ogun's temple was the inspiration for Idanre and Other Poems, a book of poems that Soyinka also released. He views Ogun as his "fellow" deity, kindred spirit, and protector.
Kongi's Harvest was first performed in 1968 by the Negro Ensemble Company in New York. The fanciful book, A Hunter's Saga: The Forest of a Thousand Demons, by his countryman D. O. Fagunwa, was translated into Yoruba by Soyinka while he was still incarcerated.
Personal Life
Soyinka has gone through three marriages and two divorces. From his three marriages, he has eight children total, plus two more daughters. He married the late British author Barbara Dixon, whom he had first met at the University of Leeds in the 1950s, in 1958. The mother of his first child, Olaokun, was Barbara. Then came Morenike, his daughter. His second marriage, which took place in 1963, produced two sons, Ilemakin and Moremi, as well as the deceased Iyetade and Peyibomi, a Nigerian librarian. Soyinka's youngest child is Amani. He married Folake Doherty in 1989. Their three sons are Tunlewa, Bojode, and Eniara.
He disclosed his struggle with prostate cancer in 2014.
Relationship With The Ransome-Kuti Family
His mother was a notable member of the prominent Ransome-Kuti family. She was the only granddaughter of Rev. Canon J. J. Ransome-Kuti, as the only daughter of his first daughter, Anne Lape Iyabode Ransome-Kuti, and as such, was a niece of Funmilayo Ransome-Kuti as well as Olusegun Azariah Ransome-Kuti and Oludotun Ransome-Kuti. Fela Kuti, human rights advocate Beko Ransome-Kuti, politician Olikoye Ransome-Kuti, and activist Yemisi Ransome-Kuti are all first cousins of Wole Soyinka. Femi Kuti, Seun Kuti, and Yeni Kuti, are his second cousins. His younger brother, Femi Soyinka, went on to become a doctor and a professor at a university.
Publications
Plays
Keffi's Birthday Treat (1954)
The Invention (1957)
The Swamp Dwellers (1958)
A Quality of Violence (1959)
The Lion and the Jewel (1959)
The Trials of Brother Jero (1960)
A Dance of the Forests (1960)
My Father's Burden (1960)
The Strong Breed (1964)
Before the Blackout (1964)
Kongi's Harvest (1964)
The Road (1965)
Madmen and Specialists (1970)
The Bacchae of Euripides (1973)
Camwood on the Leaves (1973)
Jero's Metamorphosis (1973)
Death and the King's Horseman (1975)
Opera Wonyosi (1977)
Requiem for a Futurologist (1983)
A Play of Giants (1984)
Childe Internationale (1987)
From Zia with Love (1992)
The Detainee (radio play)
A Scourge of Hyacinths (radio play)
The Beatification of Area Boy (1996)
Document of Identity (radio play, 1999)
King Baabu (2001)
Etiki Revu Wetin
Alapata Apata (2011)
"Thus Spake Orunmila" (short piece; in Sixty-Six Books (2011)
Novels
The Interpreters (1965)
Season of Anomy (1972)
Chronicles from the Land of the Happiest People on Earth (Bookcraft, Nigeria; Bloomsbury, UK; Pantheon, US, 2021)
Short stories
A Tale of Two (1958)
Egbe's Sworn Enemy (1960)
Madame Etienne's Establishment (1960)
Memoirs
The Man Died: Prison Notes (1972)
Aké: The Years of Childhood (1981)
Ibadan: The Penkelemes Years: a memoir 1945–1965 (1989)
Ìsarà: A Voyage around Essay (1989)
You Must Set Forth at Dawn (2006)
Poetry collections
Telephone Conversation (1963) (appeared in Modern Poetry in Africa)
Idanre and other poems (1967)
A Big Airplane Crashed into the Earth (original title Poems from Prison) (1969).
A Shuttle in the Crypt (1971)
Ogun Abibiman (1976)
Mandela's Earth and Other Poems (1988)
Early Poems (1997)
Samarkand and Other Markets I Have Known (2002)
Essays
"Towards a True Theatre" (1962)
Culture in Transition (1963)
Neo-Tarzanism: The Poetics of Pseudo-Transition
A Voice That Would Not Be Silenced
Art, Dialogue, and Outrage: Essays on Literature and Culture (1988)
From Drama and the African World View (1976)
Myth, Literature, and the African World (1976)[128]
The Blackman and the Veil (1990)[129]
The Credo of Being and Nothingness (1991)
The Burden of Memory – The Muse of Forgiveness (1999)
A Climate of Fear (the BBC Reith Lectures 2004, audio and transcripts)
New Imperialism (2009)
Of Africa (2012)[131]
Beyond Aesthetics: Use, Abuse, and Dissonance in African Art Traditions (2019)
Filmography
Kongi's Harvest
Culture in Transition
Blues for a Prodigal
Translations
The Forest of a Thousand Demons: A Hunter's Saga (1968; a translation of D. O. Fagunwa's Ògbójú Ọdẹ nínú Igbó Irúnmalẹ̀)
In the Forest of Olodumare (2010; a translation of D. O. Fagunwa's Igbo Olodumare)
Honours
The Wole Soyinka Annual Lecture Series was established in 1994 to honour Professor Wole Soyinka, one of Nigeria and Africa's most notable and enduring literary heroes. The National Association of Seadogs (Pyrates Confraternity), which Soyinka and six other students created in 1952 at the then University College Ibadan, is in charge of organising it.
In his honour, a writers' enclave was constructed in 2011 by the African Heritage Research Library and Cultural Centre. It may be found in Nigeria's Ibadan, Oyo State's Adeyipo Village, Lagelu Local Government Area. The enclave has a Writer-in-Residence Programme that allows authors to stay for two, three, or six months while working on their creative writing professionally. He paid a visit to the Benin Moat in 2013 while serving as a UNESCO official in honour of Nigeria's Seven Wonders initiative. He is currently serving as a consultant for the Lagos Black Heritage Festival after Lagos State determined that he was the only one capable of explaining to the public the goals and objectives of the festival. In 2020, he was named a patron of Humanists UK.
Some other honours upon which the great professor has been bestowed are the following:
1973: Honorary D.Litt., University of Leeds
1973–74: Overseas Fellow, Churchill College, Cambridge
1983: Elected an Honorary Fellow of the Royal Society of Literature
1983: Anisfield-Wolf Book Award, United States
1986: Nobel Prize for Literature
1986: Agip Prize for Literature
1986: Commander of the Order of the Federal Republic (CFR).
1990: Benson Medal from the Royal Society of Literature
1993: Honorary doctorate, Harvard University
2002: Honorary fellowship, SOAS
2005: Honorary doctorate degree, Princeton University
2005: Enstooled as the Akinlatun of Egbaland, a Nigerian chief, by the Oba Alake of the Egba clan of Yorubaland. Soyinka became a tribal aristocrat by way of this, one vested with the right to use the Yoruba title Oloye as a pre-nominal honorific.
2009: Golden Plate Award of the American Academy of Achievement is presented by Awards Council member Archbishop Desmond Tutu at an awards ceremony at St. George's Cathedral in Cape Town, South Africa.
2013: Anisfield-Wolf Book Award, Lifetime Achievement, United States
2014: International Humanist Award
2017: Joins the University of Johannesburg, South Africa, as a Distinguished Visiting Professor in the Faculty of Humanities.
2017: "Special Prize" of the European Theatre Prize.
2018: the University of Ibadan renamed its arts theatre to Wole Soyinka Theatre.
2018: Honourary Doctorate Degree of Letters, Federal University of Agriculture, Abeokuta (FUNAAB).
2022: Honorary Degree from Cambridge University: This is a degree that is bestowed upon people who have made outstanding achievements in their respective fields.
Awards & Nominations
Wole Soyinka has received numerous awards and honours, most of which cannot be accounted for. Some of his awards and nominations are the following:
In 1972, he received the "Honoris Causa" doctorate from the University of Leeds.
1983: Anisfield-Wolf Book Award, United States
In 1986, he was awarded the Nobel Prize in Literature and he became the first and only Nigerian and second African to achieve this feat. In the same year, he was honoured with the AGIP Prize in Literature.
1986: Commander of the Order of the Federal Republic (CFR).
In 1993, he received an honorary doctorate from Harvard University.
In 1994, he was appointed as the UNESCO Goodwill Ambassador for the Promotion of African culture, human rights, freedom of expression, media, and communication.
2005: Conferred with the chieftaincy title of the Akinlatun of Egbaland by the Oba Alake of the Egba clan of Yorubaland
In 2009, he has conferred the Academy of Achievement Golden Plate Award.
2013: Anisfield-Wolf Book Award, Lifetime Achievement, United States
2014: International Humanist Award
Net Worth
As for Professor Soyinka, he has amassed a respectable sum of riches that he currently enjoys thanks to his publications, literature articles, research projects, and classroom instruction. He is estimated to be worth $20 million.
Social Media Handles
Instagram: wolesoyinka
Twitter: @WSoyinkaCentre