Daniel Ndambuki, also known as Churchill (born October 30, 1977), is an award-winning Kenyan comedian who hosts the comedy television show, Churchill Show, on TV47 Kenya on Sundays. He is also the founder and CEO of, Laugh Industry Kenya.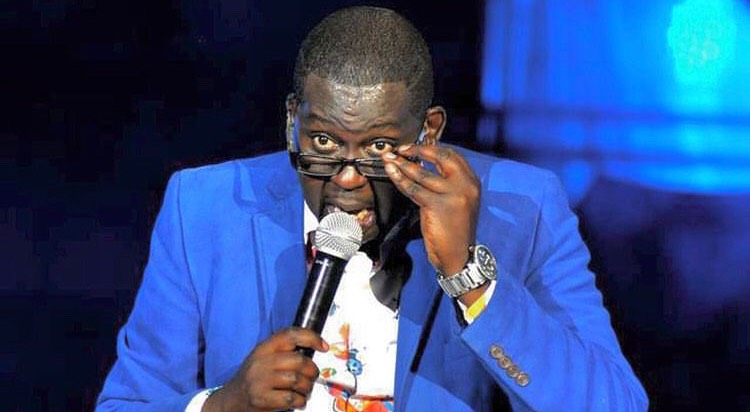 Daniel Ndambuki Churchill Biography
Full Name :
Daniel Ndambuki
Date of Birth :
October 30, 1977
Place of Birth :
Kitui, Kenya
Occupation (s) :
Comedy, Tv host
Social Media Handle :
Instagram @mwalimchurchill
Twitter @mwalimchurchill
Early Life and Education
Daniel Ndambuki, popularly known as Churchill, was born in Kitui town but moved to Machakos, Kenya. He attended Machakos Township primary. He enrolled at Mumbuni High School for his secondary school education. Churchill had the opportunity to travel and study abroad, but he declined, the reason was unknown to the public. He later went to Word of Life in kabete, Nairobi, Kenya, where he did a theology program. He graduated from Daystar University and earned a degree in Mass Communication.
Career
Churchill has been in the comedy industry since 1996, but in early 2000 he brought comedy to a new level, which has earned him hundreds of thousands to millions of fans on radio, television, and the Internet.
He rose to fame as a comedian through the hit comedy show "Redykyulass", in which he acted alongside Walter Mongare (Nyambane), Peter Kaimenyi (Kajairo), Maurice Otieno (Mdomo Baggy), John Kiarie (KJ) and Anthony Njuguna.
In September 2008, he launched the Churchill Live Comedy Show, which was renamed the Churchill Show during its third season in 2012. Hundreds of comedians in the country have risen to fame via the show, like Eric Omondi, Teacher Wanjiku, Professor Hammo, MCA Tricky, Jemutai, Magazine (DJ Shitii), and Dr. Kingori.
Top Facebook
Churchill was the first Kenyan to hit 1,000,000 likes on Facebook, and he has gathered more than that fan base ever since he hit the first 1 million likes.
Kids Festival
He hosted a weekly segment on Churchill's show titled "Toto's Corner" and he has managed to win the hearts of Kenyan children and families with the show, another show hosted by him is Kids Festival, which has impacted 55,000 plus kids and families.
Churchill Show
The show has featured notable people, like influential personalities, politicians, celebrities, and other remarkable people. Churchill Show has become a household in Kenya
Churchill Academy
Churchill is a mentor to many in the industry. He has contributed a lot to the growth of the comedy industry in East Africa. He has raised a lot of talented people through a program dubbed "Top Comic" that has put forward leading comedy brands. There are two weekly shows that air on TV i.e. Churchill Show & Churchill Raw. The academy has produced 73 new comedians and counting, most of them are doing well in the industry, others are still in training, and more are signing up every day!
Personal Life
Churchill is happily married with children but he keeps his family and marriage private
Awards
| Year | Award | Category | Result |
| --- | --- | --- | --- |
| 1999 | Mavuno Awards | Best Narrator | Won |
| 2007 | Word Of Life Winner | Theatre Person Of Year | Won |
| 2019 | Kalasha Awards Winner | Best TV Program Overall | Won |
| 2019 | Kalasha Awards Winner | Best Comedy Program | Won |
| 2010 | CHAT (Chaguo La Teeniez Awards) | Teeniez' Role Model | Won |
| 2010 | CHAT (Chaguo La Teeniez Awards) | Teeniez' TV Comedy Or Reality Show | Won |
| 2011 | Marketing Society Of Kenya Awards | Best Personal Branding Award | |
| 2011 | State Commendation Award | Order Of The Grand Warrior (OGW) | |
| 2012 | UK Kenya Achievers Award | Excellence In Comedy | Won |
| 2012 | Kalasha Awards | Best TV Entertainment Churchill Live – Cinematic Solutions/ Laugh Industry | |
| 2012 | Marketing Society Of Kenya Awards | Winner Best Personal Branding Effort | Won |
| 2013 | Sanaa Theatre Awards | Best Comedy Kenyan Pig Cat And Dogs – Heartstrings Kenya | |
| 2013 | Olx SOMA (Social Media Awards) | Television Show Of The Year | |
| 2013 | Olx SOMA (Social Media Awards) | Overall Social Media Personality Of The Year | |
| 2013 | Olx SOMA (Social Media Awards) | Facebook Fan Page Of the Year | Won |
| 2013 | Cheka Awards | Comedy Mentor Award | |
| 2013 | Cheka Awards | Best TV Stand Up Comedy | |
| 2014 | Transform Kenya Awards | Arts & Culture Category | Won |
| 2014 | Olx SOMA (Social Media Awards) | Most influential Media Personality | |
| 2014 | Olx SOMA (Social Media Awards) | Overall personality of the year | |
| 2014 | Kalasha Awards | Best TV Comedy | |
| 2014 | Cheka Awards | Male TV Stand-up Comedian | |
| 2014 | Cheka Awards | Best TV Stand-up Comedy Show | |
| 2014 | Sanaa Theatre Awards | Best Production Of TV Comedy Recorded Before A Live Audience | |
| 2014 | PRISK Award | For being a founding director | |
| 2015 | Bingwa Music Awards (BMA) | Showbiz Personality Of The Year | |
| 2015 | Olx SOMA (Social Media Awards) | Overall Personality of The Year | |
Churchill Net Worth
He is the richest comedian in Kenya with a net worth of $1.5 million
Social Media Handle
Instagram @mwalimchurchill
Twitter @mwalimchurchill