Nayvadius DeMun Cash Wilburn (born November 20, 1983), better known by the stage name Future, is an American rapper. He is known for his mumble-styled vocals and prolific output, and Future is considered a pioneer of the use of melody and auto-tune in modern trap music.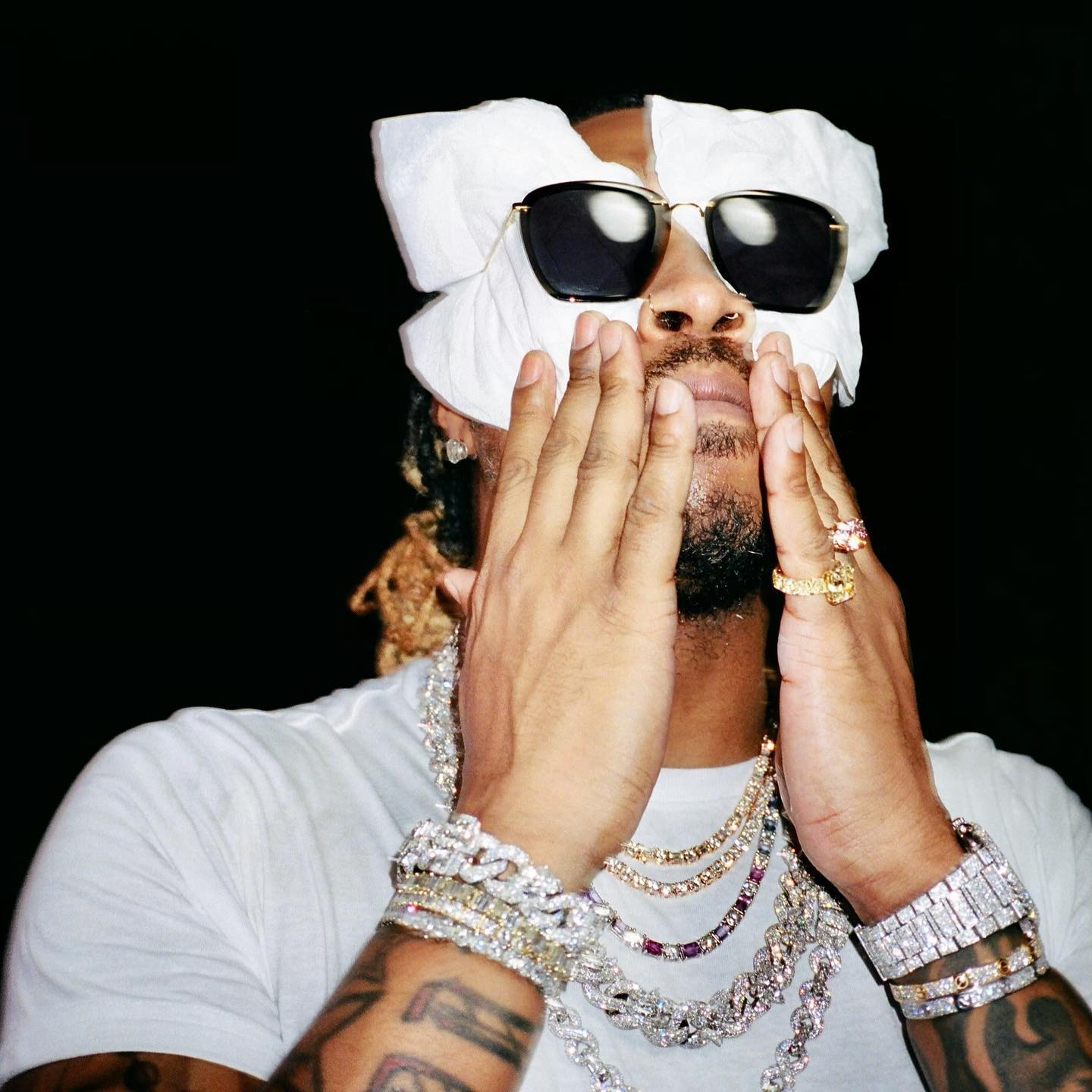 Future Biography
Full Name :
Nayvadius DeMun Wilburn
Date of Birth :
November 20, 1983
Place of Birth :
Atlanta, Georgia, U.S.
Occupation :
Rapper | Singer | Songwriter | Record Producer
Years active :
2011-present
Relatives :
Rico Wade (cousin)
Social Media Handles :
Instagram: @future
Twitter: @1future
Early Life
Nayvadius DeMun Wilburn was born on November 20, 1983, in Atlanta, Georgia. He went to Decatur's Columbia High School. Future first performed under the alias "Future" while a member of the musical ensemble The Dungeon Family, where he earned the moniker. His first cousin, Rico Wade, a record producer and member of the Dungeon Family, pushed him to hone his writing abilities and pursue a career as a rapper, which could also be used to provide a short-term break from life on the streets. Future acknowledges Wade as the mastermind behind his sound and praises his musical guidance and influence. A fellow Atlanta rapper named Rocko immediately took him under his wing and signed him to his record label, A1 Recordings.
Career
Music Career
Days before his subsequent mixtape, Streetz Calling, was released in September 2011, Future inked a major label recording deal with Epic Records. After promising MTV that Streetz Calling would be his last mixtape before releasing his debut studio album, Future released Astronaut Status in January 2012. Future was on the cover of The FADER Issue #77 in December 2011. Prior to the April 2012 release of his album.
Early in 2012, Future was chosen for the XXL Freshmen list. Originally scheduled for release in January, his debut album Pluto was eventually made available on April 17. It has remixes of "Magic" with T.I. and "Tony Montana" with Drake. Future's debut single, the song debuted on the Billboard Hot 100 chart. The album also has contributions from Trae the Truth, R. Kelly, and Snoop Dogg.
Future released his second album, Future Hendrix, in 2013. Kanye West, Rihanna, Ciara, Drake, Kelly Rowland, Jeremih, and André 3000 are among the artists who appear on the album. Future and Drake collaborated on the mixtape What a Time to Be Alive, which was released in September, 2015. The album was the first rapper to achieve two number one albums in a calendar year since Jay Z in 2004 when it debuted at the top of the Billboard 200, Billboard R&B Charts, and Billboard Hot Rap Songs. The mixtape has sold over 334,000 copies in the U.S.
Purple Reign
Another mixtape by Future, titled Purple Reign, was released on January 17, 2016, featuring executive production from Metro Boomin and DJ Esco and beat credits from Southside, Zaytoven, and others. Future's EVOL, his fourth studio album, made its Beats 1 radio debut on DJ Khaled's first edition of We The Best on February 5, 2016. Since the release of the Glee soundtrack albums in 2010, Future became the artist to chart three number-one albums on the Billboard 200 in the quickest time.
Other Albums
Future revealed on Instagram on Valentine's Day 2017 that his self-titled fifth studio album would be released on February 17, 2017. He would release his sixth studio album, Hndrxx, exactly one week later.
Future became the first artist to have two albums appear at number one simultaneously on the Billboard 200 and Canadian Albums Charts when both albums debuted at number one in a straight line. He and Young Thug released their joint mixtape, Super Slimey, on October 20, 2017. He and singer-songwriter Ed Sheeran worked with her on the song "End Game" from her album Reputation. Future's eighth top 20 success, the song peaked at number 18 on the Billboard Hot 100.
The song "King's Dead" from the soundtrack to the Marvel Studios superhero movie Black Panther and Jay Rock's third studio album Redemption was written by Future, Kendrick Lamar, James Blake, and Jay Rock on January 11, 2018. The song received Future's first two Grammy nominations of his career for Best Rap Performance and Best Rap Song at the 61st Annual Grammy Awards.
Superfly soundtrack
The Superfly soundtrack was composed by Future and debuted in June 2018. Future and fellow American rapper Juice Wrld collaborated on the mixtape Wrld On Drugs, which was released on October 19th. With 98,000 album-equivalent units, including 8,000 pure album sales, Wrld on Drugs opened behind Lady Gaga and Bradley Cooper's A Star Is Born at number two on the US Billboard 200. It became Juice Wrld's second top-ten album in the US and Future's eleventh overall.
Future's seventh studio album, Future Hndrxx Presents: The Wizrd, was made available on January 18, 2019. The 20-song album was promoted by the movie The Wizrd, which debuted on Apple Music on January 11. With 125,000 album-equivalent units, including 15,000 pure album sales, The Wizrd debuted at number one on the US Billboard 200 and became Future's sixth US number-one album. The album garnered generally favorable reviews from critics. Future became the artist with the 10th most Hot 100 entries after the release of The Wizrd, which saw several tracks from the album chart on the list.
Future earned his first Grammy Award for Best Rap Performance at the 61st Annual Grammy Awards on February 10, 2019, for his work on the song "King's Dead," from the soundtrack album of the Marvel Studios superhero blockbuster Black Panther, with Jay Rock, Kendrick Lamar, and James Blake.
Future's first solo EP, Save Me, was made available as his second project of the year on June 7, 2019. Save Me opened at number five on the US Billboard 200 despite receiving mixed reviews from music reviewers.
Future ft Drake
Future collaborated with Drake on the songs "Life Is Good" and "Desires," both of which were released in January 2020. He released Life Is Good, his eighth studio album, in April. The song was released on May 15, 2020, with the title later altered to High Off Life. With 153,000 units sold in its first week, the album became Future's eighth straight album to debut at number one on the US Billboard 200 chart. Future teased a song titled "Gucci Bucket Hat" in August 2020. On October 20, 2020, a single featuring Herion Young and Pap Chanel was released.
Future's second project of the year, Pluto x Baby Pluto, a studio album he co-wrote with Lil Uzi Vert, was made available on November 13, 2020. It made its US Billboard 200 debut at number two and peaked there. After appearing on Drake's 2021 single "Way 2 Sexy," Future shattered the previous record for the most Billboard Hot 100 appearances (125) without earning a number-one single.
Future was hailed by GQ as one of the "greatest rappers alive" in April 2022. Future's ninth studio album, I Never Liked You, was released on April 29, 2022, following its announcement earlier in the month.
Personal life
According to Future, he has had at least seven children, each with a different woman although one child's authenticity has been disputed. Additionally, he adopted the son of one of his daughter's moms.
Future proposed to Ciara, the mother of one of his sons, in October 2013, but she called it off in August 2014 owing to his extramarital affairs. Through Erykah Badu's Instagram in June 2019, Future disclosed that he is Korean-American.
Ciara and Jessica Smith both sued Future in 2016. Their son "suffers from emotional and behavioral disorders resulting from Future's neglect as a parent," according to Smith, who filed a lawsuit against him for failing to pay child support. He was sued by Ciara for libel, slander, and defamation. A judge ruled in October 2016 that Future's series of negative tweets against Ciara had nothing to do with the $15 million she was requesting. In 2019, two ladies from Texas and Florida filed paternity lawsuits, claiming that Future was the father of their respective sons and daughter. The Texas woman withdrew her paternity lawsuit in 2020.
Discography
Studio albums
2022: I Never Liked You
2020: High Off Life
2019: The Wizrd
2017: Hndrxx
2017: Future
2016: Evol
2015: DS2
2014: Honest
2012: Pluto
Collaborative albums
2020: Pluto x Baby Pluto (with Lil Uzi Vert)
Achievements
At the 2019 Grammy Awards, he received Best Rap Performance and his first Grammy. Throughout his career as a rapper and musician, he has also accumulated a large number of nominations and accolades. At the 2017 Grammy Awards, Drake's 2016 album Views, which features a song with Future, was nominated for Album of the Year. Future earned the Best Group prize at the 2016 BET Awards owing to his many collaborations with Drake.
At the BET Hip Hop Awards, he also received wins for Best Mixtape (2015) and Best Club Banger (2014) for his albums 56 Nights and "Move That Dope," respectively. In 2015, the Much Music Video Awards presented him with the Best Hip Hop Video prize for his collaboration with P Reign and Drake on the song "DnF." From 2011 to 2017, Future was nominated for numerous BET Awards, BET Hip Hop Awards, MTV Awards, and Billboard Music Awards.
Net Worth
According to different online sources, Future has an estimated net worth of $55 million. He accumulates his wealth from song sales, retail sales, product endorsements, touring, and other commercial interests.
Social Media Handles
Future is very active on social media platforms, especially on Instagram and Twitter, where he has a verified account with over 22.4 million and 7.6 million followers, respectively. You can follow him through the following social media handles:
Instagram: @future
Twitter: @1future