Ladi Balogun is a Nigerian banker, investor, and philanthropist. He is FCMB Group Plc's Group Chief Executive. From 2005 to 2015, he served as First City Monument Bank's group managing director and CEO. He is a Harvard Business School and the University of East Anglia graduate.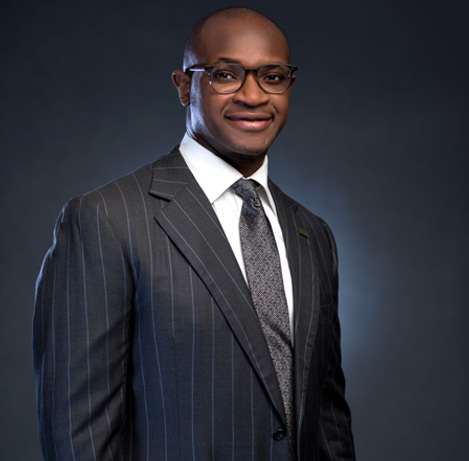 Ladi Balogun Biography
Date of Birth :
12 April 1972
Occupations :
Banker, Economist, Philanthropist
Organization :
First City Monument Bank
Social Media Handles :
Instagram: ladibalogun
Early Life and Education
Ladi Balogun was born on April 12, 1972, in Nigeria but left abroad. He holds a bachelor's degree in Economics from the University of East Anglia, United Kingdom, and an MBA from Harvard Business School, United States of America.
Career
After his graduation from the University of East Anglia in 1993, he began his professional career at Deutsche Bank in the United Kingdom up till 1995. He proceeded to Citibank in the United States and stayed there till 1996. In 1996, he came back to Nigeria, where he became the executive assistant to the Chairman of First City Monument Bank Limited. From 2007 to 2017, he was the chief executive officer of the bank.
In 2007, he led the acquisitions and integrations of FCMB with Cooperative Development Bank, Midas Bank, and Nigerian American Bank (for the Nigerian subsidiary of Bank Boston). In 2012, he led the acquisition of FinBank Nigeria. He was replaced by Adam Nuru as chief executive officer. In March 2017, he became the Group Chief Executive of FCMB Group Plc. In 2018, he was appointed Chairman of Legacy Pension Managers (Legacy Pensions Ltd.), which was later changed to FCMB Pensions Limited.
Personal Life
Ladi Balogun is married with children. He is the first son of Subomi Balogun, the founder and former CEO of First City Monument Bank.
Philanthropy
Ladi Balogun is the chairman of Tenet Investment Company, an impact investment company focused on wealth creation for smallholder farmers in Nigeria. He serves as President of the Otunba Tunwase Foundation, a charitable organisation focused on the health and welfare of children.
Awards and Nominations
This Day Awards for Excellence and Good Governance.
Ladi Balogun Wins Young Global Champions Award!
Kwame Nkrumah Leadership Award for Peace Advocacy and Community Development Par-excellence
Net Worth
His estimated net worth is currently unavailable.
Social Media Handles
Instagram: ladibalogun