John Michael Nchekwube Obinna (born 22 April 1987), popularly known as Mikel John Obi, is a former retired Nigerian footballer. He is often regarded as one of the most decorated footballers in Nigerian football history. Mikel started his career with the regional team Plateau United before switching to the Norwegian club Lyon in 2004 when he was 17 years old. 
He controversially moved to English team Chelsea in 2006 after Manchester United allegedly claimed to have already signed him. He spent 11 years with Chelsea before departing for China in 2017 with Tianjin TEDA. He spent two years in China before returning to England on a temporary deal with Middlesbrough. In July 2019, he joined Trabzonspor on a free transfer. Mikel rejoined Stoke City in August 2020 after returning to England and later moved on to Kuwait SC before announcing his retirement on September 27, 2022. He played 91 times for Nigeria throughout the course of a 14-year international career, between 2005 and 2019, and scored six goals.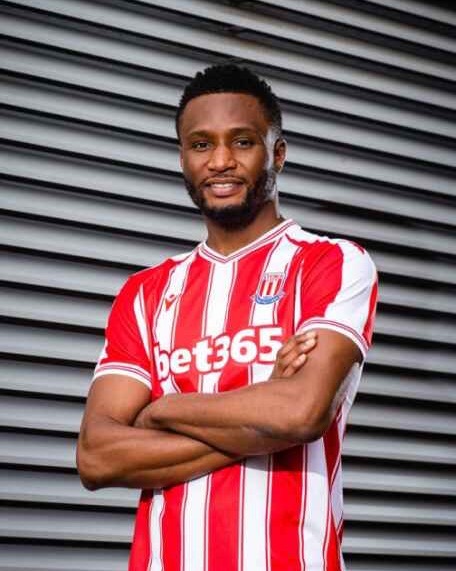 Mikel John Obi Biography
Full Name :
John Michael Nchekwube Obinna
Stage Name :
Mikel John Obi
Date of Birth :
22 April 1987
Nationality :
British-Nigerian
Place of Birth :
Jos, Plateau State, Nigeria
State of Origin :
Enugu State, Nigeria
Position :
Defensive midfielder
Social Media Handles :
Instagram: mikel_john_obi
Twitter: @mikel_john_obi
Early Life and Education
Mikel was born on April 22nd, 1987 in Jos, Plateau State, Nigeria to Pa. Michael Obi and Mrs Irosu Obi, who runs an inter-state transport company in Jos and is a former civil servant. He originally hails from Enugu State, in the eastern part of Nigeria.
He had his primary and secondary education in Plateau State, Jos, but the names of the institutions he attended are unknown.
Career
At the age of 12, Mikel began his professional football career after being selected by more than 3,000 young athletes as a talented player to play for the Pepsi Football Academy. At the time, this team was well known for travelling throughout Nigeria looking for young footballers with the potential to play professionally.
Scouts noticed Obi and he was chosen to play for Plateau United, a top-flight team that had previously produced talents like Celestine Babayaro, Victor Obinna, and Chris Obodo, who eventually had success in European leagues. He gained notoriety after representing Nigeria at the FIFA Under-17 World Championships held in Finland under the name John Obi Mikel. He then proceeded to a tryout at a South African club, Ajax Cape Town, ultimately joining Oslo-based club Lyn Football in Norway after the competition.
Days after he turned 18, it was revealed that Obi had signed for the English Premier League club side Manchester United in April 2005. However, controversy surrounded the signing as another English team, Chelsea FC, claimed to have also signed the player. However, the lawsuit was ultimately decided in favour of Chelsea FC, who later signed Obi from Lyn Football Oslo for the 2006–2007 season.
In September 2006, Obi made his Chelsea debut against the Bulgarian club Levski Sofia in a UEFA Champions League encounter. From 2006 to 2016, John Obi Mikel spent ten years with the London club Chelsea FC, making 374 appearances across all competitions and netting six goals.
Following Chelsea's refusal to renew his contract, John Obi Mikel left the English club on a free transfer the following day and joined the Chinese team Tianjin TEDA. Obi has nearly always represented Nigeria in competitions over the past 13 years. In 2016, he won bronze with the Nigeria Dream team at the Rio Olympics, where he served as team captain and displayed his leadership abilities in guiding the team despite controversy and a lack of national financial support. The Nigerian Super Eagles were captained by Mikel John Obi, who successfully guided them to qualification for the 2018 FIFA World Cup in Russia.
He also had a brief stint with clubs like Middlesbrough, Trabzonspor, Stoke City, and Kuwait SC before announcing his retirement.
International Career
At the 2005 FIFA World Youth Championship, Mikel played for the Nigeria under-20 squad and was awarded the Silver Ball as the tournament's second-best player (after Lionel Messi) as the continent's side came in second to Argentina.
On August 17, 2005, he earned his senior team debut for Nigeria when he replaced another player in the second half of a 1-0 friendly victory against Libya. Prior to being selected for the 2006 Africa Cup of Nations team, he did not play for the national team once more. Mikel did not enter the game when Nigeria faced Ghana in the opening round of the group stage. He entered the second game against Zimbabwe, nevertheless, early in the second half.
He was chosen by Nigeria for their 35-man preliminary Olympic team in 2016, and he was later made the team's captain. In a 2-0 victory over Denmark on August 13, 2016, Mikel scored his first-ever Olympic goal to help his team advance to the semifinals. Nigeria lost to Germany 2-0 before moving on to play Honduras for the bronze medal. Mikel assisted Nigeria in beating Honduras 3-2 on August 20 to win the bronze medal. With the 1996 team's gold and the 2008 team's silver medals in the Olympics, Nigeria became the first nation to ever take home all three medals.
Mikel assisted Victor Moses and scored a goal in a 3-1 victory for Chelsea over Algeria in a 2018 FIFA World Cup qualifier. Mikel declared that the 2019 Africa Cup of Nations would be his final competition for Nigeria in July 2019. After the competition, in which Nigeria finished third, he announced his retirement.
Personal Life
Mikel Obi is currently in a relationship with a Russian beauty, Olga Diyachenko, and they have beautiful twin daughters together, whose names are Ava and Mia. It is unknown if the marriage between the duo has been formalised.
Sunday Dare, Minister of Youth Sports Development, appointed Mikel Obi as the Youth Ambassador to the President of Nigeria.
Name Change
The Nigerian Football Federation (NFF) submitted "Michael" instead of "Mikel" for the 2003 FIFA U-17 World Championship, which was held in Finland. He said the name had a "unique ring to it," so he chose to keep it. When he first joined Chelsea, he was most frequently referred to as "John Obi Mikel," but on July 31, 2006, he declared that he preferred the name Mikel John Obi, and he made the change official in 2016.
Kidnapping Saga
Michael Obi, Mikel's father, was allegedly kidnapped in Nigeria on August 12, 2011. Two days later, Mikel was informed prior to Chelsea's game against Stoke City, but he decided to play in spite of his worries for his father's safety. On August 15, 2011, Mikel fervently pleaded for his father's safe return. "I've always tried to serve the country, and now is the time for the country to help me, so please get in touch with me," he said in a statement to Sky Sports News. On August 22, 2011, Michael Obi was discovered alive in the Nigerian city of Kano. His kidnappers were allegedly in police custody.
Mikel was told about a second kidnapping of Michael Obi on June 26, 2018, a few hours before a FIFA World Cup game, but he withheld the information from the rest of his team. According to the Enugu State Police, they claimed to have saved Michael Obi on July 2 following a shootout.
Honours
Chelsea
Premier League: 2009–10, 2014–15
FA Cup: 2006–07, 2008–09, 2011–12
Football League Cup: 2006–07
FA Community Shield: 2009
UEFA Champions League: 2011–12
UEFA Europa League: 2012–13
Trabzonspor
Nigeria
Africa Cup of Nations: 2013; third place: 2006, 2010, 2019
Nigeria Olympic
Summer Olympics bronze medalist: 2016
Individual
2005 FIFA World Youth Championship Silver Ball
CAF Most Promising Talent of the Year: 2005
Chelsea Young Player of the Year: 2007, 2008
CAF Team of the Year: 2005, 2013.
Africa Cup of Nations Team of the Tournament: 2013
African Footballer of the Year runner-up: 2013
Net Worth
He has an estimated net worth of $10 million.
Social Media Handles
Instagram: mikel_john_obi
Twitter: @mikel_john_obi