The full name of Seun Kuti is Oluseun Anikulapo Kuti. He is a famous Nigerian Afrobeat singer. He is the last child of Fela Kuti, a pioneer of Afrobeat music. Seun presently leads his father's former band named Egypt 80.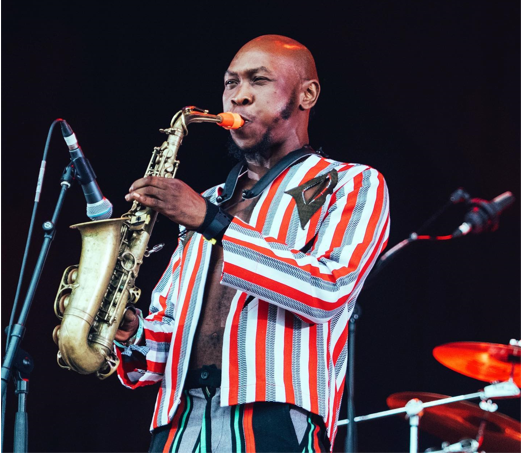 Seun Kuti Biography
Full Name :
Oluseun Anikulapo Kuti
Date of Birth :
January 11, 1983
Place of Birth :
Lagos State, Nigeria
Occupation :
Afrobeat Singer
Spouse :
Yetunde George Ademiluyi (Wife)
Child :
Ifafunmike Adara Anikulapo-Kuti
Social Media Handles :
Instagram: @bigbirdkuti
Twitter: @RealSeunKuti
Early Life
Seun Kuti was born on the 11th of January, 1983, in Lagos State, into the family of the Afrobeat legend, Fela Anikulapo Kuti. At the age of five, Seun developed a passion for music, and by the time he was nine years old, he had begun performing with his father's band, Egypt 80.
Career
After Fela Kuti passed out in 1997, Seun Kuti assumed leadership of Egypt 80. The group issued an album titled Many Things in 2008. Sean Kuti & Egypt 80's debut album was made available under that label.
Seun Kuti received an honorable invitation to the Industry Nite in 2014 when he made his debut live performance. On Jidenna's second album, 85 to Africa, released in 2019, Kuti made an appearance as a featured guest. In June, Kuti was interviewed about pan-Africanism, his own country, and music for the Polaris series in the Visual Collaborative internet catalog.
Personal Life
On December 16, 2013, Seun and his wife Yetunde George Ademiluyi gave birth to a girl, whom they named Ifafunmike Adara Anikulapo-Kuti.
Influence & Impact
In the Occupy Nigeria protests over President Goodluck Jonathan's reduction of fuel subsidies in Nigeria, Kuti took an active role.
Discography
Studio albums
Struggle Sounds
Many Things
Black Times
2019: Night Dreamer Direct to Disc Sessions
2014: A Long Way To the Beginning
2011: From Africa With Fury: Rise
2007: Think Africa
Net Worth
According to different sources online, Seun Kuti is one of the richest Afrobeat musicians. His net worth is estimated to be around $2 million.
Social Media Handles
Seun Kuti is very active on social media platforms. He has over 298,000 followers on Instagram. On Twitter, he has over 157,000 followers. You can follow him on social media through the following handles.
Instagram: @bigbirdkuti
Twitter: @RealSeunKuti