God is good, especially if you're a Nigerian pastor with some business savvy. These days, millions of souls, desperate for financial breakthroughs, miracles, and healing, all rush to the church for redemption. And while the bible expressly states that salvation is free, at times it comes with a cost: offerings, tithes, gifts to spiritual leaders, and a directive to buy literature and other products created by men of God.
Pastors are no longer solely interested in getting people to Heaven; they've devised intelligent ways to make good money while reaching out to souls.
Do you know pastors are among the top naira earners in Nigeria, besides politicians, artists, and businessmen? if you still doubt it, let's take a look at the official list of the richest pastors in Nigeria and their net worth's
1. David Oyedepo – Net worth: $150 million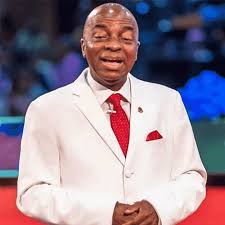 David .O. Oyedepo who was born on September 27, 1954, is a Nigerian pastor, author, business mogul, architect and founder of the megachurch, Faith Tabernacle, or Winners of Chapel located in Otta, Ogun State, Nigeria. He is Nigeria's wealthiest preacher. Ever since he founded the Living Faith World Outreach Ministry in 1981, it has grown to become one of Africa's largest congregations. The Faith Tabernacle, where he hosts three services every Sunday, is Africa's largest worship center, with a seating capacity of 50,000. Oyedepo owns four private jets and homes in London and the United States. He also owns Dominion Publishing House, a thriving publishing company that publishes all his books. He founded and owns Covenant University, one of Nigeria's leading tertiary institutions, and Faith Academy, an elite high school.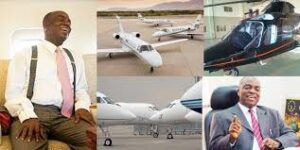 Talking about his wealth, David Oyedepo disclosed that God swore to make him rich because he had donated a car for the propagation of the gospel:
"I gave my car to God not to be rich but to spread the gospel and God swore to make me rich.
"Now in one day we bought 87 buses at once, another day we bought 100 buses at once, we now buy buses like loaves of bread. Many of you will soon be building houses like loaves of bread."
Owning ₦54b net worth, David Oyedepo is the wealthiest preacher in Nigeria. He recently acquired a Gulfstream V jet valued at US$30m. He now has a personal collection of 4 aircraft which includes a Bombardier Challenger Aircraft and two Gulfstream planes. He owns a fleet of very luxurious cars including Mercedes Benz and BMW.
2. Pastor Chris Oyakhilome – Net worth: $70 million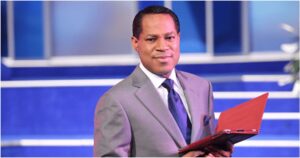 Pastor Chris Oyakhilome, popularly known as "Pastor Chris" is the founder and president of Believers' Love World Incorporated, also known as Christ Embassy, headquartered in Lagos, Nigeria. His ministry also has worship centres in hundreds of cities in Nigeria and across Ghana, South Africa, UK, US, and Canada.
Pastor Chris is probably the most tech-savvy gospel minister in the country. He has well over 1.2 million followers on Twitter, over 1.9 million followers on Facebook as early as 2013. His ministry operates a custom smartphone messenger called KingsChat, a social network, 'Yookos' with over 10 million registered users worldwide. His ministry is also reputed to have mammoth server infrastructures that support its tech-inclined mission work.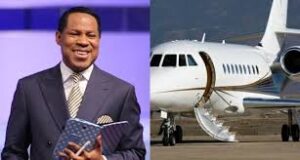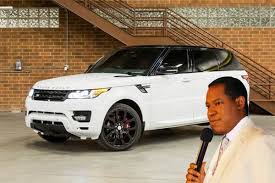 He founded Love World as a university student. The key part of Oyakhilome's praying style is each of his followers should contribute some of his earnings to the church, which he call "Sowing the seed". If people don't have such money, they are encouraged to donate their valuable possessions instead, such as jewelry, watches, mobile phones, vehicles and so on! To get more "seeds", the church approached hundreds of young businesses and solicited them to join his adepts. "Seed sowing" alone gets Pastor Oyakhilome millions of naira monthly.
3. Pastor E. A. Adeboye – Net worth: $50 million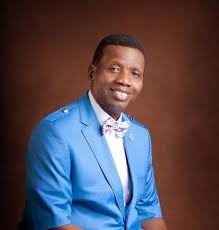 Pastor Enoch Adejare Adeboye was born in Ifewara, Osun State in the year 1942. He assumed the office of a General Overseer in 1981 and grew the Redeemed Christian Church of God (RCCG) into a large congregation worldwide. The church now has branches in 192 nations internationally with more than 14,000 branches in Nigeria. Pastor Enoch Adeboje once take the media by storm with his statement which claim he will build a church in five-minute distance from every home in the world!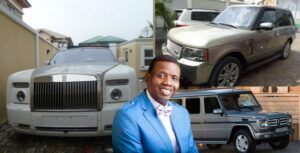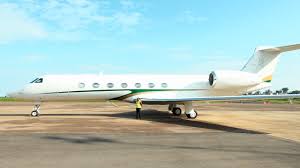 Being the 3rd richest pastor in Nigeria, Pastor Enoch Adeboye is the proud owner of a $65 million G550 luxury jet. He drives a bulletproof Rolls-Royce Phantom ($400,000), Land Rover
Discovery ($80,000) and a Mercedes-Benz Gelandewagen ($100,000).
4. Prophet T.B Joshua – Net worth: $25 million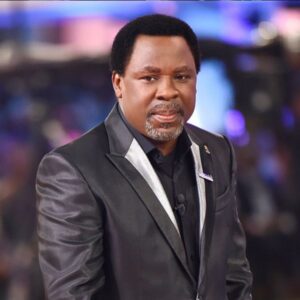 T.B Joshua, the founder of Synagogue Church of All Nations (SCOAN), was born on June 12, 1963. Founded back in 1987, the church has grown in its operations into several countries of the world including Ghana, South Africa, Israel, Greece, and the United Kingdom. T.B Joshua owns million-follower Youtube channel and one of the most influential Christian TV channels in Africa – Emmanuel TV.
The prophet is a YouTube superstar, boosting the huge amount of monthly views. In some quarters, he is considered the most popular Nigerian Pastor on YouTube. He owns Emmanuel TV, easily considered Africa's most popular televangelism TV network.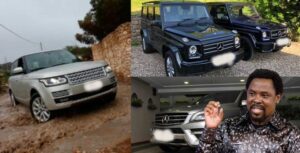 Ad revenues from Youtube, private TV channel as well as donation from his followers earn him a net worth of ₦9 billion. He owns a $60 million private jet and a fleet of luxurious cars including Range Rovers and Mercedes-Benzes.
Joshua claims his source of wealth is strictly from the ministry work as he has no business of any kind. Even at that his $25 million net worth seems grossly underestimated. His ministry spends more than $20 million in charitable contributions. His congregation's financial prowess is huge, The SCOAN attracts more weekly attendees than the combined number of visitors to Buckingham Palace and the Tower of London.
Apart from completing his primary school education, T.B Joshua is not recorded to have received any other form of formal education.
5. Pastor Mathew Ashimolowo – Net worth: $20 Million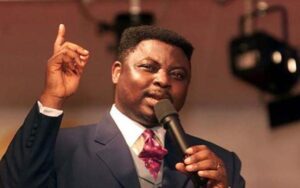 Pastor Matthew Ashimolowo is a senior pastor at the Kingsway International Christian Center. He is anything but poor, his celebrity lifestyle is enviable, but on most occasions a source of controversy. After, converting from Islam to Christianity at the age of 20, he rose to prominence at the Kingsway International Christian Center and enjoys a juicy pay package.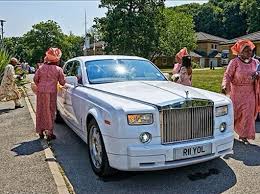 His source of wealth is private investments, gifts, and donations from his congregation plus a $250,000 salary. The majority of his wealth comes from the sale of Christian literature and documentaries from his media company (Matthew Ashimolowo media). He lives a rather too flamboyant life for a gospel minister, owning several high-end cars including Porsche Cayeen Jeep, Bullet-proof Hummer Jeep, Range Rover Vogue Sport, and many other exotic cars.
6. Bishop Ayodele Oritsejafor – Net worth: $15 million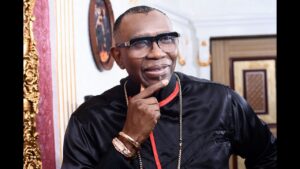 Ayo Oritsejafor is a vocal clergy, often swooping in on political hot topics and propelling himself to the centre of political controversies. He is the founding and Senior Pastor of Word of Life Bible Church, headquartered in Warri, Nigeria. He was particularly vocal during his tenure as president of the Pentecostal Fellowship of Nigeria and Christian Association of Nigeria, defending Christianity and the Church of God.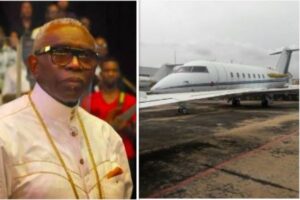 Like many others on the list, Oritsejafor's source of wealth includes income from private businesses, gifts, and donations, as well as proceeds from his worship centers across the country. His net worth of $15 million is sometimes disputed in many quarters.
7. Pastor Chris Okotie – Net worth: $12 million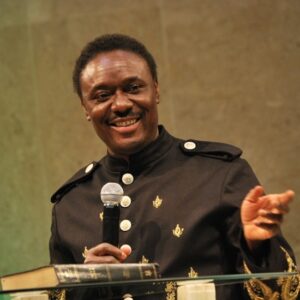 Pastor Chris Okotie modestly occupies the 7th spot. None on my list had tasted stardom before becoming popular clergymen except Okotie. He was a popular pop musician in the 1980s, amassing quite a considerable stash of wealth for himself. He subsequently turned himself to God and inspired his Nollywood friends to join his congregation, 'the Household of God Church.
Chris Okotie is now one of the richest pastors in Nigeria thanks to the money his followers donate to him. He makes millions from selling books the Last Outcast to his members. Now he holds a net worth of ₦4.3b. Neither singing career nor business that he tried before could earn him such money.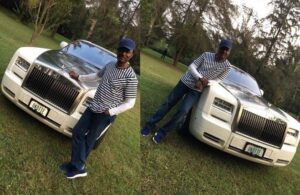 Okotie interrupted his education severally to attend to his theological studies, but however bagged a degree in law from the University of Nigeria, Nsukka.
8. Pastor Gbenga Oso – Net worth: $3.5 million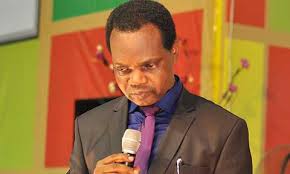 Pastor Gbenga Oso started off his ministry with the Gospel Faith Mission International before founding his own church, the Laughter Foundation Church.
Popularly referred to as the father of one million babies, Gbenga Oso claims that he has helped one million of couple to conceive babies by his miracles.
Not much is known of this pastor, little is known about his origin, biography, true age or core ideologies. The pastor which is the Founder of Laughter Foundation Church is probably best known for performing miracles for the "fruit of the womb".
He virtually made his money from praying for women with problems conceiving while encouraging them to be supportive of the gospel ministry.
9. Bishop Mike Okonkwo – Net worth: $3 million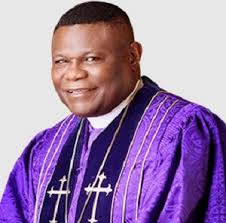 Bishop Mike is a multi-talented clergy and the founder of The Redeemed Evangelic Mission. Before getting into the gospel ministry, the clergyman had a stint under several employers. Notably among them, The Nigerian Ports Authority and the African Continental Bank as well as some military experience during the Nigerian civil war.
The main source of income of Mike Okonkwo comes from millions of naira of tithe his church gets monthly. He once confessed he used threat of curses to force his member to pay tithe:
"I have frightened the church with curses for not paying tithes and that was because I didn't know any better."
"You know we conjure all kinds of semantics like, 'If you don't pay your tithe, your life will be tight,' and the people pay out of fear without God's blessing."
10. Lazarus Muoka – Net worth: $3 million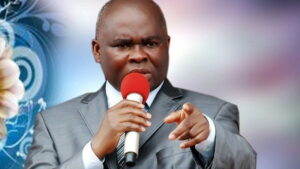 Lazarus Muoka is the leader and founder of The Lord`s Chosen Charismatic Revival Movement. Like many other clerics, Lazarus is also a renowned author of Christian books and journals. Born in Imo state and was raised in a Catholic family, Lazarus Muoka has grown to become a great influence in Nigeria. He mentioned that he had been having dreams about God since 1994. His ministry is characterized by lots of miracles, healings, and deliverances. Despite all the accusations and evidence about his deceiful tricks, Lazarus Muoka denies them all. Chosen is among the most popular churches and make him one of the richest pastors in Niger.
Lazarus has had his own share of controversies, from allegations of short-changing his congregation to performing staged miracles. He is nonetheless a wealthy clergy and could be much wealthier off the books.