In the past, women played a significant role in the leadership and liberation of some places in Nigeria. Although the traditional rules are against the involvement of women in the decision-making processes of the community, some of these women fought their way through to the top to ensure they are relevant and respected in society.
Aside from the general roles of women as wives, daughters, mothers, and sisters in the country, history has it that some women from their childhood did not only exhibit strength in striving for equal participation, but they also managed their roles as indicated by society and their roles as leaders in their various areas of interest.
One such woman in the history of Nigeria is Queen Amina, who in Kaduna State, especially in Zaria, was known as the fearless warrior queen. Thus, because of the role she played in leading men to war in Zaria, especially during the 15th and 16th centuries, she is still celebrated today in traditional Hausa praise songs as "Amina, daughter of Nikatau, a woman as capable as a man that was able to lead men to war."
In this piece, Naijabiography narrates the early life and career of Amina, including how she became the queen of Zaria.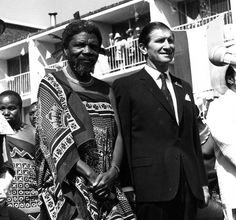 Early Life
Young Amina was born in the middle of the sixteenth century CE to Queen Bakwa Turunku (reigned 1536–c. 1566) and King Nikatau, the 22nd king of Zazzau. She had a younger sister named Zaria, after whom the British nicknamed the current city of Zaria (Kaduna State) in the early 20th century.
History has it that Amina grew up in her grandfather's court and was his favourite. While he was in court, he carried her and gave her meticulous political and military instructions. Thus, Amina received forty female slaves when she turned sixteen and was granted the title of Magajiya (heir apparent) (kuyanga). Amina was courted by a lot of men since she was a young girl.
However, the Makama made "a daily offer of ten slaves," while the Sarkin Kano offered "fifty male and fifty female slaves and fifty bags of white and blue cloth" in an effort to win her favour.
Later, Amina's brother succeeded to the throne of Zazzau following the passing of her parents in or about 1566. Amina was now well known for her military prowess and had distinguished herself as a "leading fighter in her brother's cavalry."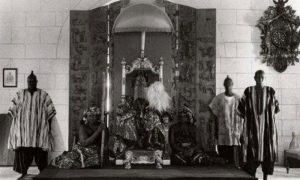 How Amina Became Queen
Amina became the first female monarch in 1576 following the passing of her brother Karami. However, the other six original Hausa states (Hausa Bakwai) were Daura, Kano, Gobir, Katsina, Rano, and Garun Gabas. Thus, Zazzau was one of these ancient states. Zazzau was one of these states that were the biggest before Amina ascended to the throne. Additionally, it served as the main supply of slaves for Arab traders to sell at the slave markets in Kano and Katsina.
Meanwhile, men did not feel threatened by women in positions of authority in pre-colonial Nigeria since it was generally accepted that their merit, not their gender, had earned them the position due to age, kinship, or other factors. Men who weren't doing their jobs well could even be fired by women. Pre-colonial Nigerian civilizations clearly distinguished between the social and economic duties of men and women, but this did not prevent women from standing up for themselves or in positions of leadership.
Amina launched a 34-year war against her neighbours just three months after being crowned queen in an effort to enlarge Zazzau territory. She had a well-trained and intimidating army with 20,000 foot soldiers and 1,000 cavalrymen. She even urged her people to "resharpen their guns" in one of her opening remarks. She seized vast swaths of territory as far as Kwararafa and Nupe.
When Amina assumed office, the expansion of Zazzau beyond its original borders and the subjection of captured towns to vassal status were the two goals of her conquests. Thus, the growth of Amina's kingdom established Zaria as the commercial hub for all of southern Hausaland, bridging the established east-to-west trans-Saharan axis and ensuring its prosperity.
According to research, it was said that Amina brought unheard-of wealth to the region in the form of a tribute payment of 10,000 kola nuts and 40 eunuchs. She increased the wealth and power of her country with gold, slaves, and new crops. Amina provided her army with metal armour, such as iron helmets and chain mail, because her people were skilled metalworkers.
Amina is also credited with designing the city's sturdy mud walls, which served as the model for the defences used in all Hausa states. Many of these defences, which came to be known as ganuwar Amina or "Amina's walls," were erected by her around numerous conquered cities. Many of these barriers are still standing today.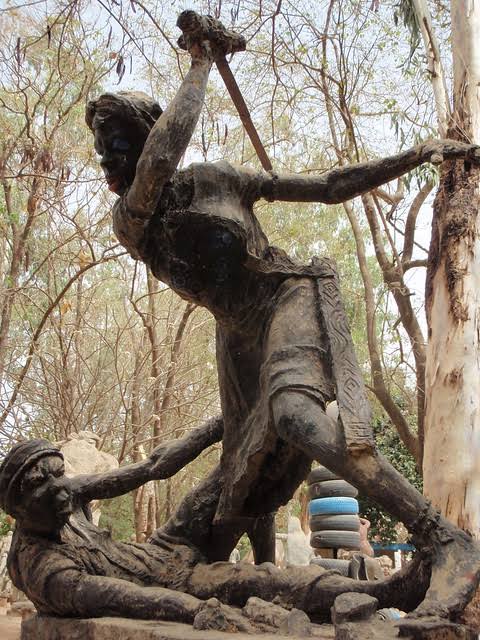 Therefore, in addition to defending Hausa's marketplaces from enemies coming from the south, these walls by Queen Amina of Zaria served as an enduring reminder of her illustrious rule.
History has it that Queen Amina never got married, but rather she had a temporary husband. Another record revealed that she had a new lover in every town she visited, and they always met their unfortunate fate in the morning.
Death of Queen Amina
Amina's death's precise circumstances are unknown. According to research, it was said that she passed away in Attaagar. Because Bauchi included a large area, the kingdom of Zazzau was the largest among the kingdoms of the Hausa.
Amina had extended the boundaries of Zazzau south of the confluence of the Niger and Benue at the time of his death, so he passed away in Atagara, close to modern-day Idah. However, there are numerous inconsistencies surrounding her passing. For example, while some historians claim she passed away in Atagara, the modern-day Idah, many authors have stated in their writings that she died in Vom Jos."