Abba Alhaji Kyari (born 17 March 1975) is a Nigerian police officer who presently has the deputy commissioner of police. He has been relieved of all police responsibilities pending the conclusion of an internal inquiry into his suspected connections to Ramon Abbas "Hushpuppi", also known as the Gucci King. He belongs to the International Association of Police Chiefs (IACP). Before being named IGP-IRT, he worked for the Lagos State Police Command as a unit commander at one of the PMF bases in Lagos. From there, he was promoted and transferred to become the officer in charge of the SARS, which was disbanded after the #EndSARS protest.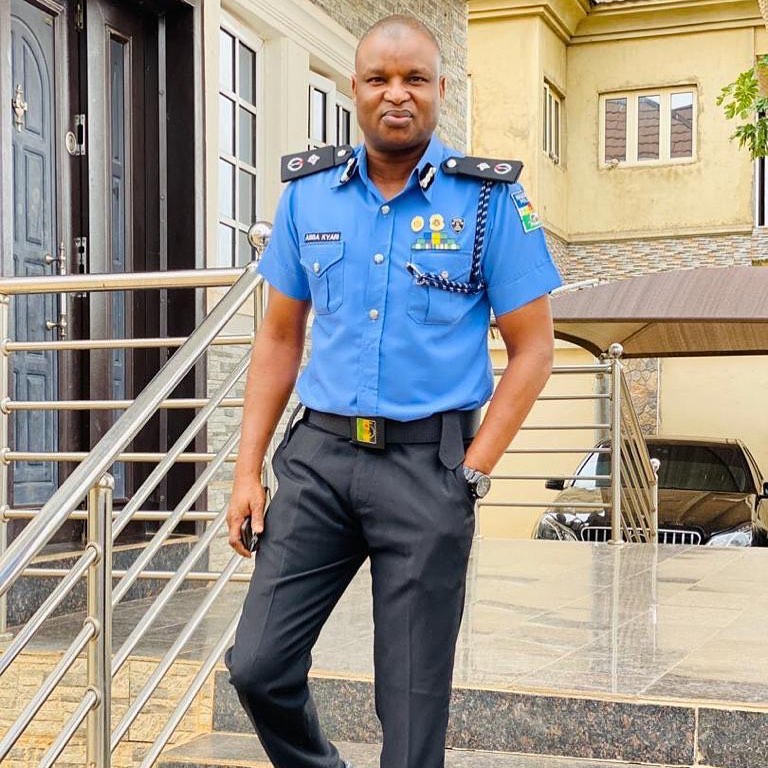 Abba Kyari (DCP) Biography
Full Name :
Abba Alhaji Kyari
Date of Birth :
17 March 1975
Place of Birth :
Maiduguri, Borno State, Nigeria
State of Origin :
Yobe State, Nigeria
Occupation :
Police Officer
Awards :
National Police Medal (2013)
Social Media Handles :
Instagram: abbakyari75
Facebook: Abba Kyari
Early Life and Education
Abba Kyari was born on March 17, 1975, in Maiduguri, Borno State, Nigeria, but he is Kanuri by tribe, and hails from Gujba Local Govt. Area, Yobe State. He had his primary and secondary education in Maiduguri, before proceeding to the University of Maiduguri, where he graduated with a Bachelor of Science Degree in Geography in 1997.
He did his mandatory National Youth Service Corps (NYSC) in Akwa Ibom in 1998 before joining the Nigeria Police Force as Cadet Assistant Superintendent of Police in 2000 and was posted to Adamawa State Police Command for his one-year mandatory attachment in Song Police Division.
Career
After completing his one-year mandatory attachment in Song, Girei, and Numan Local Govt. Areas, with a successful time out in crime bursting and criminal investigations, he was later deployed as the Divisional Crime Officer (DCO) in Numan, Adamawa State, and also served as Unit Commander of 14 PMF Yola. His leadership in the capture of the infamous armed robber Spirit, also known as "Ndagi," made him stand out. Before being captured, Spirit kept Numan, the third-largest town in Adamawa State, captive for a number of years.
After that, this brilliant officer with a keen eye for detail and occasionally lethal bravery had no turning back. In 2005, Kyari joined the Nigerian Police Mobile Force, or Mopol, and remained there for almost five years before being transferred to the Lagos Command in October 2010. He was sent to SARS as the second in command (2/IC), and then on January 15, 2011, he was appointed as the director of SARS. In 2018, Kyari received a special promotion to Deputy Commissioner of Police.
Abba Kyari was the head of the Inspector General of Police (IGP) Intelligence Response Team in the Nigerian Police Force Headquarters in Abuja until the revelation of his relationship with the notorious alleged Nigerian fraudster (Ramon Abbas), also known as Hushpuppi, who is currently facing charges of money laundering brought against him by the United States Government and implicated DCP Abba kyari as a party in an international scheme to defraud the founder of a Qatari school and then launder over 1.1 million dollars in illicit proceeds, which led to his suspension.
Personal Life
The super corp, famous for bringing down villains and top society miscreants such as Bokoharam, Evans, The Vampire, and Godogodo, among others, is married, and his marriage is blessed with five children.
Controversies
He has been involved in several scandals and conspiracies while he was still in service and after his suspension. Some of which are:
Hushpuppi Criminal Revelation
On July 29, 2021, notorious Nigerian fraudster Ramon Abbas, also known as Hushpuppi and currently accused by the US government of money laundering, named DCP Abba Kyari as a participant in a global scheme to defraud the founder of a Qatari school and then launder more than $1.1 million in illicit proceeds.
A 69-page court document describes a conflict between the criminal organization's members as the reason why one Vincent reportedly contacted the victim and accused Abbas and Juma (also a fraudster) of committing fraud. According to Abbas, DCP Abba Kyari set up Vincent's imprisonment in Nigeria. The paper further claimed that Alhaji Abba Kyari had emailed Abbas information about an account where he could put payment for Vincent's arrests and imprisonment.
According to a story by Peoples Gazette, Abba Kyari visited Dubai at Hushpuppi's request and enjoyed himself thanks to airport pickup, a stay in a five-star hotel, and a city tour. However, Kyari refuted these grave accusations made against him on his verified Facebook and Instagram pages. According to a report by Peoples Gazette, the US Department of Justice has authorised Kyari's detention and demanded his extradition. The IGP, however, has suspended him pending the findings of the investigative committee.
Police Service Suspension
The Inspector General of Police announced on August 1st, 2021, that Abba Kyari had been placed on administrative leave while an inquiry into his role in the Hushpuppi scandal was conducted. Usman Baba, the Inspector General of Police, gave the Police Service Commission the Kyari investigation panel's report in December 2021.
Cocaine Deal Involvement & Allegation
On February 14, 2022, a video of Kyari was made public in which he promised $61,400 in cash in exchange for the release of a portion of the 25 kg of cocaine that had been seized. Abba Kyari and six other people were charged by the NDLEA on Monday, March 7, 2022, with various offences related to obstruction, conspiracy, and cocaine peddling. Abba Kyari, the former deputy police commissioner, and four more people, all of whom are police officers, pleaded not guilty to the allegations made against them by the anti-narcotics agency (NDLEA).
Awards and Nominations
Triple IGP Commendation Medal for courage 2012, 2013, 2014.
Triple Lagos State Governor's Award for Gallantry, Leadership and Service Excellence 2011, 2012, 2013.
Lagos State Commissioner of Police Commendation Award for Courage 2011
Best Anti-Crime Police Officer in West Africa from Security Watch Africa.
CRAN Star Award from 2011, 2012, 2013, 2014, 2015, 2016 & 2017.
Star Award for Outstanding Gallantry In Africa 2018 by Security Watch Africa.
Africa's Best Detective Of the Year 2018.
The best Police officer of the Decade Award
2018 HERO of the Year Award by Silverbird Group.
Presidential medal for courage from President Mohammadu Buhari on 1/4/2016.
Award of gallant performance from the Head of Securities Of Banks and Financial Institutions In Nigeria At Ikeja Lagos 2019.
Award of a gallant performance by Crime Reporters Association Of Nigeria CRAN 2019.
Award from Arewa Media Practitioners as the most Outstanding Police Officer in Nigeria 2018/2019.
Award of Excellence from Nigerian Youth Organization for Leadership and Right Activation 2019.
Award from the Geography Department of the University of Maiduguri (class of 1997) for courage and excellence as Icon of Security Development 2018.
The Best Police Officer Of The Decade By Northeast Star 2018 Award.
Award of gallant performance by #GFIIA2019.
Nigeria's most accomplished detective and a gallant police officer with numerous national and international accolades, bags media award as "A most outstanding police officer of the year 2018/2019", By AREWA MEDIA PRACTITIONERS
Award of excellence and gallant performance by Borno state House of Assembly.
Award of gallant performance by NIGERIA YOUTH ADVOCACY FOR GOOD GOVERNANCE INITIATIVE (NYAGGI).
Award of gallant performance by Deba youts detectors, Deba.
Award by National Assembly as the most outstanding Police officer in Nigeria (2020).
Abba Kyari Net Worth
His net worth is currently unavailable. However, he is known to live a comfortable life because he moves with the affluent in society.
Social Media Handles
Instagram: abbakyari75
Facebook: Abba Kyari