The full name of Adekunole is Adekunle Tobilola Olopade Adekunle. He was born in 1995. He lives in Lagos State. Adekunle came into the limelight when he appeared as a contestant in the popular reality show Big Brother Naija in the 2022 edition. Big Brother Naija season 7, themed 'Level Up' officially started on Saturday 23rd July 2022. 12 housemates were first introduced to the show on the first day, and another 12 on the second day. Price cash of #100 million was set aside for the winner.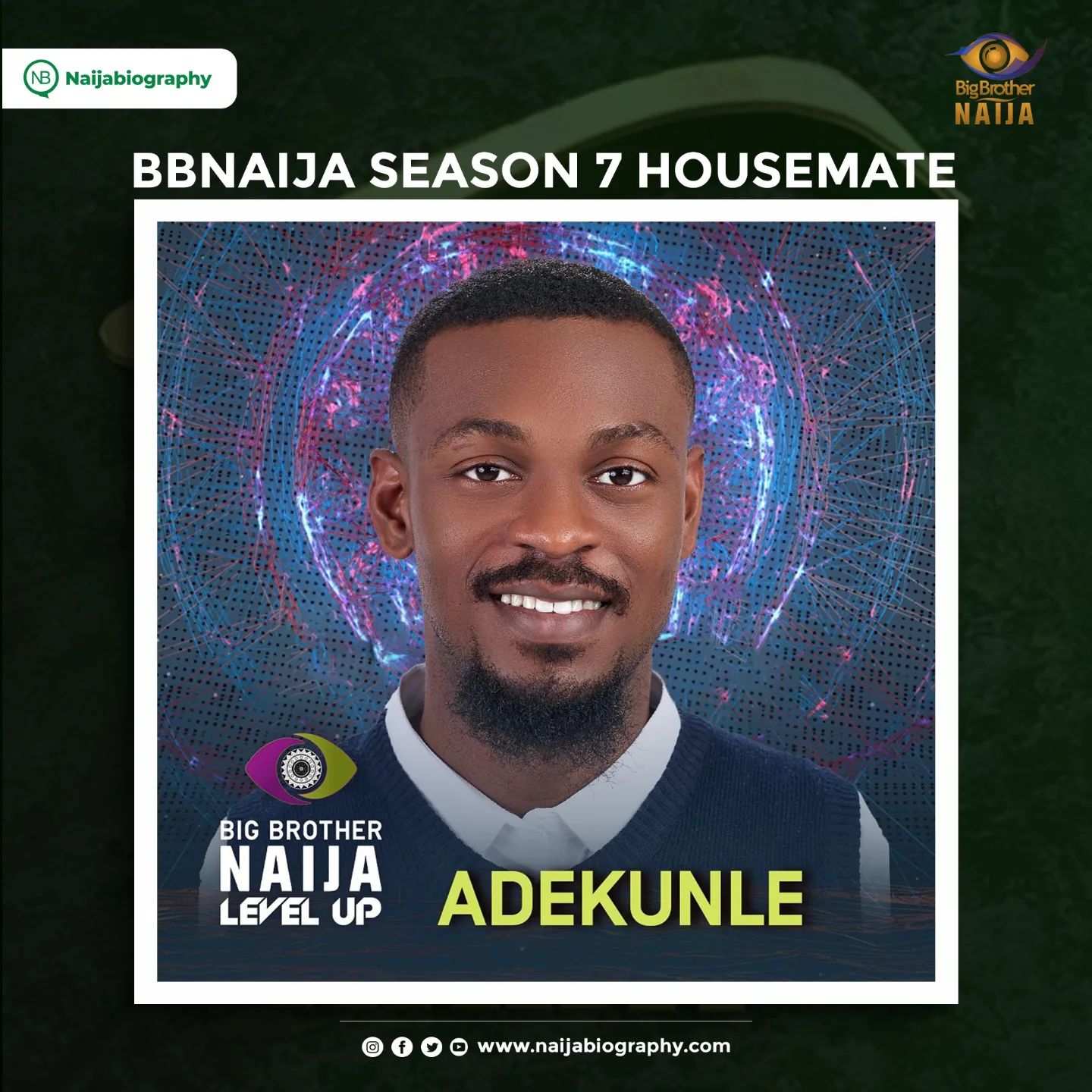 Adekunle Bbnaija Biography
| | |
| --- | --- |
| Full Name : | Adekunle Tobilola Olopade Adekunle |
| Nickname : | Adekunle |
| Year of Birth : | 1995 |
| Occupation : | Digital Marketing Monsultant |
| Relevance : | Bbnaija Housemate 2022 |
Personality
Adekunle is a digital marketing consultant from Lagos. He considers himself "a self-actualized introvert" who takes pride in being a giver that solves other people's problems. When he's not dreaming of creating a better life for himself and figuring out ways to make the world a better place, you'll find Adekunle playing games on his phone or watching his favorite show, Family Guy, on YouTube.
Although peace-making is one of his strengths, Adekunle is not afraid to step up and face challenges head-on should the need arise. He showed up as a housemate in the 2022 Big Brother Naija. In an interview with Adekunle when he was asked Are there any habits that may annoy his fellow Housemates? He responded that "The fact that I'm always right; and by the way, I never say anything I don't know, could be considered annoying. Also, I learned recently that I use a lot of big grammar when I speak," he says with a chuckle. He hopes to win this season of Big Brother Naija to help his mother pay off her mortgage, loans, and debt.
Social Media Handles
Adekunle has active social media handles. He has over 15,000 followers on his Instagram account, while on Twitter, he has over 3,000 followers. You can follow him through the handles below.
Instagram: @adekunleolopade_
Twitter: @adekunleolopade
We wish Adekunle success. You can leave a comment for him at the comment box below.