Oba Adeyeye Enitan Ogunwusi is the 51st and current Ooni of Ife. He is the traditional ruler of the Yoruba kingdom of Ile-Ife. He ascended to the throne in 2015, succeeding the deceased Oba Okunade Sijuwade, who was the 50th Ooni of Ife.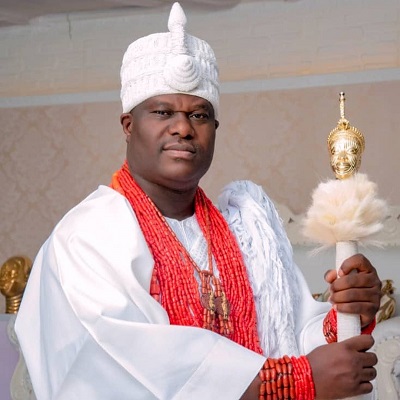 Adeyeye Enitan Ogunwusi Biography
Full Name :
Oba Adeyeye Enitan Ogunwusi
Date Of Birth :
17 October 1974
Spouse :
Queen Morenike Naomi Oluwaseyi and Olori Ashley Afolashade
Place Of Birth :
Ibadan, Oyo State, Nigeria.
Occupation :
Ooni of Ife, Accountant, Businessman
State Of Origin :
Ile-Ife, Osun State.
Social Media Handle :
Instagram: ooniadimulaife
Twitter: OoniAdimulaife
Early Life and Education
Adeyeye Enitan Ogunwusi was born in Ibadan, Oyo State, as the son of Prince John Oluropo Ogunwusi and Princess Margaret Wuraola Sidikatu Abegbe Ogunwusi into the Royal House of Giesi, one of the House of Oranmiyan's four royal dynasties. Prince Joseph Olagbaju Adewole Ogunwusi was his paternal grandfather, and his grandfather was ba ráygbà (also known as Ooni Orarigba or Orasigba) Ojájá I, the 44th Ooni of Ife who ruled from 1878 to 1880. He is a direct descendant of Ooni Agbedegbede, who was a descendant of Ooni Giesi (the Giesi royal house's progenitor), and hence a descendant of Ooni Lajodogun. Oranmiyan's grandson, Lajodogun, was the son of Ooni Lajamisan (or Lajemisin), the legendary founder of the Oyo Empire. Oranmiyan was the son or grandson of Oduduwa, the first Ooni of Ife.
His birth was claimed to have been foreseen years before he was conceived, so his mother gave him the name Enitan, while his grandfather named him Adeyeye, which means "the crown befits the kingdom." In a family of seven, he is the fifth child.
He attended Subuola Memorial Nursery and Primary School in Ibadan for his primary education. He subsequently went to Loyola College, Ibadan and then St. Peters Secondary School, Ile-Ife, where he obtained his secondary school certificate (SSCE). He earned his accounting degree from The Polytechnic, Ibadan. He belongs to the Nigerian Institute of Chartered Accountants. In addition, he works as an associate accounting technician. Oba Ogunwusi is a recognised Institute of Directors Member. He is also a Global Real Estate Institute member. He has many honorary doctorates, including one in public administration from the University of Nigeria, Nsukka, and another in law from Igbinedion University.
Career
The young King is a businessman who specialises in real estate. Soon after finishing high school, he decided to pursue his passion for business. For the next twelve years, he worked in engineering, procurement, and construction (EPC) both locally and globally. He was known to be actively involved in the development of approximately 2,500 housing units through various developer business networks. He was the MD/CEO of Gran Imperio Group (GIG), a formidable real estate consortium in Nigeria. Through the Association for International Business (AIB), which has over 200 member countries around the world, he helped to build strong trade relationships between the country and international bodies.
Prince Adeyeye is said to have overseen the team that built the famed Lagos and was the driving force behind the creation of Essential Homes, a real estate product that debuted in January 2014. The product was created to provide middle-and low-income earners with cheap premium residences. The South Pointe Estate, Lafiaji Road, Lekki, Lagos State, was the company's first project, which began in February 2014, he was also involved in the National Steel Company of India's establishment of Nigeria's largest lead and aluminium recycling factory in Ota, Ogun State.
The Oba is currently the Chancellor at the University of Nigeria, Nsukka.
Personal Profile
Ogunwusi has had a number of well-publicized romances. He and Omolara Olatubosun had their first kid, Adeola Aanuolouwapo Ogunwusi (born in May 1994), in Ibadan while they were both teenagers. Omolara conducted an interview in November 2021, in which she stated that he was an absentee father for their child's first years of existence.
Ogunwusi married Adebukola Bombata in 2008, but the couple divorced in 2016. He was married to Zaynab Otiti Obanor of Edo State from 2016 to 2017. He married Prophetess Morenike Naomi Oluwaseyi in October 2018. Morenike Naomi announced their separation on Instagram in December 2021, but the palace rejected her story hours later.
He has also been linked to Olori Ashley Afolashade, whom he revealed as his wife to his birthday party guests in October 2021.
Impact and Influence
On December 7, 2015, he received his office personnel. He's been dubbed an "astute entrepreneur driven by the need to transform impossibilities into possibilities." Oba Ogunwusi, the Yoruba people's spiritual leader, is now tasked with making supplications to God and the Orisrà on behalf of his people and the world at large during annual festivities like Olojo. Ooni Ogunwusi met with the Alaafin of Oyo shortly after his coronation, ushering in a new period in the Yoruba States' history. He effectively ended the decades-long hex of institutionalised rivalry between the thrones in Ile-Ife and Oyo. The Oba is a strong supporter of women's and young people's empowerment and liberation.
He has rebuilt Ile-Ife into a tourist destination, transforming the historic city via beautification, remodelling, and re-construction. Oba Ogunwusi is also a well-known philanthropist who is dedicated to humanity and a champion for those who are less privileged. Over the years, he has provided support through the House of Oduduwa Foundation and, more recently, the Hopes Alive Initiative.
Awards and Nominations
H.I.M was honoured with the proclamation of the Town of Franklin on the 12th of June 2016. Ooni Ogunwusi was given the key of the County of Somerset, Franklin Township, New Jersey in the United States.
Net Worth
Forbes has not revealed the current net worth of Oba Adeyeye Enitan Ogunwusi (Ojaja II), the Ooni of Ife. He is one of Nigeria's first-class Obas and one of the country's wealthiest kings.
Given his riches as a Nigerian businessman, it's not surprising that the current Ooni of Ife's net worth is reported to be in the millions of dollars.
Social Media Handle
Instagram: ooniadimulaife
Twitter: OoniAdimulaife