David Olaniyi Oyedepo is a Nigerian preacher, Christian author, businessman, and architect. He is the founder of the Living Faith Church Worldwide (Winners Chapel) and the presiding Bishop of the Faith Tabernacle in Ota, Ogun State.
Winners Chapel International network of churches cuts across various states in Nigeria and also in various countries in the world. One of the forerunners of the Christian charismatic movement in Africa, Oyedepo is regarded as one of Nigeria's most potent speakers. He serves as both Covenant University's and Landmark University's chancellor. In 2011, he was named by Forbes magazine as the richest pastor in Nigeria.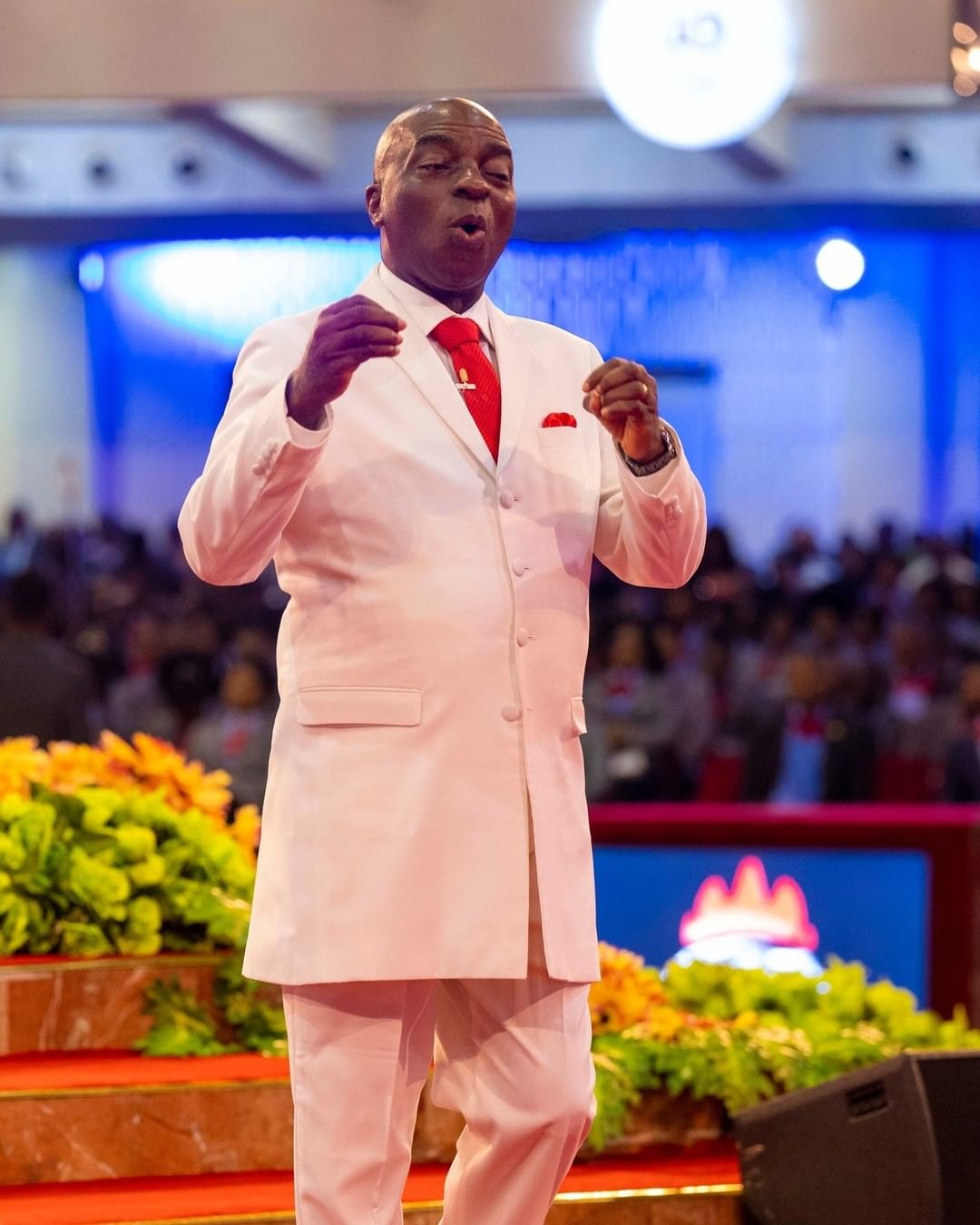 David Oyedepo Biography
Full Name

David Olaniyi Oyedepo

Date of Birth

September 27, 1954

Nationality

Nigerian

State of Origin

Omu-Aran, Kwara State, Nigeria

Place of Birth

Omu-Aran, Kwara State, Nigeria

Spouse

Faith Abiola Oyedepo

Occupation

Pastor, Author, Educationist, Minister, Architect

Parents

Ibrahim and Dorcas Oyedepo

Net Worth

$150 million

Social Media Handles

Instagram: davidoyedepomin
Twitter: @Bspoyedepo
Early Life and Education
David Olaniyi Oyedepo was born in Osogbo, Nigeria, on September 27, 1954. However, he is originally from Omu-Aran in the Irepodun Local Government Area of Kwara State. He was brought up in a multireligious household. The Muslim healer Ibrahim was his father. His mother, Dorcas, was a follower of the Aladura movement in Nigeria, namely the Holy Order of the Cherubim and Seraphim Movement Church (C&S). In Osogbo, where he was raised, his grandmother taught him the principles of living a Christian life by accompanying him to early morning prayers. She also stressed the value of tithing to him.
At the Ilorin campus of the Kwara State Polytechnic, Oyedepo studied architecture. He also holds a PhD in Human Development from Hawaii's Honolulu University.
Career
Before leaving to focus on his missionary work, Oyedepo worked in Ilorin for a brief period in the Federal Ministry of Housing. Through the influence of his teacher, Betty Lasher, who showed interest in him throughout his high school years, Oyedepo was "born again" in 1969. He claims that in May 1981, he was given a mandate by God through an 18-hour vision to free the globe from all devilish oppression by preaching the word of faith. This is the original vision that inspired the establishment of the Liberation Faith Hour Ministries, which later became the Living Faith Church World Wide (LFCWW), in 1981. Two years later, on September 17, 1983, Pastor Enoch Adeboye, General Overseer of the Redeemed Christian Church of God, ordained David and his wife, Florence Abiola Akano (also known as Faith Abiola Oyedepo), as pastors, and formally commissioned the new church. Oyedepo's life mentor, the late Archbishop Benson Idahosa, consecrated him as a bishop five years later.
Living Faith Church was founded in Kaduna but relocated to Lagos, the country's former capital, in July 1989 to establish a new branch of the church after Oyedepo allegedly got orders from God to minister to Lagos residents.
In order to accommodate the growing number of worshippers, Oyedepo asserted that God had told him to construct a new base for the commission in 1998. The initial 530-acre (2.1 km2) building, known as Canaanland, which acts as the headquarters, was acquired by Oyedepo's church as a result of this. It is the location of the "Faith Tabernacle," an auditorium with a seating capacity of 50,000. The Guinness Book of Records also listed this accomplishment. Within a year, construction was finished. This structure was reportedly constructed without incurring any debt. Under the presidency of the late President Olusegun Obasanjo, this 50,000-seat structure was dedicated on September 18, 1999.
Canaanland is a 5,000-acre (20 km2) estate, and the campus in Ota, Ogun state, is home to a 50,000-seat auditorium, the church's secretariat, the church's youth chapel, a primary school called Kingdom Heritage Model School, a full-boarding mission secondary school called Faith Academy, with over 1,500 students, and the Covenant University facilities, which can accommodate over 7,000 students and house them all in state-of-the-art dormitories. On its campus in Canaanland, the church also runs a number of for-profit businesses, including a bakery, a facility for bottling water, a gas station, a number of restaurants and shops, as well as a number of homes for its more than 2,000 employees and guesthouses. On this estate, there are also four banks: one community and microfinance bank run by the church, and three external commercial bank branches. By 2012, the total area of Canaanland, which would also contain the 15,000-home Canaan City development, had grown to 17,000 acres.
Shiloh, the largest yearly meeting of the ministry, is held each December in the same Faith Tabernacle and frequently draws thousands of attendees from around the globe. The ministry is constructing an amphitheatre with 100,000 seats, nicknamed the "Ark," which is said to be the structure with the widest span in the world.
Ministerial Influences
Oyedepo falls under the umbrella of what is referred to as the Word of Faith Movement due to his teachings. He has named prominent Faith Movement leaders as mentors, including Kenneth Copeland, Gloria Copeland, the late Kenneth Hagin, E. W. Kenyon, T. L. Osborn, Smith Wigglesworth, and eminent Nigerian preachers, Enoch Adeboye and the late Benson Idahosa. Oyedepo has been called a proponent of the prosperity gospel, similar to many of his influences.
For members and non-members alike, Winners' Chapel International runs the Word of Faith Bible Institute, a Bible training school that aims to create leaders and future pastors while also increasing awareness of Christian values. The institute is managed by the church's principal branches.
David Oyedepo Ministries International (DOMI) is led by Oyedepo as its president. DOMI is the umbrella organisation that includes Living Faith Church World Wide (a global network of churches), World Mission Agency (WMA), Dominion Publishing House, Covenant University, Landmark University, the church's publishing arm, and the Social Development Missions projects, which include hospitals, maternity homes, schools, and other facilities.
Personal Life
According to Forbes, Bishop Oyedepo is the richest preacher in the world, with a net worth of more than US$150 million. The church allegedly owns four private jets and a number of structures, including ones in the US and London. To prepare the youth for a worldwide impact, Covenant University, Faith Academy, and Kingdom Heritage Model Schools have been formed under Oyedepo. A third institution, to be called Crown University, is currently being built in Calabar, Cross River, Nigeria.
Oyedepo is a constant critic of ineffective government, leadership, and corruption across all of Africa. He is also a notorious critic of President Muhammadu Buhari.
Marriage and Family
He married Florence Abiola Akano in 1982 (now known as Faith Oyedepo). Together, they have four children (David Jr., Isaac, Love, and Joyce). In May 2007, Kenneth Copeland anointed Isaac and David Oyedepo Jr. as pastors. While Isaac Oyedepo leads Winners' Chapel International in Maryland, in the United States of America with his wife Ayomitide, David Oyedepo Jr. formerly serves as the resident pastor of the Ministry's main church (Faith Tabernacle) with his wife Kemi. Love, his first child, is married to Stephen Ogah, another pastor at Winners' Chapel. His second daughter and last child is Joyce Priscilla. In 2020, she married Abimbola Abodunrin.
David Oyedepo Day of Service (DODOS)
The DODOS is a programme launched by the Covenant University Alumni Association with the intention of highlighting Oyedepo's contributions and way of life. People that connect with this effort are expected to make a contribution to people, organisations, or society as a whole. It was launched on September 27, 2012, Oyedepo's birthday.
Controversy
Bishop David Oyedepo is among the most well-known figures in Nigeria and has been involved in numerous scandals. Given his social standing, this was inevitable. These scandals range in subject matter from different areas of life to financial issues. Take a look at a few of these scandals to learn more about how he got involved in them and how he handled them.
The Beating of Journalists and State Officials
The Ogun State Ministry of Urban and Physical Planning's employees and two accompanying journalists were attacked in September 2013 by members of the Winner's Chapel. They were serving the building inspection notices at the church's administrative centre. According to reports, the journalists were severely abused, the recordings on their cameras were taken and deleted, and their cameras were confiscated and destroyed. According to their report, David Oyedepo was present throughout the incident, but he did nothing.
The verdict, in this case, was that the church was required to pay the victims' healthcare bills, replace the cameras and other objects that were damaged, and convict the five church members who had been identified. The founder's alleged presence at the scene was rejected by them. Additionally, Oyedepo stated that the church will punish those members whenever they are released from custody.
Bishop Oyedepo Urging His Members To Kill
Nigerians saw Pastor Oyedepo urging his church followers in a 2017 video to kill any Muslim assailant they came across on church property. In the video, he said that the Boko Haram sect warned him that his church would soon come under attack. He exhorted the congregation to pray and invoke divine judgement on these individuals as well as on the government representatives who are supporting them. He continued by saying that whenever the cult was near the church, they should kill them and spill their blood. The church rose to his rescue when word of the video circulated across the nation and caused alarm.
They argued in defence of themselves that the video wasn't recent and wasn't a reaction to the massacres in Southern Kaduna. The video, according to them, was produced in 2015 following the Boko Haram crisis. As a result, the video was deemed to be inauthentic and to have ignored the national problem at hand.
Gate of Hell Proclamation
The conflict between Bishop Oyedepo and APC members and sympathisers occurred in January 2015. Before the 2015 elections, David met with Goodluck Jonathan, who was the president at the time. His remarks during his visit triggered insults and negative remarks from the APC group. He allegedly threatened to let those who oppose Goodluck Jonathan through the gates of hell. Some opposition party members insulted and attacked him, but others claimed that there was no reason to be concerned because the APC members had cheered when Fr. Mbaka spoke out against Jonathan.
The president and creator of Winner's Chapel, however, refuted making such a claim. He claimed to have threatened to let those who oppose Nigeria through the gates of hell. Additionally, he urged the congregation to pray for Nigeria and a peaceful election.
Sacked Pastors Controversy
It was revealed in 2021 that the Winner's Chapel fired 40 pastors on June 25 under the pretext of not making enough money. One of the fired pastors spoke candidly to the media about the situation. Peter Edwin, who attended the gathering for which they were invited, claimed that he and other pastors were each given a letter. The letter was a bag letter when it was opened. The church does not function at a loss, and the administration responded when he queried why they were being let go.
They claimed he was expected to raise the funds needed to cover his costs in his church branch. David Oyedepo responded by claiming that the dismissal of the pastors was not motivated by financial considerations. The church, he claimed, does not tolerate failure, and those pastors failed in their responsibilities and produced no fruit.
Publications
In addition to periodicals, Oyedepo is an author and publisher who has written over 70 books. He serves as the chairman and publisher of the ministry's publishing division, Dominion Publishing House (DPH). To date, more than 4 million DPH prints have been distributed. It was commissioned on December 5, 1992. Some of the authored books include:
All You Need to Have All Your Needs Met
Anointing For Exploits
Born To Win
Covenant Wealth
Commanding The Supernatural
Conquering Controlling Powers
Exploits of Faith
Exploits in the ministry
In Pursuit of Vision
Maximise Destiny
Not By Power Nor By Might
On Eagle's Wings
Pillars Of Destiny
Signs & Wonders Today
Success Systems
Success Strategies
The Breakthrough Power of Vision
The Turnaround Power Of The Word
The Wisdom that Works
The Unlimited Power of Faith
Understanding Financial Prosperity
Understanding The Power Of Faith
Understanding The Power Of Praise
Understanding Your Covenant Right
Walking in Dominion
Winning The War Against Poverty
Walking In The Newness Of Life
Exploring the Riches of Redemption
Anointing For Breakthrough
Breaking Financial Hardship
Excellency Of Wisdom
The Release Of Power
Walking Into The Miraculous
Satan Get Lost!
The Winning Wisdom
Walking in Wisdom
The Healing Balm
Manifestations Of The Spirit
Breaking The Curses Of Life
Overcoming Forces Of Wickedness
You Shall Not Be Barren!
Exploring The Secrets Of Success
Winning Prayer
Understanding The Anointing
Fulfilling Your Days
Towards Mental Exploits
Understanding Divine Direction
Understanding Vision
The Shower of Blessing
Riding on Prophetic Wings
Operating In The Supernatural
Ruling Your World
The Blood Triumph
Keys to Divine Health
Put Your Angels To Work
Keys To Answered Prayer
Miracle Seed
The Hidden Covenant Of Blessing
Winning Faith
Awards and Nominations
Bishop David Oyedepo is a devout individual. He has received recognition for his humanitarian activities. The following are a few of these accolades:
He was awarded the International Who is Who of Intellectuals, 13th Edition, by the International Biographical Centre, Cambridge, England.
He was inscribed in the Jerusalem 3000 Scroll # 102268.
Global Care International awarded him the Man of Dignity.
Frontline Christian Author by ECOWAS in the ECOWAS International Gold Awards
He was also named in 2011 by Forbes Magazine as the richest pastor in Nigeria, worth over $150 million.
He is presently the president of World Mission Agency Incorporated (WMA), a Christian ministry organisation with mission stations in over 40 African nations in Europe, Jamaica, and America.
Doctor of Divinity by the Bethel Graduate School of Technology, Riverside, California,
Fellow of the Nigerian Academy of Education
Fellow of the Institute of Strategic Management of Nigeria
Net Worth
According to Forbes, Bishop Oyedepo is the wealthiest preacher in the world with a net worth of over US$150 million.
Social Media Handles
Instagram: davidoyedepomin
Twitter: @Bspoyedepo