Ugochi Desire Oparanozie (born December 17, 1993) is a professional footballer from Nigeria who plays as a forward in the Chinese Women's Super League for Wuhan Jianghan University and the Nigerian national team, Super Falcons.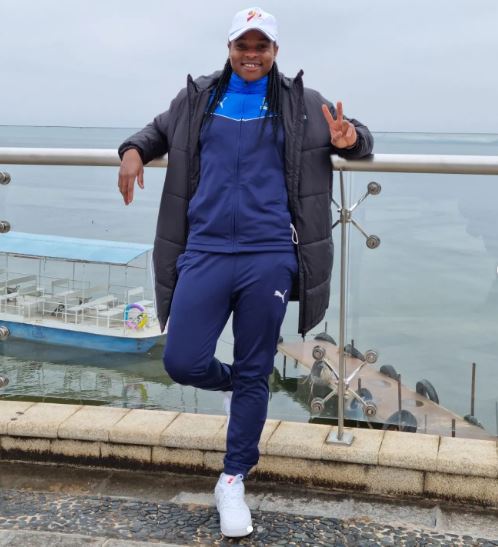 Desire Oparanozie Biography
Full Name :
Ugochi Desire Oparanozie
Date of Birth :
December 17, 1993
Place of Birth :
Imo State, Nigeria
Football Club :
Wuhan Jianghan University, Super Falcons
Social Media Handles :
Instagram: @desireoparanozie
Twitter: @oparanozie9
Early Life
Desire Oparanozie was born on the 17th of December, 1993, in Owerri, Imo State, which falls in the Southeastern geopolitical zone of Nigeria.
Career
Professional Career
In the Nigerian Women's Championship, Oparanozie began her career with Bayelsa Queens before joining Delta Queens in 2010. Before going back to Delta Queens in 2011, she spent two months on loan with Düvenciler Lisesispor in the Turkish Women's First Football League.
She moved to Rossiyanka from the Russian Women's Football Championship in 2012, and while playing for them in four games of the 2012–13 UEFA Women's Champions League, she managed to score one goal.
Oparanozie signed a two-year contract to play for Bundesliga team VfL Wolfsburg in the 2013–14 campaign. She played primarily for Wolfsburg's second team throughout the first part of the season and only made one appearance. After a season and a half, she left Wolfsburg in the winter.
Oparanozie moved to Ataşehir Belediyespor on February 21, 2014, and will play the second half of the season there in the Turkish Women's First Football League.
Oparanozie was chosen as the team's captain ahead of the 2019–20 season, and she got off to a strong start by defeating Metz on the first day of play. She signed a 2-year deal on June 30, 2020, according to a Dijon FCO announcement.
After Oparanozie left Guingamp, the city's bus stop was given that name by her admirers in honor of her prolonged tenure with the French soccer team.
For the 2022 season, Oparanozie signed with Wuhan Jianghan University of the Chinese Women's Super League.
International Career
She scored three goals in the 2012 tournament and two goals in the 2010 FIFA U-20 Women's World Cup as a junior international player.
Since 2010, Oparanozie has consistently competed for the Nigerian national team, competing in the FIFA Women's World Cups in 2011, 2015, and 2019.
Coach Thomas Dennerby appointed Oparanozie the new captain of Nigeria in April 2019 and lauded her control and good character.
She spearheaded efforts for equal compensation in Nigerian football after the 2019 FIFA Women's World Cup, highlighting differences with the incentives received by the team's male counterparts.
She also participated in the Nigerian teams that won all four of the African Women's Championship tournaments in 2010, 2014, 2016, and 2018. In both the finals in 2014 and 2016, she scored significant goals.
Honors
International
Nigeria
2018: African Women's Championship
2016: African Women's Championship
2014: African Women's Championship
2010: African Women's Championship
Individual
2014: African Women's Championship, Golden Boot
Club
Delta Queens
2012:Nigerian Women's Championship
2011: Nigerian Women's Championship
Net Worth
According to the analysis made from different sources online, Desire Oparanozie has an estimated net worth of $1.5 million.
Social Media Handles
Desire Oparanozie is very active on social media platforms. She has verified accounts on both Instagram and Twitter, with over 92,000 followers and 36,000 followers respectively. You can follow her through the social media handles below.
Instagram: @desireoparanozie
Twitter: @oparanozie9