Ngozi Ebere (born August 5, 1991) is a female professional footballer from Nigeria who plays as a defender for Norwegian club Arna-Bjørnar, and internationally for the Nigeria women's national team, Super Falcons.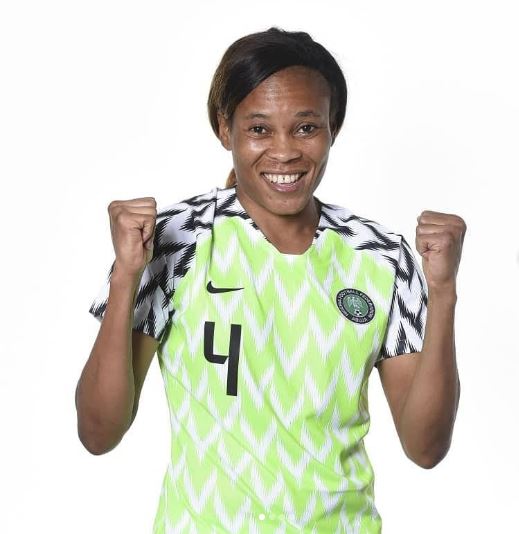 Ngozi Ebere Biography
Date of Birth :
August 5, 1991
Place of Birth :
River State, Nigeria
Football Club :
Arna-Bjørnar, Super Falcons
Social Media Handle :
Instagram: @ngoziebere
Early Life
Ngozi Ebere was born on the 5th of August, 1991, in Port Harcourt, Rivers State, which falls in the South-Eatern geopolitical zone of Nigeria.
Career
Professional Career
Ngozi Ebere was a member of the Rivers Angels, a domestic Nigerian team that won both the Nigeria Federation Cup and the Nigerian Women's Football League in 2014. Ebere scored seven goals throughout the course of the season, including the third and final goal in the season-ending triumph over Sunshine Queens (3-1).
Paris Saint-Germain of France hired Ebere in September 2015 on a two-year deal. On September 27, 2015, she made her Division 1 Féminine debut against Olympique Lyonnais. She was included on the five-person shortlist for African Women's Footballer of the Year two months later.
Ngozi Ebere participated in eight games during her rookie season, including two Cup de France Féminine games and six Division 1 Féminine games.
She played with Barcelona FA in Cyprus during the 2017–19 seasons before switching to the Norwegian team Arna-Bjrnar.
International Career
Ebere played for the Nigerian women's national football team in the 2012 edition of the African Women's Championship, the 2014 team that won the championship, and the group that competed in the 2015 FIFA Women's World Cup.
Honors
Club
Rivers Angels
2014: Nigerian Women Football League
2014: Nigeria Federation Cup
Net Worth
According to the analysis made from different sources online, the talented female footballer has an estimated net worth of $1.5 million.
Social Media Handles
Ngozi Ebere is only active on Instagram account with over 3,000 followers. You can her on Instagram through the handle below.