Kamaru Usman (born May 11, 1987) is a Nigerian-born professional martial artist and wrestler based in America. He used to hold the title of UFC Welterweight Champion and presently competes in the welterweight division of the competition. Usman also triumphed in The Ultimate Fighter 21 competition. He is currently ranked first in the UFC men's pound-for-pound rankings as of August 8, 2022.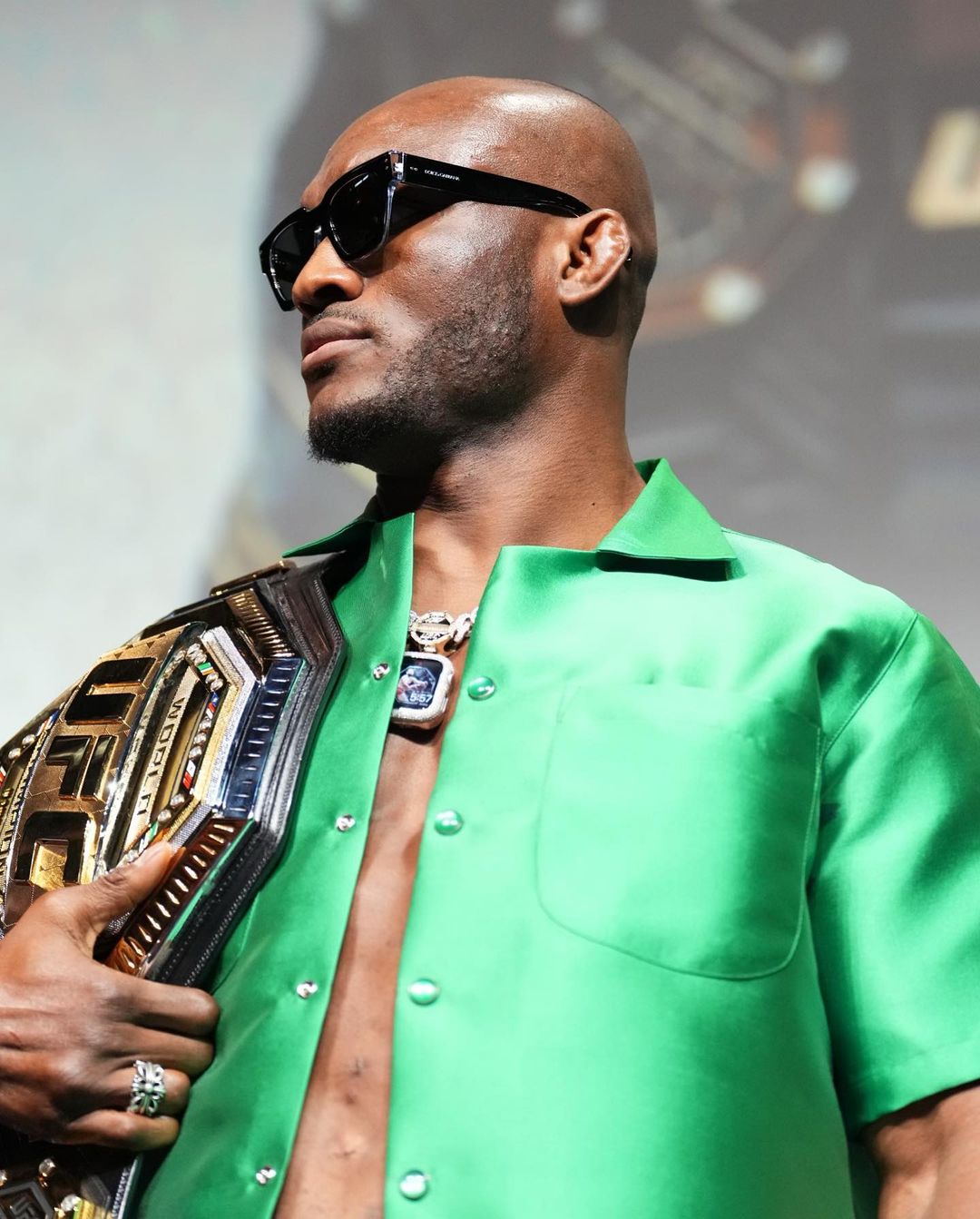 Kamaru Usman Biography
Full Name

Kamaru Usman

Date of Birth

May 11, 1987

Place of Birth

Edo State, Nigeria

Occupation

Martial Artist | Wrestler

Child

Samirah (Daughter)

Parent

Muhammed Nasiru Usman (Father)

Relatives

Mohammed (Brother)

Kashetu (Brother)

Net Worth

$3 million

Social Media Handles

Instagram: @usman84kg
Twitter: @USMAN84kg
Early Life & Education
Kamaru Usman was born on the 11th of May, 1987, in Auchi, Edo State, which falls in South-South Nigeria. His mother was a teacher, while his father served as a major in the Nigerian Army. His two brothers are Mohammed and Kashetu. When Usman was eight years old, his father, Muhammed Nasiru Usman, who later immigrated to the United States and trained as a pharmacist, brought his family with him. They settled in Dallas, Texas.
Career
Wrestling
At Bowie High School in Arlington, Texas, Usman began wrestling in his freshmen year. Kamaru Usman was given the nickname "Marty" when he joined the squad since his wrestling coach at the time had difficulties pronouncing his first name, Kamarudeen. This nickname lasted with him throughout his amateur wrestling career. Kamaru Usman competed with Jon Jones at the senior national competition before departing for college. He finished his senior year with a 53-3 record and finished third at the Texas state championships.
Kamaru Usman wrestled for the University of Nebraska at Kearney and placed top three in the nation all three years he attended UNK. He became the NCAA Division II national champion at 174 pounds in 2010. Usman helped UNK win their first-ever team title in 2008. Former NFL star Christian Okoye gave his blessing for Usman to use the nickname "The Nigerian Nightmare" by trademarking it.
Mixed Martial Arts
Kamaru Usman coached Team Miller's wrestlers in The Ultimate Fighter season fourteen in 2011. He made his professional MMA debut in November 2012 after failing to advance from the freestyle wrestling round of the 2012 US Olympic Team Trials. He competed for a number of regional promotions, compiling a 5-1 record, before submitting an application to The Ultimate Fighter in the early months of 2015.
In February 2015, Kamaru Usman was selected to appear on The Ultimate Fighter 21. He won the tournament and signed a six-figure contract with the Ultimate Fighting Championship. Usman faced Hayder Hassan Abdurahman in the finals and won via second-round submission.
After Usman made his official UFC debut in 2015, he competed against potential contender Leon Edwards. He received a unanimous decision victory. For his sixth championship defense, Usman faced Leon Edwards on August 20, 2022, at UFC 278. Usman suffered his first defeat in the UFC as he was knocked out in the fifth round of the match.
Personal Life
Kamaru Usman has a daughter, Samirah, who was born in 2014. Mohammed, a fellow UFC fighter who competes in the Heavyweight division, is Kamaru Usman's brother.
Awards and accomplishments
UFC Welterweight Championship
UFC The Ultimate Fighter 21 tournament winner
UFC Performance of the Night
UFC Fight of the Night
2021: Knockout of the Year
2021: Fighter of the Year
2021: ESPN Male Fighter of the Year
2021: BT Sport Male Fighter of the Year
2010: NCAA Division II National Championship
2010: NCAA Division II All-American
2007: NAIA National Qualifier
2005: UIL All-State out of Bowie High School
Net Worth
According to different sources online, Kamaru Usman's net worth is estimated at around $3 million.
Social Media Handles
Kamaru Usman has a huge fanbase on social media platforms. Both of his Instagram and Twitter accounts are verified. He has over 3.2 million followers on Instagram, while on Twitter, he has almost 866,000 followers. You can follow him through the following social media handles.
Instagram: @usman84kg
Twitter: @USMAN84kg
Kamaru Usman has won many medals for Nigeria and has been a source of motivation for many Nigerian youths. We wish him well in all his endeavors. You can leave a message for him in the comment box below.