Michael Kojo Essien (Born December 3, 1982) is a former Ghanaian professional footballer who has played as a midfielder in both international and national leagues. He currently served as a member of the coaching staff at Fc Nordsjælland in the Danish Superliga. Essien was rated as one of the best midfielders in the world during his own time.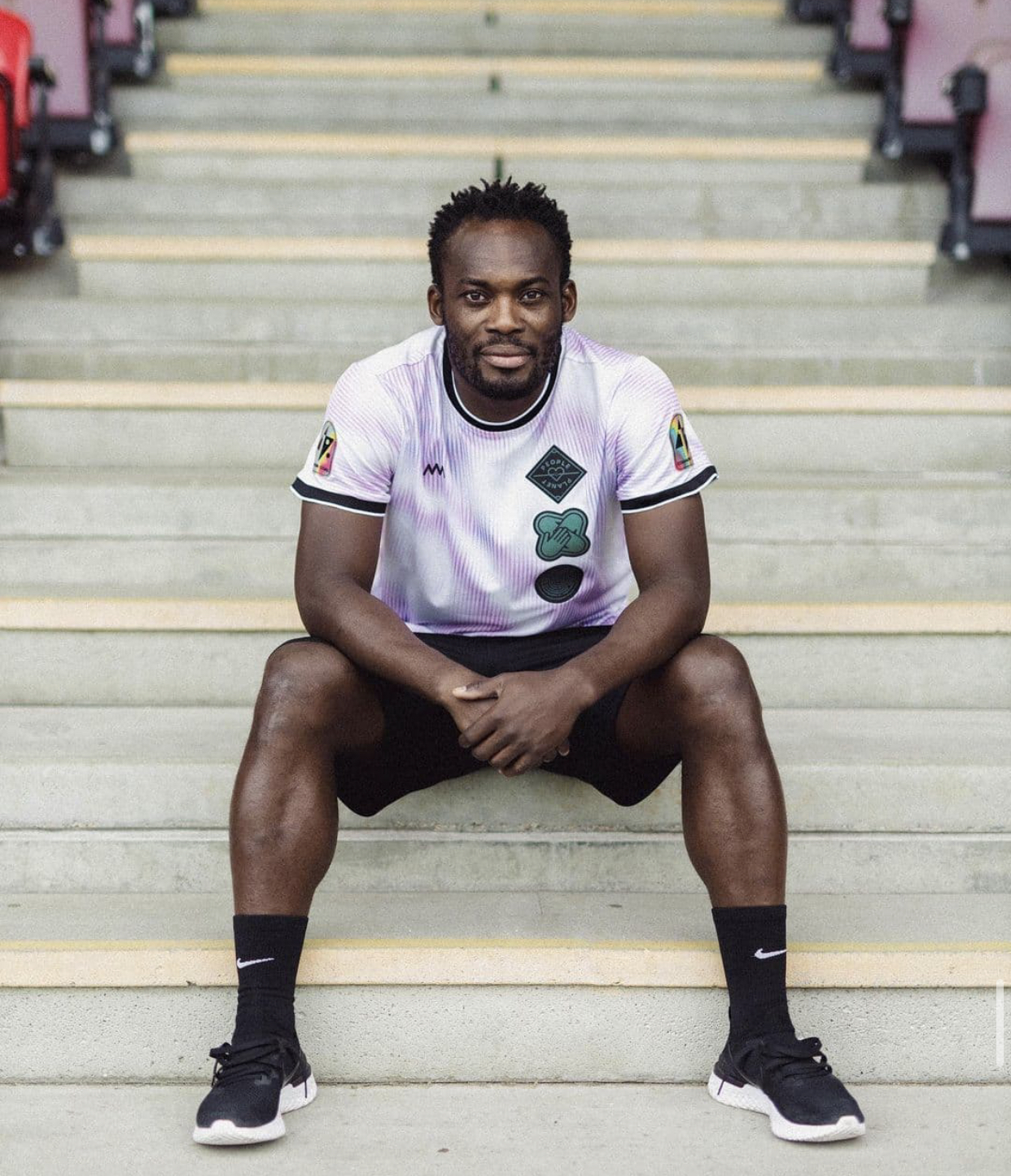 Michael Essien Biography
Full Name :
Michael Kojo Essien
Date of Birth :
December 3, 1982
Place of Birth :
Accra Ghana
Position (s) :
Midfielder
Current Team :
FC Nordsjaelland
Youth Career :
Liberty Professionals
Spouse :
Akosua Puni Essien.
Social Media Handles :
Instagram @michaelessien
Twitter @MichaelEssien
Early Life and Education
Michael Essien was born on December 3, 1982, in Accra to the family of Mr. James Essien and Mrs. Aba Gyandoh.
Essien went to Gomoa Nyanyano DC Primary and JSS and proceeded to St. Augustine College in Cape Coast.
Career
Essien started his football career at Liberty Professionals, a local club in Ghana, this happened after he graduated from St. Augustine's College in Cape Coast.
European scouts noticed him when he played in the 1999 FIFA U-17 World Championship in New Zealand. He was given a trial at Manchester United in April 2000. He played in the club's under-17 team's defeat to Derby County.
Essien was offered a contract by Manchester United but it was rejected because he didn't have a work permit in the United Kingdom. He proceeded to join the Belgian feeder club, Royal Antwerp, and played there for a while until he was eligible to move to England. But his mother preferred a move to France instead.
Club Career
Bastia
In July 2000, Division 1 club Bastia signed Essien and his first appearance for the club was on 30 September 2000 in a league match against Metz. He was consistent in the team and played different positions in the back four. He appeared 13 times in the league with one goal, which was return leg against Metz in a 3-2 defeat.
Manager Robert Nouzaret allowed Essien to play at central midfield and he did well in that position. Essien worked with Nicolas Dieuze and Cyril Jeunechamp at the midfield and scored vital goals in victories over Nantes, Lorient, and Guingamp. On 12 January 2002, Essien scored against Marseille at the Stade Vélodrome which is equalizing goal at 2–2. He also scored a goal in the Coupe de la Ligue against Le Mans. Didier Drogba converted a goal for Le Mans in the match.
Essien became one of the first 11 starters under new manager Gerard Gili In the 2002–03 season. He began to play in a new form as a result that he collected 12 yellow cards in the league. He scored in another season against Lens in a 1–1 draw and converted five more league goals, a goal came as surprise 2–0 victory over the defending champions Lyon. Bastia finished mid-table for the third consecutive season, Essien created interest from Paris Saint-Germain, Lyon, and Marseille.
Lyon
Paris Saint-Germain gave Bastia the best offer and it was accepted but Essien rejected PSG's contract offer and agreed with Lyon, who paid Bastia €7.8 million for the transfer. Essien was given the number 4 shirt and played as a midfielder, which helped him and gave him the freedom to protect and assist playmaker Juninho while defensive midfielders Edmílson and Mahamadou Diarra assisted the defense and directed the distribution.
His first appearance for the club was on 27 July 2003, in the team's 2003 Trophée des champions match against Auxerre. Essien scored his first goal for the club in the fifth minute of play, and four minutes later, Diarra scored a goal. Lyon won the match 2–1, giving Essien his first club honor as a player. In just the third match of the campaign, Essien scored his first league goal for the club against Monaco in a 3–1 victory over.
He played regularly for the rest of the competition, which made him appear 33 times in a league and scored two more goals, against Bordeaux and Rennes. On 23 May 2004, Lyon won their third league title by defeating Lille 3–0 at the Stade Gerland. He was substituted in the match. Essien played eight times in ten matches Lyon contested in the UEFA Champions League, but they were out of the league due to defeat by Porto.
He appeared in all leagues even in the final season. Lyon won the league for the fourth straight season. Essien missed one match as a result of a red card he collected in the previous league match. He also received 11 yellow cards and scored three goals and this made him second-worst in the league. He was voted 2005 Player of the Year by the France National Union of Professional Footballers (UNFP) due to his performances in the league.
Essien scored five goals in the 2004-05 UEFA Champions League and this helped Lyon to reach the quarter-finals but Lyon was kicked out of the tournament in a penalty shoot-out against PSV. He was crowned Ligue 1 Player of the Year, at the end of the season. He was also nominated for the 2005 FIFA World Player of the Year Award. He placed 22nd in 2005 and drew attention from Chelsea which he eventually signed for.
Chelsea
Lyon and Chelsea agreed on August 14, 2005, on a £24.4 million fee for Essien, this made Essien Chelsea's most expensive player then which surpassed the £24 million Chelsea paid for Didier Drogba the previous summer. The transfer was under attack due to a lack of cooperation between agents Pini Zahavi and Barry Silkman, but it later went through on August 19.
Essien's first appearance for Chelsea was as a substitute in the second half against Arsenal on 21 August 2005, he was given the number 5 shirt. The match ended in a 1–0 victory for Chelsea. He played a full match against West Bromwich Albion, he replaced the injured Claude Makélélé in the defensive midfield role against Sunderland in the 2–0 win on 10 September 2005. He was in starting in 32 league matches during manager José Mourinho's he also appeared 11 times in other cup competitions.
Essien was banned on 15 December 2005, for a two-match by UEFA due to a tackle on Dietmar Hamann, which led to a suspension of Chelsea in the second-round league with Barcelona. Essien apologized to Hamann for the challenge, and Hamann accepted his apology publicly. In January 2006, Essien left off the field after a challenge from West Ham United captain Nigel Reo-Coker and was on the bench for three weeks.
Essien scored his first goal for Chelsea with the assist of Shaun Wright-Phillips on 11 March 2006, in a 2–1 victory over Tottenham Hotspur while his second goal was on 17 April 2006, against Everton. He ended his first season in England with two goals, both in the Premier League.
He got a nomination for the 2006 FIFA World Player of the Year Award on 12 October 2006, where he placed 22nd. Essien was also nominated for the 2006 Ballon d'Or. He was voted the third Best African Footballer of the Year in 2006. He also won the 2006 BBC African footballer of the year award.
Essien did well in his second season in England by scoring several important goals, his first Champions League goal for Chelsea came in a 2–0 victory over Werder Bremen on 12 September 2006. He also scored a late winner in the quarter-final second leg against Valencia at the Mestalla Stadium with a 2–1. That was his first match after several weeks out with a knee injury. Essien also scored an equalizer goal at Stamford Bridge against Arsenal on 10 December 2006, as the match was going to end Chelsea's long unbeaten run.
On 15 May 2007, He became the first African to receive Chelsea Player of the Year in the 2006-07 season after Chelsea fans voted for him. He also received Chelsea Goal of the season for 2006-07 due came as a result of his equalizing goal against Arsenal. Essien scored his first goal of the 2007-08 Premier League On 12 August 2007, which is a winning goal for Chelsea and defeated Birmingham City, this set an English record for unbeaten league matches at home for Chelsea
Essien received nominations for the 2007 FIFA World Player of the Year Award on 10 October 2007, this was his third nomination. He was also nominated for the 2007 Ballon d'Or Award on 21 October 2007, for the third consecutive year. Essien won 15th Best Player in the World at the 2007 FIFA World Player of the Year Awards. He received another nomination for the 2007 African Footballer of the Year award on 12 December 2007, and this is the third time he had been nominated. He was runner-up to that year's winner, Frédéric Kanouté. On 22 July 2008, Essien renew his contract which is a five-year deal with Chelsea, keeping him at the club until 2013.
Essien undergo anterior cruciate ligament damage on 5 September while playing for Ghana and this made him miss the 2008–09 Premier League season. He came to the team on 7 March 2009, as a substitute in the second half of the FA Cup match against Coventry City. He scored before halftime in his second match, after his injury, it was an away goal for Chelsea against Juventus in the Champions League first knockout round.
He scored the goal in the match against Manchester City in Premier League which was his first match after he came back from injury. On 6 May 2009, Essien was in the second leg of the Champions League semifinal against Barcelona, though Chelsea lost due to the away goal rule. Fans later voted the goal as Chelsea's Goal of the Season.
Essien performed well in the 2009–10 Premier League season, against Blackburn Rovers on 24 October 2009 and scored his first goal of the season with a veer 35-yard shot on 52 minutes in a 5–0 victory at Stamford Bridge. He scored his first brace for Chelsea against Wolverhampton Wanderers tipped onto the bar by Wolves goalkeeper Wayne Hennessey. Essien had another injury in international competition during the 2010 African Nations Cup and missed the remaining of the English season.
On 4 June 2010, he extended his existing contract by two-year which would have kept him at the club until 2015. Essien returned to the team on 17 July 2010 in a friendly against Crystal Palace and scored the only goal of the match to give Chelsea the win. Essien had a good starting to the season for Chelsea after missing the 2010 FIFA World Cup through injury. He scored the only goal in a pre-season friendly win against Crystal Palace and made Chelsea's unbeaten month of August. He scored a veer against West Ham United, and he scored against MŠK Žilina in the UEFA Champions League.
Essien also performed well against Marseille, Blackburn Rovers, and Fulham, he later scored the only goal and received a red card. However, Essien had another injury and missed two months of the season, Chelsea won just one out of nine matches during his injury. His next match was a penalty shoot-out loss in the FA Cup against Everton but ultimately had a poor second half of the season. Ghana Football Association announced Essien had returned to the international club after Chelsea's final match.
In pre-season training for the 2011–12 Premier League season, Essien crack his anterior cruciate ligament and meniscus, undergoing surgery on 11 July 2011. He got back to training in late November 2011 and started playing on 9 January 2012, playing 75 minutes of the reserves' 3–2 defeat to West Bromwich Albion. He was substituted in a 1-0 win over Sunderland, and this was his 150th Premier League appearance for Chelsea. On 21 January 2012, Essien featured in a 0–0 draw with Norwich City at Carrow Road, he came in late as a substitute in the match.
He was unable to receive favor with manager Andre Villas-Boas due to the match he had in the beginning half of the 2011–12 Premier League season. On 21 February 2012, Chelsea lost 3-1 during a Champions League match against Napoli, Villas-Boas left Frank Lampard, Essien, and Ashley Cole on the substitutes' bench, club's technical director asked the manager to explain the team selection on behalf of Chelsea owner Roman Abramovich. On 4 March 2012, Villas-Boas' was sacked by Chelsea, and his assistant manager Roberto Di Matteo was appointed as caretaker manager, following a 1–0 league defeat against West Brom which left Chelsea three points and caused a battle between Chelsea and Arsenal for fourth place in the Premier League. Di Matteo immediately favored Chelsea players like Essien, Lampard, and John Terry. Essien started in Chelsea's second leg champions league fixture against Napoli, with Chelsea winning 4–1 which allowed Chelsea to qualify for the quarter-final, where they met Benfica. Essien later remained an unused substitute in Chelsea's Champions League run, Chelsea won Bayern Munich in the final, making Chelsea the first London-based club to win the title.
Real Madrid (loan)
Essien signed a season-long loan deal with Real Madrid on August 31, 2012, where he reunited with his former manager at Chelsea, José Mourinho. The manager Jose Mourinho introduced Essien as "his son" at the press conference with Real Madrid, while Essien referred to Mourinho as his "Daddy". On 3 November, Essien's first goal happens for Real Madrid. He scored his second goal in the last match of the season and his last game as a Madrid player, and he dedicated the goal to Mourinho.
Milan
Essien signed one and half year contract on 27 January 2014 with an Italian club named Milan.
Panathinaikos
On 2 June 2015, Essien had a two-year contract agreement with the Greek club Panathinaikos. He was the highest-paid player with a salary of €800,000 after signing the deal. He was unable to play for the first three months of the season due to a leg injury. His first appearance for the club was to be on 21 November 2015 against Panathinaikos' archrivals Olympiacos, but the match was canceled. He appeared for his first match one week later. On 24 January 2016, his first goal for Panathinaikos came in a 2–0 away league win over Levadiakos.
After a season in Greece, Essien was removed from Panathinaikos' squad for the 2016–17 season. Later, his contract termination by the club was confirmed almost three months after the two parties reached a mutual agreement over his release. After the termination of the agreement, the club failed to pay him the money they owed to him and Essien appealed to the competent court for football affairs in Greece, and they were ordered to pay him the outstanding sum of about €36,000 or face the deduction of three points in the coming 2018/19 competition.
Persib Bandung
Essien Australian A-League Club Melbourne Victory sent an offer to him but he rejected it in September 2016.
On 13 March 2017, Essien accepted an offer from Indonesian club side Persib Bandung, it was a one-year contract with an option to extend for an additional year. He was wearing the number 5 shirt for the 2017 Liga 1 season, which was the same number he wore for nine years at Chelsea. Speaking about his move to Indonesia, Essien said, "I hope I am the prelude to other world players moving to Indonesia." during the introduction to the club official's website. On 22 April, he scored his first goal from the header in a 2–2 draw over PS TNI.
Essien was released on 17 March 2018, by the club chief executive, Zainuri Hasyim because the club already filling its maximum quota of four foreign players based on the PSSI's regulation.
Sabail
On 16 March 2019, Essien agreed to a one-and-a-half-year contract with Sabail FK of the Azerbaijan Premier League, which will also see him coach their U19 team.
International Career
Essien started his international career with the Ghana under-17 national team, the Black Starlets when he played in the 1999 FIFA U-17 World Championship in New Zealand and won the bronze medal. In 2001, he participated in the 2001 FIFA World Youth Championship in Argentina, despite being one of the youngest players in the tournament, where the nation finished runners-up to Argentina.
His performances let people focus on him and gave the assurance that he would be one of Africa's next rising stars. Essien's first appearance on the senior team was in the 2002 Africa Cup of Nations against Morocco on 21 January 2002. but had played for Ghana in a pre-tournament friendly against Egypt on 4 January 2002.
On 16 May 2006, He was among the players that represented Ghana at the 2006 FIFA World Cup in Germany. He played in midfield to assist his teammates like captain Stephen Appiah and Sulley Muntari. Essien also played in Ghana's 2–0 defeat to Italy, and 2–0 victory over the Czech Republic, another win 2–1 victory over the United States, Ghana was the only African team to reach the second round of the 2006 World Cup this happened due to excellent performance. He was suspended for Ghana's second-round match against Brazil as Ghana lost 3–0.
In the 2008 Africa Cup of Nations, Essien performed excellently by letting the team qualify for the semifinals. In the quarter-final against Nigeria, captain John Mensah was dismissed due to a foul on Nigeria's Peter Odemwingie, Essien received the captain band for the remaining of the match as Ghana eventually won 2–1. He was voted as an All-Star Player during the tournament. The Team of the Tournament was decided by the Technical Study Group (TSG) after careful observations of all the tournament's matches.
During an international match played against Libya on 5 September 2008, Essien stopped playing for six months after cracking his anterior cruciate ligament at Ghana in the World Cup qualification stage, he missed the majority of the 2008–09 season, before returning on 4 March to play for Chelsea Reserves against Aston Villa Reserves. He scored the last goal in the 4–3 loss. He still managed to play in Ghana's qualification matches, as Ghana tops their group to seal qualification to the 2010 World Cup.
Essien suffered a knee injury and it was announced on 27 May 2010 that he would not play at the World Cup. Since then, Essien announced that he will not play for Ghana national in the near future and focus on his career with Chelsea because he has suffered two significant injuries while playing for Ghana in recent years. Essien later promised his availability to his nation "very soon" after his recovery.
Essien was back to Ghana's team in August 2013 in preparation for the team's final 2014 World Cup qualifiers. He played as a substitute in the second half in a 2–1 defeat of Zambia as they qualified for the final round. He also started in both play-off matches against Egypt and was appointed as one of Ghana's squad for the tournament finals.
He played as a substitute in the second half, 2–1 defeat to the United States. Essien announced his retirement from international football on July 2028, after over 12 years of serving the team. He made it known to the public that he had retired before the 2014 FIFA World Cup but he was invited back by former Ghana coach, James Kwesi Appiah to come and help the team.
Coaching Career
FC Nordsjælland
It was announced that Essien was training with Danish Superliga club Fc Nordsjælland on 19 August 2020, he was also opportune to be part of the Superliga team and be part of several works of the club's academy teams, he got a better knowledge in teaching and development of young people in coaching education.
Nordsjælland is in partnership with Right to Dream Academy in Ghana, this made Essien find the project interesting.
The club made it known to the public on 9 September 2020, that they had reached an agreement with Essien as part of the club's coaching team for the 2020–2021 season. He served as an assistant coach at the same time, undergoing training to implement the exercises in the best possible and contribute with new input to the coaching team's evaluations.
Style of play
Essien was a strong midfielder, he always played in a central midfield role. He supports both offensive and defensive play, and his ability in tackling with playing style earned him the nickname "The Bison". Essien is also good at playing as a defender, both on the right of the defense and in the center. In addition to his work rate, physicality, and defensive skills, Essien has a good vision, tactical intelligence, and the quality of a good leader. He is also considered a powerful striker.
Honors
Lyon
Ligue 1: 2003–04, 2004–05
Trophée des Champions: 2003, 2004
Chelsea
Premier League: 2005–06, 2009–10
FA Cup: 2006–07, 2008–09, 2009–10, 2011–12
Football League Cup: 2006–07
FA Community Shield: 2009
UEFA Champions League: 2011–12; runner-up: 2007–08
Ghana
Africa Cup of Nations runner-up: 2010; third place: 2008
FIFA U-20 World Cup runner-up: 2001
Individual
Ligue 1 Player of the Month: October 2004
Ligue 1 Player of the Year: 2004–05
Ligue 1 Team of the Year: 2002–03, 2004–05
CAF Team of the Year: 2005, 2006, 2008, 2009
BBC African Footballer of the Year: 2006
Ghana Player of the Year: 2007
Chelsea Player of the Year: 2006–07
Chelsea Goal of the Year: 2006–07 vs Arsenal, 2008–09 vs Barcelona
2008 Africa Cup of Nations: Team of the Tournament
Personal Life
Micheal Essien is married to Akosua Puni Essien. The couple started dating in 2013 and they have been together for around 9 years. They have been blessed with three children Two boys and a girl named Michael Essien Junior, Michelle Essien, and Jermaine Kwame Sakyi.
Michele Essien Net Worth
Micheal is one of the most popular and successful footballers in Ghana. His Net Worth was estimated at $35Million
Social Media Handles