Stephen George Bull, popularly known as Steve Bull, was born on 28 March 1965. He is a legendary English footballer known for his prolific goal-scoring abilities and enduring loyalty to his club. He was widely regarded as one of the Wolverhampton Wanderers' greatest-ever players. Over the course of his distinguished career, Bull achieved remarkable success both at the club and international levels, leaving an indelible mark on the world of football.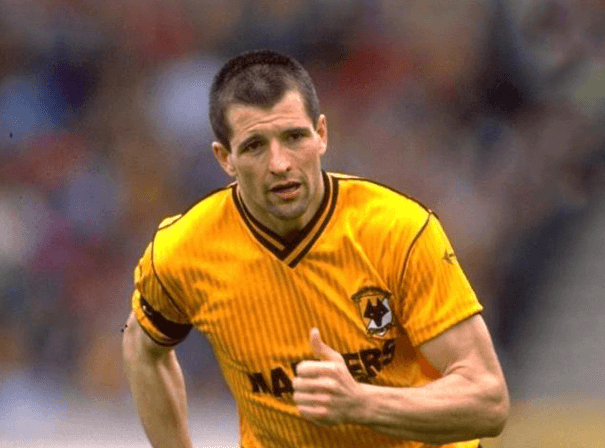 Steve Bull Biography
| | |
| --- | --- |
| Full Name | Stephen George Bull |
| Nickname | Steve Bull |
| Date of Birth | March 28, 1965 |
| Place of Birth | Staffordshire, England |
| Occupation | Ex-Footballer | Businessman |
| Family | Gary Bull (Cousin) |
| Networth | $3 million |
Early Life and Education
Steve Bull was born on March 28, 1965, in Tipton, Staffordshire, England. Growing up in the West Midlands, he developed a deep passion for football at a young age. His childhood was marked by a love for the sport, and he honed his skills on local youth teams, laying the foundation for his future career as a footballer.
Steve Bull began attending school in September 1969 at Wednesbury Oak Primary School and transferred to Willingsworth High School in September 1976, by which time he was excelling on the school football teams. He played for the Ocker Hill Infants, Red Lions, and Newey Goodman junior teams. In 1981, he quit school to play for non-league Tipton Town. He played in local league games and worked a series of factory jobs at the same time.
Career
Professional Career
In 1984, Steve Bull was recommended to West Bromwich Albion by his Tipton Town manager, Sid Day, who also served as a scout for the Baggies. He started his professional career at the age of 19. He had to first train with the club's youth ranks but was soon given a professional contract and thrust into the mix for the first squad. On October 23, 1985, he made his debut as a senior, taking Garth Crooks' place in a 2-1 victory over Crystal Palace in the Full Members Cup. His two league debuts in 1986, one as a substitute away at QPR on April 12 and the other as a starter against Sheffield Wednesday at home on April 22 were his sole appearances in top-flight football that year.
After Albion was demoted in 1986, Bull scored twice in three Second Division games for the team. He also scored once in two League Cup appearances. Bull was prepared to move down to the bottom tier in quest of first-team football since he understood it would be challenging to break the Crooks/Varadi combo. He and Andy Thompson were traded to local rivals Wolverhampton Wanderers in November 1986 for £65,000, and he stayed with Wolves for the remainder of his playing days, serving as one of the club's most devoted members.
It was at Wolves that Bull would make his name as a prolific goal scorer. Over the course of his club career, Bull scored an astounding 306 goals in 561 appearances for Wolves, becoming the club's all-time leading goal scorer. His incredible scoring record earned him legendary status among the Wolves faithful.
Bull's contributions to Wolves were not limited to his goal-scoring prowess; his unwavering dedication and loyalty to the club endeared him to fans and solidified his status as an icon in the history of Wolverhampton Wanderers.
International Career:
Steve Bull's international career with the England national team was equally notable. Despite spending much of his club career in the lower divisions of English football, Bull received his first international cap for England in 1989. His scoring ability and work ethic earned him a place on the national team, and he went on to represent England 13 times, scoring four goals. Bull's international career may have been relatively short, but his dedication to the national team and his performances earned him respect and recognition on the international stage.
Managerial Career:
Following his retirement from professional football, Steve Bull briefly delved into managerial roles. Bull began his managerial career with the Conference National Team Stafford Rangers on February 21, 2008. He had previously had a coaching position at this level with Hereford United during the 2000–01 season, and in the intervals between, he had earned his UEFA Pro B coaching license. At the time of his hiring, the team was in danger of being demoted, and he was unable to stop it. On December 12, 2008, he left the team.
While he didn't achieve the same level of success as a manager as he did as a player, he continued to be involved in the sport and contributed his knowledge and experience to various football-related endeavors.
Personal Life:
Gary Bull, a former football player who played for teams including Barnet, Nottingham Forest, and Birmingham City, is Steve Bull's cousin. Bull launched his own clothing brand, SB9, in November 2022. The collection includes t-shirts, hoodies, caps, beanies, polos, gilets, tracksuit bottoms, and shorts. It uses the iconic gold and black colors.
Steve Bull is known for his down-to-earth and approachable personality. He remains a beloved figure among Wolves fans, who continue to hold him in high regard for his contributions to the club. Bull's commitment to his family and the Wolverhampton community has also been a hallmark of his personal life.
Honours
Wolverhampton Wanderers
Third Division: 1988–89
Fourth Division: 1987–88
Football League Trophy: 1987–88
Individual
PFA Team of the Year: 1987–88 Fourth Division, 1988–89 Third Division, 1989–90 Second Division, 1990–91 Second Division
Member of the Order of the British Empire (MBE): December 1999
Freeman of the City of Wolverhampton: September 2018
Networth
According to Celebrity Net Worth, Steve Bull has a net worth of $3 million as of the moment of writing this biography. Since retiring from playing, Bull has worked as a pundit, coach, and businessman.