Nse Ikpe Etim is a Nigerian actress. She gained notoriety in 2008 thanks to her performance in "Reloaded."  For her roles in "Reloaded" and "Mr. and Mrs.," she received nominations for Best Actress in a Leading Role at the 5th and 8th African Movie Academy Awards, respectively. She was recognised for her performance as "Nse" in the "Journey to Self" in the Best Actress in a Drama category at the 2014 Africa Magic Viewers' Choice Awards.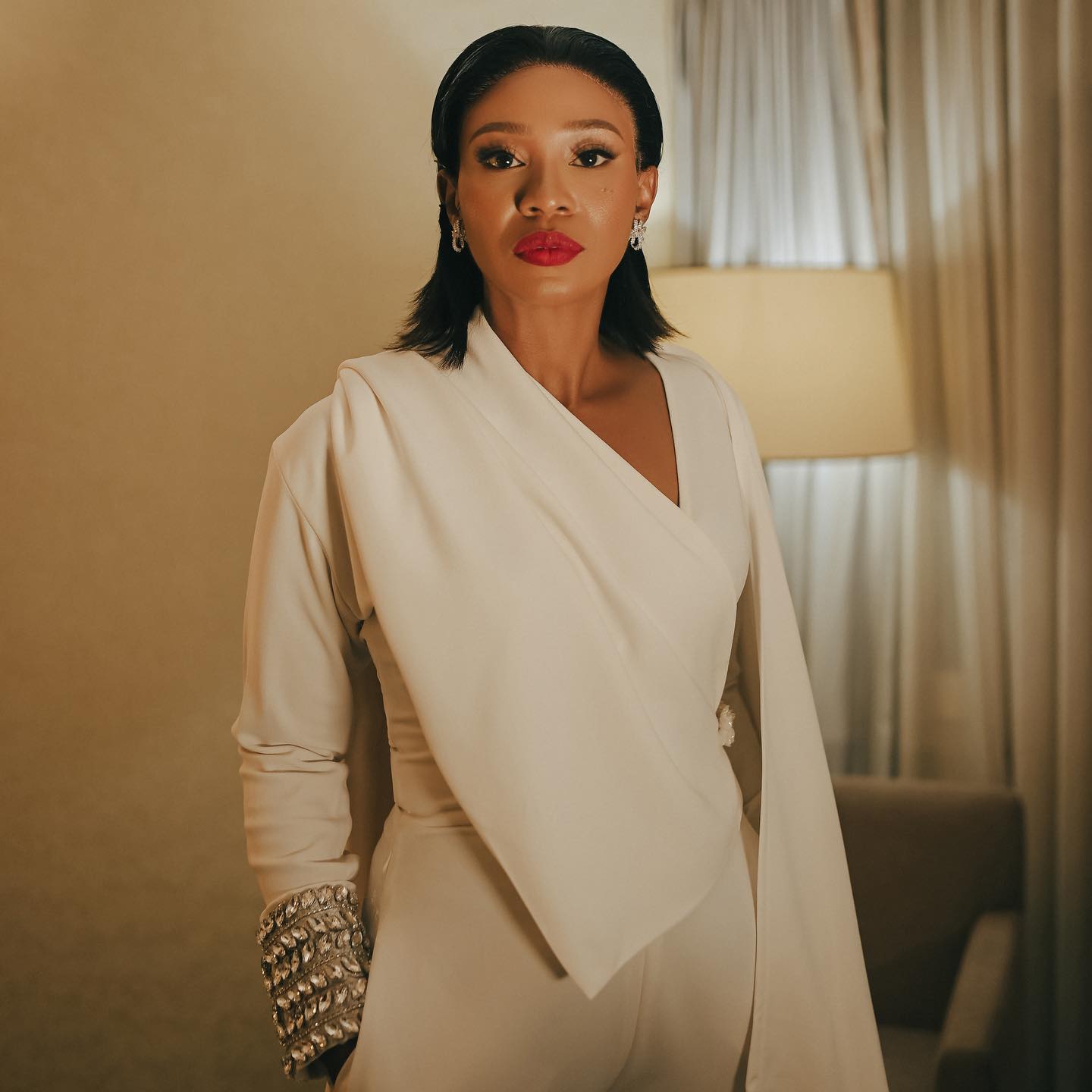 Nse Ikpe-Etim Biography
Full Name :

Nse Ikpe-Etim

Date Of Birth :

21 October 1974

Nationality :

Nigerian

State Of Origin :

Akwa-Ibom State, Nigeria

Place Of Birth :

Lagos State, Nigeria

Spouse :

Clifford Sule

Occupation :

Actress

Net Worth :

Unknown

Social Media Handle :

Instagram: nseikpeetim
Twitter: @NseIkpeEtim
Early Life and Education
Etim was born in Lagos on October 21, 1974. Etim attended the Command Primary School and the Awa Nursery School in Kaduna State before continuing her education at St. Louis College in Jos and the Federal Government Colleges in Jos and Ilorin. She claimed that because of her father's profession with the Central Bank of Nigeria, her family was frequently relocated to different parts of Nigeria. Etim graduated from the University of Calabar with a first-class degree in theatre arts.
Career
Etim began performing on stage at the university at the age of 18. She made her debut on television in the Inheritance family drama. She briefly quit the film business after earning her degree to pursue other interests until making a comeback in Emem Isong's "Reloaded" with Ramsey Nouah, Rita Dominic, Ini Edo, and Desmond Elliot.
Nse Etim was interviewed by people including William Coupon, Bisila Bokoko, and Ade Adekola for the Supernova series for humanities in the Visual Collaborative Polaris Catalogue, which was published in December 2019.
She appeared in the 2020 movie Quam's Money, which is Tope Oshin's follow-up to the 2018 movie New Money. The sequel explores what transpires after a security guard (Quam) unexpectedly becomes rich. Falz, Toni Tones, Jemima Osunde, Blossom Chukwujekwu, and Nse Ikpe-Etim were in charge of the new cast.
However, she played the lead opposite Richard Mofe-Damijo and Zainab Balogun in the Seyi Babatope-directed film Fine Wine in February 2021. She is also a popular face in the "King of Boys" movie, produced by Kemi Adetiba. Sola Sobowale is also a main cast member in the movie.
Nollywood Journey
Nse Ikpe-Etim opened up about how she started her career as an actress. She noted in one of her interviews that she never thought of being an actress, and it wasn't the first thing on her mind. She noted that "I ran away from home with a backpack." It was the second time ever I had gotten on a bus, so I got on a bus and instead of going to Satellite Town, where we lived at the time, I went the other way towards Badagry, because I wanted to run away. Then, in some villages along that road, I saw cameras. So I jumped down, and that was the first time I met Kate Henshaw. That was in 1996. That was 1996 when I graduated. That's how she met Julius Agwu and Francis Agwu, who were all on that set. The movie was called "Scars of Womanhood."
She got off the bus and told them that she studied Theatre Arts. They said, "Oh, okay, she (Kate Henshaw) needs a friend." I met her (Kate) and we formed a bond that has lasted till tomorrow. "Meanwhile, her mother was looking for her. She got back home after about two weeks and her mother started washing her: Her mother said, "You are going to disgrace me!' and she replied, "Ah, I don't want to marry." She didn't tell her about the movie set. She just told her that it looks like she is going to be an actress, and she said, "Over my dead body."
Personal Life
The oldest of six kids is Etim. She revealed that she has Caucasian godparents in a Toolz interview. She was married to her childhood buddy, Clifford Sule, on February 14, 2013. Some months after the civil union, a traditional wedding was held in her hometown of Akwa Ibom State, and then in Lagos State, respectively. Her spouse is a prominent lecturer at Middlesex University. She frequently travels to Nigeria for film obligations and currently stays with her in London.
She announced on Friday, March 20, 2020, that she had just returned from the UK, which, according to the Federal Ministry of Health, was one of the regions hardest hit by the coronavirus.
Womb Removal
Nse Ikpe-Etim has disclosed that she had womb removal to preserve her life after learning she had adenomyosis. Adenomyosis is a gynaecological medical disorder in which the uterus's muscular wall is breached by the endometrium, the inner lining of the uterus (the myometrium).
The Nollywood star made this revelation while addressing an event called "Conversation with Nse" on Saturday in Lekki, Lagos. Mrs Ikpe-Etim informed the audience that she received the disease's diagnosis in 2016. She claimed that when the doctor told her that she would need to have her uterus removed in order to live a normal life, she sobbed. Her doctor informed her that she was unable to bear children.
Filmography
Emotional Crack
Venom of Justice 2
Kiss and Tell
Heaven's Hell
Fifty
Fine Wine
American Driver
Quam's Money
King of Boys: The Return of the King
Awards and Nominations
| Year | Awards | Category | Film | Result |
| --- | --- | --- | --- | --- |
| 2009 | 2009 Best of Nollywood Awards | Revelation of the Year (female) | | Nominated |
| | 5th Africa Movie Academy Awards | Best Actress in a Leading role | Reloaded | |
| 2010 | 2010 Nigeria Entertainment Awards | Best Actress Film/Short Story | Reloaded | Won |
| | 2010 Best Of Nollywood Awards | Best Actress in a Lead role | Guilty Pleasures | Nominated |
| 2011 | 2011 Best of Nollywood Awards | Best Actress in a Lead role | Mr. and Mrs. | Won |
| 2012 | ZAFAA Awards | Best Actress in a Supporting role | Kiss and Tell | Nominated |
| | ELOY Awards | Actress of the Year | Phone Swap | Won |
| | 2012 Nollywood Movies Awards | Best Actress in a Supporting role | Kiss and Tell | Nominated |
| | 2012 Nigeria Entertainment Awards | Best lead Actress | Mr. and Mrs. | Won |
| | 2012 Best of Nollywood Awards | Best lead Actress in an English Movie | Phone Swap | Nominated |
| | 2012 Best of Nollywood Awards | Best Actress in a Supporting role | The Search | |
| | 2012 Best of Nollywood Awards | Best kiss in a film | Spellbound | |
| | 17th Africa Film Awards (Afro-Hollywood Awards) | Best Actress in a Supporting role | Mr. and Mrs. | |
| | 8th Africa Movie Academy Awards | Best Actress in a lead role | Mr. and Mrs. | |
| 2013 | 2013 Nollywood Movies Awards | Best Actress in a Leading role | Kiss and Tell | |
| | 2013 Nigeria Entertainment Awards | Best supporting Actress in a film | Phone Swap | |
| | 2013 Golden Icons Academy Movie Awards | Best Actress | Mr. and Mrs. | |
| | 2013 Ghana Movie Awards | Best African Collaboration | Kiss & Tell | |
| | 2013 City People Entertainment Awards | Best Actress of the Year | Phone Swap | |
| 2014 | 2014 Nigeria Entertainment Awards | Best Actress in a Lead Role | Purple Rose | |
| | 2014 Golden Icons Academy Movie Awards | Best Actress in a Lead Role | | |
| | 2014 Golden Icons Academy Movie Awards | Best Actress in a Lead Role | Journey to Self | |
| | 2014 Africa Magic Viewers Choice Awards | Viewers's Choice female | Purple Rose | Won |
| 2015 | 2015 Golden Icons Academy Movie Awards | Best Actress | Purple Rose | Won |
| | 2015 Golden Icons Academy Movie Awards | Best actress in a Drama | Journey to Self | Nominated |
| | 2015 Best of Nollywood Awards | Best Actress | Stolen Water | Won |
| | 2015 Best of Nollywood Awards | Best On-screen duo | Stolen Water | Nominated |
| 2016 | 2016 Nigeria Entertainment Awards | Best actress in a Leading Role (English) | The Visit | |
| | 2016 Africa Magic Viewers Choice Awards | Best Kiss in a Movie | The Visit | |
| | 12th Africa Movie Academy Awards | Lead Actress In A Film | Fifty | |
| 2022 | Africa Magic Viewers' Choice Awards | Best Actress Comedy Role | Quam's Money | Nominated |
Net Worth
Her Net worth is unknown. She is obviously doing well for herself
Social Media Handle
Instagram: nseikpeetim
Twitter: @NseIkpeEtim