Ahmad Abubakar Gumi, popularly known in the Nigerian media and political circles as Sheikh Gumi, is an Islamic cleric, scholar, and former military officer who retired with the rank of captain from the Nigeria Defence Academy (NDA). He is the current Mufti and mufassir at the Sultan Bello, Kaduna's central mosque.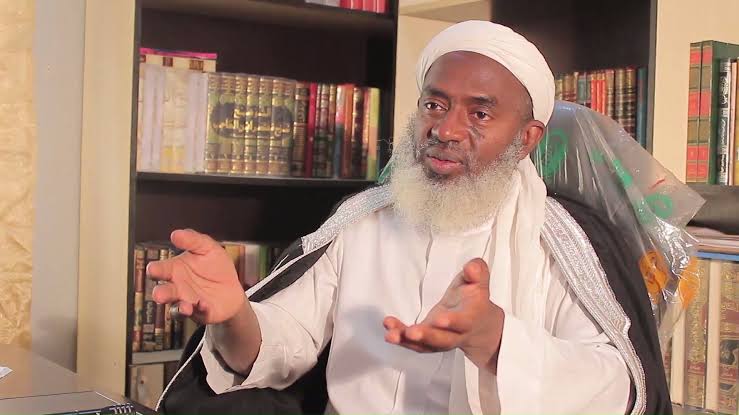 Sheikh Ahmad Gumi Biography
| | |
| --- | --- |
| Full Name : | Ahmad Abubakar Gumi |
| Popular Name : | Sheikh Gumi |
| Date of Birth : | 1 October 1960 |
| Nationality : | Nigerian |
| Place of Birth : | Kano State, Nigeria |
| State of Origin : | Kano State, Nigeria |
| Denomination : | Sunni |
| Jurisprudence : | Maliki |
| Movement : | Malikiyya |
| Interest(s) : | Fiqh, Tafsir, and Tauheed. |
| Occupation(s) : | Medical Doctor Consultant, Islamic cleric, Teacher, and Mufassir |
| Net Worth : | Unavailable |
| Social Media Handles : | Twitter: @Ahmad_Gumi |
Early Life and Education
Sheikh Gumi was born on October 1, 1960, in Kano State, Nigeria to a popular Islamic cleric and scholar, the late Shaykh Abubakar Gumi. He came from a lineage of Islamic scholars, with his father being the first Grand Khadi of the old Northern Region. His father was instrumental in the Islamization of Northern Nigeria, particularly under Sir Ahmadu Bello.
Ahmad Gumi attended Sardauna Memorial College (SMC) for his senior secondary education, then proceeded to Ahmadu Bello University where he studied Medicine, and after his graduation, he was enlisted into the Nigeria Defence Academy. He resigned from military service after he rose to the rank of Captain and moved to Saudi Arabia to further his Islamic education at Umm al-Qura University, where he studied Islamic Jurisprudence and Tafsir. His colleagues at the university included Abdur-Rahman As-Sudais and Saud Al-Shuraim.
Career
Sheikh Gumi was enlisted into the Nigeria Defence Academy upon his graduation from Ahmadu Bello University, where he studied Medicine and served in the Nigerian Army Medical Corp (NAMC) as a medical officer and retired as a captain. He furthered his education in Islamic education at Umm al-Qura University, where he studied Islamic Jurisprudence and Tafsir. He came back to Nigeria to operate as a full-time Islamic cleric.
Personal Life
He is the son of a highly revered Islamic cleric and scholar, the late Shaykh Abubakar Gumi, who was the first Grand Khadi of the old Northern Region. He is also married with children.
Controversy
Negotiation with Bandits
The 27 students who were kidnapped from a forestry college in Nigeria's Kaduna State in March of last year were among the victims of the former army captain's peace missions to various bandit hideouts in Kaduna, Katsina, and Zamfara states. He has also taken part in a number of other agreements.
The Department of Security Service (DSS) has invited Ahmad Gumi for interrogation due to how he relates to the bandits across Nigeria for peacemaking. Many Nigerians, including the Buhari administration, had criticized the academic for his views on bandits.
Bandits Advocacy
Ahmad Gumi used to enter the jungle and forest, reaching out to various bandits' camps and hideouts, pleading with them to submit to Allah's will and stop abducting or killing people for money ransom because Allah would forgive them if they repented. This was done in an effort to negotiate with kidnappers to lower their arms for a safe Nigeria.
Kidnapping children from school is a lesser evil because, in the end, you can negotiate, and now bandits are very careful about human lives. Before, the mission of bandits was to go into a town, ransack it, and kill people. " —Ahmad Gumi, commenting on kidnappers.
This effort began in February when Ahmad Gumi participated in a peace-making mission in the state of Zamfara. Since then, he has made numerous preaching trips to the states of Katsina, Kaduna, and Niger, pleading with bandits to cease attacking civilians. When he learned that 27 students from Greenfield University had been kidnapped, he successfully helped to secure their release after learning that the students' condition was urgent.
After killing five of the students and releasing one after a ransom was paid, the kidnappers threatened to kill the remaining hostages if a ransom was not paid by Wednesday, the deadline for the ransom to be paid.
In order to discuss the subject of people being kidnapped and seeking their release, Ahmad Gumi also meets with various kidnappers. In Niger State, he meets with kidnappers regarding the Kagara students' issue. He has repeatedly urged kidnappers to lay down their firearms and submit to Allah's will, in addition to abiding by the Nigerian Constitution. He has also urged the Nigerian government to pardon and provide amnesty so that Nigerians can live in peace and harmony without experiencing tense situations.
"If the country could pardon coup plotters who committed treasonable offences in the era of military administration, the bandits could as well enjoy similar forgiveness, even better under democratic rule." — Ahmad Gumi, on kidnappers to the Nigerian Government.
A Staunch Buhari Critic
When it comes to denouncing the Buhari administration, Sheikh Gumi is unrelenting in his condemnation. The cleric demanded President Muhammadu Buhari's resignation in 2019 due to the supposed performance of his administration. He also refuted the claim that he was critical of the Peoples Democratic Party (PDP)-led opposition government in favour of the ruling All Progressives Congress (APC).
Gumi asked the federal government to be mature in accepting criticism when Twitter was outlawed last year. He declared, "The Federal Government should act with more maturity; they are powerless against the media." The Federal Government should be able to take criticism with a broad stance. They should not fight the media; platforms like Twitter, Facebook, and other social media have given people the opportunity to hear from both sides.
Sheikh Gumi Net Worth
His estimated net worth is unavailable.
Social Media Handles
Twitter: @Ahmad_Gumi