Akintade Ogidan better known as Tade Ogidan is a renowned  Nigerian movie director, movie director, television screenwriter, and more.
In this post, I will share with you some of the things you probably do not know about one of your favorite Nigerian filmmakers, directors, and producers.
I will share with you his biography; early life, career, awards, achievements, and more.
Stick around while we take you through his profile. Scroll a bit. Then a bit more and again. Naija Biography is here as always to feed your brain from her wealth of knowledge.
Tade Ogidan Early Life
Tade Ogidan was born in the early '60 to the beautiful family of Mr. Akinola and Mrs. Racheal Ogidan in Surulere, Lagos, Nigerian. Precisely, Tade was born on July 23rd, 1960.
Being a 'Lagos Boy,' Tade part of his elementary and secondary education at Government Demonstration School, Lagos State, and Surulere Baptist School, Surulere, Lagos. In 1972, he moved to Ekiti Parapo College, Ido-Ekiti . Shortly, he moved to Maryland Comprehensive Secondary School, Ikeja, Lagos. He graduated officially from secondary school in 1978.
Thereafter, he proceeded to the prestigious Eastern New Mexico University, Portales, NM, USA. Therein, she studied Film and Television Production. Subsequently, he earned one more certificate from the prestigious State University of New York, USA.
Early Career
Notably, Tade ogidan added to his wealth of accumulated skills, some production skills DFavid Orere. As of then, David Orere was a producer in Nigerian Television Authority (NTA), then Nigerian Television Service; this was in the 1970s.
Of fact, David always took out time from his almost always busy schedule to entertain Tade. He would take him to the studio to teach and be his guide. However, Tade had little or no interest standing before the camera as David always would. He developed an interest in handling the camera instead of what David had expected of him.
Now, Tade Ogidan is the man behind the camera. He tells the casts what and what not to do. While he directed the cast as a director, Tade did write scripts and also learned production.
Tade completed his NYSC in 1983. On completion, he started as an in-house director, writer, and producer at NTA Channel 10. Then, he also worked for a while at NTA Channel 5 as a Continuity Manager.
Tade Ogidan Films
Although Tade Ogidan has produced over 150 movies. These among others include;
° Aya mi Owon: Madam Dearest
° Ayomida
° Gold Statue
° 7 to 12
° Playing Games
° Saving Alero
° Family on Fire
° Hostages
° Dangerous Twins
° Out of Bounds
° Diamond Ring
° Owo Blow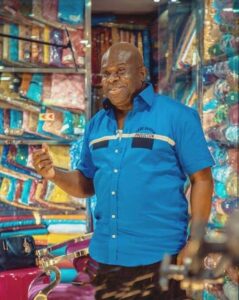 Awards and Recognitions
Tade Ogidan has won many hearts, awards, and recognitions all to himself. These among others include;
° Director of the Year 'Gold Statue', Best of Nollywood, 2019
° Best Feature Film Award 'Gold Statue', Lekki International Film Festival, 2019
° Movie of the Year 'Gold Statue' Best of Nollywood, 2019
Over to you! What else do you want to know about Tade Ogidan? Tell me about it with a comment box…