Tunde Bakare is a prophet and apostolic pastor from Nigeria. In the 2011 Nigerian presidential election, he served as the running mate of Nigerian presidential candidate Muhammadu Buhari. He was a member of the Deeper Life Bible Church and also served as its Legal Adviser before leaving to join the Redeemed Christian Church of God, where he did not only became a Pastor but also formed the Model Parish, before being called to start the Latter Rain Assembly, which was later rebranded to Global Citadel Community Church (CGCC).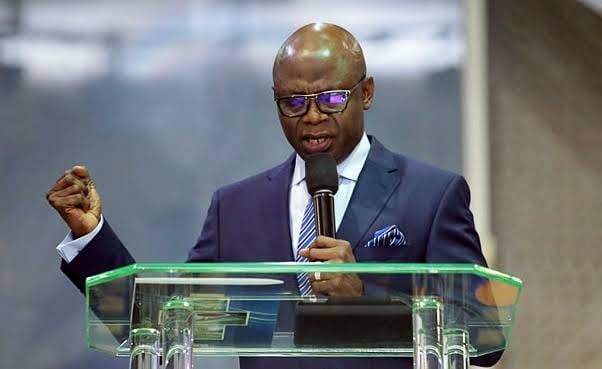 Tunde Bakare Biography
| | |
| --- | --- |
| Full Name | Tunde Bakare |
| Date of Birth | November 11, 1954 |
| Place of Birth | November 11, 1954 |
| Higher Qualification | Doctor of Ministry |
| Occupation | Pastor |
| Spouse | Layide Bakare |
| Net Worth | $1 – 5million |
Early Life and Education
Tunde Bakare was born in Abeokuta, Ogun State, Nigeria, on November 11, 1954, into a family with a deep Islamic heritage. He became a Christian on September 24, 1974. Between 1977 and 1980, he studied law at the University of Lagos. He was called to the bar in 1981 and worked for Gani Fawehinmi Chambers, Rotimi Williams & Co, and Burke & Co, Solicitors after completing his NYSC.
Career
In October 1984, he founded his own law company, Tunde Bakare & Co (El-Shaddai Chambers). He was called into ministry in May 1988, at the zenith of his legal career, and pioneered the Redeemed Christian Church of God's 1st Model parish. He then created The Latter Rain Assembly on April 1, 1989, and is now the church's Serving Overseer.
He is the president of the Global Apostolic Impact Network (GAIN), which is a network of churches, ministries, and kingdom companies dedicated to furthering God's Kingdom on Earth. Dr. Bakare is also the President of Latter Rain Ministries, Inc. (Church Development Center) in Atlanta, Georgia, which is dedicated to returning today's church to its biblical roots. In 1996, at the request of his spiritual leader and mentor, Dr. Lester Sumrall, he was awarded a Doctor of Ministry degree by Indiana Christian University in appreciation of his years of service and global impact in ministry.
Politics
Tunde Bakare was chosen as the running mate of Muhammadu Buhari in Nigeria's 2011 Presidential Elections on the platform of The Congress for Progressive Change (CPC).
Tunde Bakare said to his church members in 2019 that he intends to succeed Buhari as President of Nigeria, saying, "Nothing can stop me from succeeding Buhari as President of Nigeria." Buhari is number 15 and I am number 16. It's something I've never told you before. Nothing can affect what I'm saying right now. He (Buhari) is number 15 in the name of Jesus. I am number 16 on the list. I was born for this purpose and came into the world for this cause. For more than 30 years, I've been preparing you for this." This elicited a range of reactions from politicians, including Ikechukwu Amaechi, who claimed the pastor had previously issued a prophecy predicting that Olusegun Obasanjo would not be elected president in 2003, despite the fact that the reverse was the case.
Influence & Impact
In order to give back to mankind, he founded The Family Heritage Foundation, which provides scholarships to underprivileged students from all walks of life both inside and outside the country.
In 2007, he founded the International Centre for Reconstruction and Development (ICRD), dedicated to re-engineering Nigeria's and Africa's social, economic, and political landscapes.
Tunde Bakare is also the Convener of the Save Nigeria Group (SNG), a collection of pro-democracy organizations and individuals with a clear mandate to increase Nigerian citizens' political awareness and participation through strategic initiatives. Dr. Bakare has expanded the scope of his political activity in an effort to Save Nigeria, Change Nigeria, and Make Nigeria Great Again, after decades of speaking truth to power and standing on the side of the oppressed.
Personal Life
Tunde Bakare is happily married to Layide Bakare and they are blessed with five wonderful children
Net Worth
According to multiple sources online, Tunde Bakare estimated net worth is around $1-5 million.