Tunde Odunlade is a Nigerian artist, musician, and actor who is recognised for his Batik art tapestries and designs. Textile arts and floatography (a generic word he gave his art) are his specialities. He was the first Nigerian to exhibit in a foreign country. He belongs to the Visual Artists Network of the United States of America (VAN) and attends the National Conference of Artists in New York on a regular basis. During Festac, he was a performer with the Nigeria Cultural Troupe.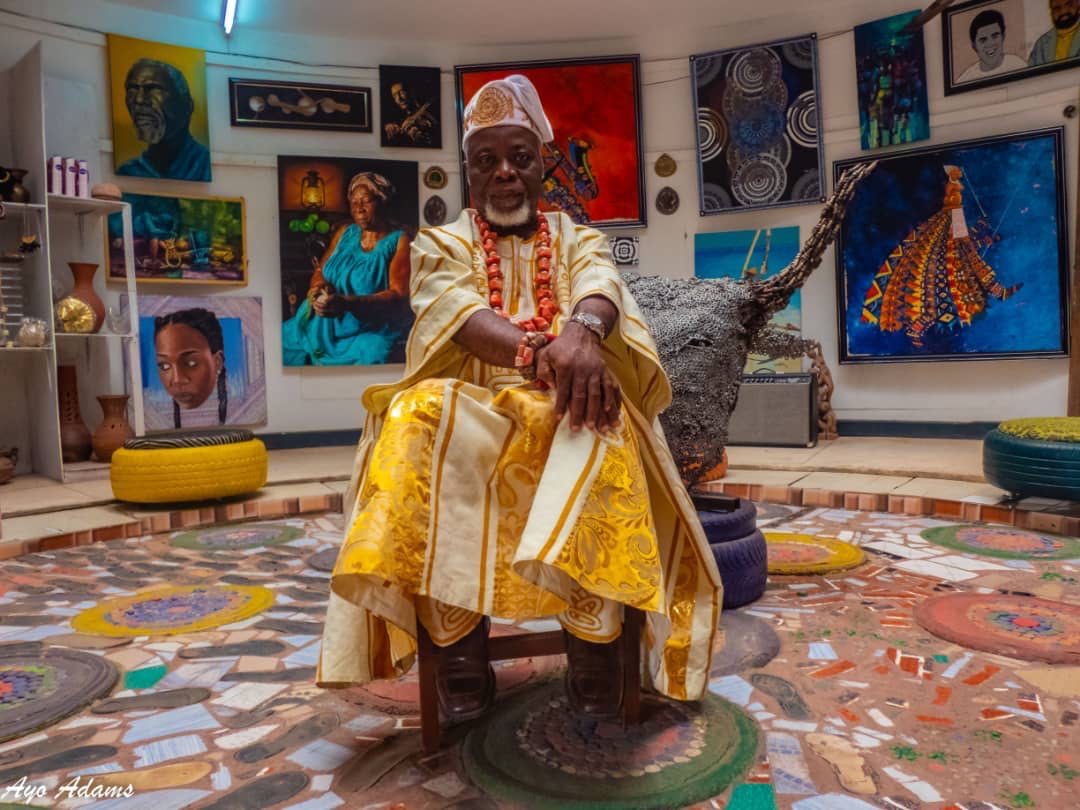 Tunde Odunlade Biography
Full Name :

Babatunde Samuel Odunlade

Date Of Birth :

November 26, 1954

Nationality :

Nigerian

State Of Origin :

Ile-Ife, Osun State.

Known For :

Batik Tapestry, Floatograph

Net Worth :

Unknown

Social Media Handle :

Instagram: tundeodunlade
Twitter: @tundeodunlade
Early Life and Education
Babatunde Samuel Odunlade was born on November 26, 1954, in Iremo, Ile-ife, and grew up there. He met Yinka Adeyemi, an Osogbo school of arts member, and began his career as a second-generation artist in the school of art in early 1970. In 1973, he also attended the University of Ife's Oguntimehin Art Workshop.
Career
Tunde employs ancient techniques on textiles through a one-of-a-kind batik appliqué procedure. He also invented a style he calls floatograph, in which he uses batiks, linocuts, and woodcut prints to depict Yoruba history, culture, and life in Nigeria. In 1986 and 1989, he was an artist-in-residence at Stillman College in Tuscaloosa, Alabama.
His images are inspired by Yoruba art and tradition, contemporary Nigerian life, and his love of music. He doesn't make "art for the sake of art." Rather, he is dedicated to "art with a purpose," which entails using art to bridge cultural divides and create awareness among his own people and the world community about both Nigeria's potential and issues.
Tunde has always been passionate about giving other musicians more opportunities. He was the artistic director of the Toki Memorial Arts Centre in Ibadan for 14 years after co-founding it. This centre became a prominent player in the discovery and development of artists who went on to have great international careers. He launched the International Campaign for Better Arts and Cultural Awareness (ICBACA), a non-profit dedicated to using art to bridge cultural divides in Nigeria and around the world. In Ibadan, he launched the International Centre for Better Arts and Cultural Arcade (ICBACA Ltd.) and the Tunde Odunlade Artist Cooperative Gallery, a for-profit gallery and artist representation services.
Tunde has also spent a lot of time working to improve the situation in Nigeria. He formed the Nigerian Artists for a Nation Anew (NAFANA) in 1999, with the purpose of encouraging Nigerian artists to use their abilities to help their country overcome decades of corruption and poverty. Tunde curated a big show called "Artists and Nation-Building: Nigeria at 39" through NAFANA. The Nigerian Debt Management Office (DMO) commissioned him to create an exhibition for their International Conference on Sustainable Debt and Development Strategy in 2001. Together, we rebuild a nation. "Artists were challenged to show both their goals for their country and the manner in which onerous external debt is impeding their realisation." He also serves as an executive with the Association of Nigerians Against Corruption (ANAC).
He founded the Tunde Odunlade Arts and Culture Connexions in Ibadan, Oyo state, in December 2020. He explained that the new gallery, Tunde Odunlade Arts and Culture Connexions (Pan Artists'Market), will improve the tourism industry not only in Ibadan but throughout Nigeria. "It will contribute to the country's economic progress and will serve as a public relations tool, as a people's civility is best shown through their arts and humanistic historically, as well as globally, particularly in the age of social media connections."
Personal Life
Not much is known about Prof. Tunde Odunlade's personal life, but his world revolves around African art and culture, especially at his art gallery in Ibadan. He is known to move with great Yoruba personalities like Toyin Falola, Yemi Farounbi, Tunde Kelani, and Alao Adedayo, among others.
Art Exhibitions
His paintings have been shown both in Nigeria and abroad, including:
Federal Government College, Sokoto, 1978, 1980, 1981.
Bakolori Dam Project, Talata, Mafara, Sokoto, 1978.
Education Centre, Ministry of Education, Maiduguri, 1981–1982.
27 January – 20 March 1999 "New Colours from Old Worlds: Contemporary Art from West Africa," October Gallery, London
24 March – 8 May 1999. "Beauty Ravishes Me All Over Wherever I Find It." October Gallery, London
Feb – April 2010. "Dreaming Between Worlds." Hammonds House Museum, Atlanta, GA.
October 2011. "Art as a Tool for Nation Building." Nigerian High Commission, Ottawa, Canada
July – August 2011. "New York Summer Show 2011". Corrine Jennings Gallery, New York, NY
December 2012. Lagos Art Expo. National Museum, Lagos, Nigeria.
February to April 2012. City Lights Gallery, Bridgeport, Connecticut.
December–January. African American Art and Cultural Centre, Albuquerque, New Mexico.
Lagos Art Expo. National Museum, Lagos, Nigeria.
Rotunda Art Gallery, Office of the Governor of New Mexico, Santa Fe, NM
2012 February–March The City of Perth, Amboy Art and Cultural Centre. Perth Amboy, New Jersey. The Mayor presented the City Proclamation Certificate.
2013 October–November. Hudson Gallery, Sylvania, Ohio. Sculptured Relief Batik, Batik, Wood & Linocut Prints, and Floatograph. group show.
November 1, 2013, A Commissioned Exhibition. "65th Anniversary of the University of Ibadan Convocation." Trenchard Hall, University of Ibadan, Ibadan, Oyo State, Nigeria.
2014 February City Lights Gallery, Bridgeport, Connecticut. group show.
In January 2014, in collaboration with the Smithsonian National Museum of African Art and the Bowie State University Department of Fine and Performing Arts. Bowie, Maryland
Tunde Odunlade's work has been auctioned several times, with realized prices ranging from $250 to $3,526 USD depending on the size and medium of the piece. The sale of Paminku (Kill me and let me die), sold at Bonhams New Bond Street in 2009, set a new auction record for this artist at 3,526 USD.
Awards and Nominations
He has received various prizes and accolades, including the Andrew W. Mellon Foundation Award, Carnegie Foundation, Ford Foundations, Rockefeller Foundations, MacArthur Foundation, New York University, NYC, and a number of other national, state, and county endowments for the arts.
As a result, there can be no doubt that Tunde Odunlade, like the great names before him, has contributed significantly to the creation and preservation of Nigeria's contemporary art culture.
Net worth
Prof. Tunde Odunlade is known to be a traditional man who does not live a flamboyant lifestyle. The estimate of his net worth is unknown to the public.
Social Media Handle
Instagram: tundeodunlade
Twitter: @tundeodunlade