Uju Anya (born August 4, 1976) is an American-Nigerian professor and researcher who is known for her views on feminism, sexuality, and activism on Twitter. She became more popular after the death of Queen Elizabeth II of England, who was berated for championing colonialism in Africa and other countries.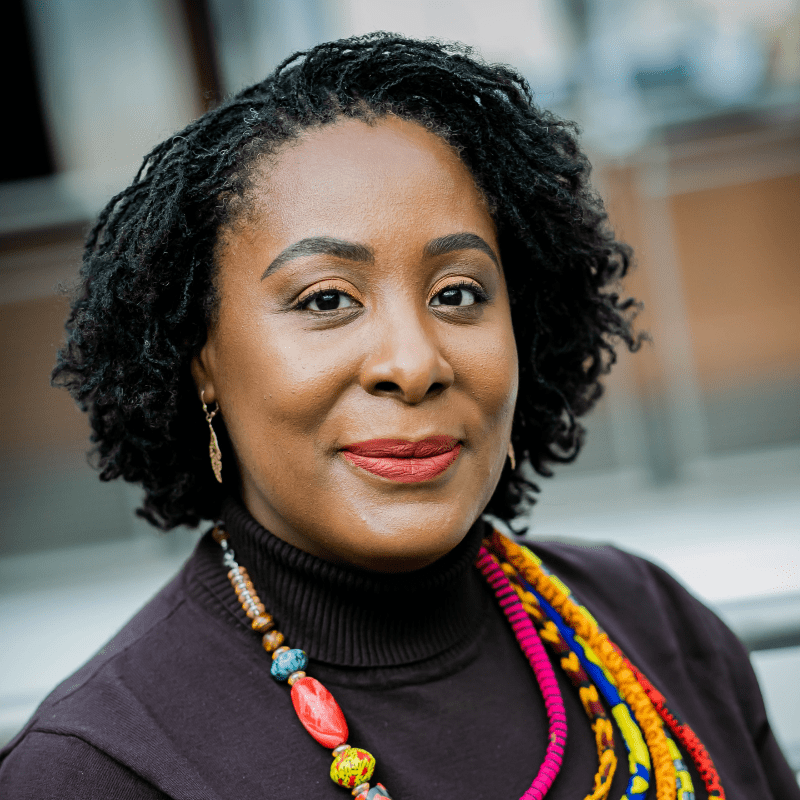 Uju Anya Biography
Full Name :

Uju Anya

Date of Birth :

August 4, 1976

Nationality :

Nigerian/Trinidadian

Place of Birth :

Enugu State, Nigeria

State of Origin :

Enugu State, Nigeria

Occupation :

Lecturer, Linguist

Net worth :

Unavailable

Social Media Handles :

Instagram: UjuAnya
Twitter: @UjuAnya
Early Life and Education
Uju Anya was born on August 4, 1976, in Enugu State to a Nigerian father and a Trinidad and Tobago mother. She hails from Enugu State, Nigeria. She had her early days in Nigeria before her mother secretly took her and her brother to the United States when she was 10 to escape from her abusive father.
She had her primary school education in Nigeria before her mother fled with her to the USA to have her secondary and tertiary education. She graduated with a Bachelor of Arts degree in Roman Languages from Dartmouth College in 1998. She bagged an MA in Brazilian studies from Brown University in 2001. She also holds a PhD in applied linguistics from UCLA (2011).
Career
In 1998, Uju began her career as a Teaching Fellow at the Phillips Academy Andover, where she instructed high school Spanish immersion courses at the introductory and intermediate levels. She started working as a visiting lecturer at Dartmouth College in the Department of Spanish and Portuguese in 2001. In this role, Uju oversaw the methodology and curriculum for the Portuguese programme, which included cutting-edge multimedia tools, inquiry-based learning, a social focus, and a critical language studies concentration on Afro-Brazilian culture.
In 2003, Uju began working as a Master's Teacher at the Rassias Centre for World Languages and Cultures. She created Portuguese language courses for American CEOs in Brazil as well as English language immersion courses for executives in Tokyo, Japan. Uju served as a lecturer in Spanish and Portuguese at the UCLA Department of Spanish and Portuguese from 2005 to 2007. She later worked as a lecturer in Applied Linguistics and Teaching English as a Second Language at the UCLA Department of Applied Linguistics (TESL).
Prior to this, Prof. Anya had positions at Pennsylvania State University as an assistant professor of clinical education, as a visiting assistant professor, and as the faculty director of the Dartmouth College Portuguese study abroad programme in Salvador-Bahia, Brazil. The Pennsylvania State University's College of Education appointed Uju as an assistant professor of second language learning in 2016 and a research affiliate in the department of curriculum and instruction.
She is currently an associate professor of second language acquisition at Carnegie Mellon University. Anya focuses on race, gender, sexual orientation, and social class identities in the language classroom as part of her sociolinguistics, applied linguistics, and second language learning specialities. She is also knowledgeable about diversity, equity, and inclusion in the curriculum and educational policy design.
Personal Life
Uju Anya is a lesbian who is comfortable with who she is. She previously discussed how, as a teenager, she found both guys and girls to be attractive. While in college, she dated women as well. She was under pressure to be married, nevertheless, at the age of 28. She married shortly after, but she was open about her bisexuality to her partner.
But as their marriage came to an end, she realised she was lesbian and only attracted to women. They ultimately broke up as a result of this. In 2021, their divorce was finally formalised after they had been apart for four years. She is the mother of two kids with her ex-husband. Anya rejects religion and claims to be an atheist.
Controversy
Professor and researcher Uju Anya from Nigeria is well-known on Twitter for her opinions on feminism, sexuality, and activism. Her opinions of Queen Elizabeth became a hot subject on the microblogging site on September 8, 2022. In one of the tweets that have been deleted because they violated Twitter rules, Anya had wished the Queen "excruciating pain" before her death. Anya's tweet was quoted by Amazon founder Jeff Bezos, who quoted Anya's tweet and said, "This is someone supposedly working to make the world better?" "I don't think so." "Wow. Anya then responded, "May everyone you and your merciless greed have harmed in this world remember you as fondly as I remember my colonizers."
The professor, who was born in Nigeria, also claimed that Queen Elizabeth II supported the "genocide" that caused her family to be uprooted. Her tweets could, however, be connected to the Nigerian civil war, which raged from 1967 to 1970 and occurred fewer than ten years after Nigeria gained independence from Britain.
In response to the situation, the university stated that while it supports "free expression," it does not support the professor's opinions. Her tweets have elicited a range of responses. While some people agreed with her position, others criticised her for speaking up at such a delicate time.
Publications
Racialized identities in second language learning: Speaking blackness in Brazil
Connecting with communities of learners and speakers: Integrative ideals, experiences, and motivations of successful black second language learners
African Americans in world language study: The forged path and future directions
Diversifying language educators and learners
Investments in communities of learners and speakers: How African American students of Portuguese negotiate ethno-racialized, gendered, and social-classed identities in second …
Languages, identities, and accents: Perspectives from the 2010 Linguistic Diversity Conference
Critical race pedagogy for more effective and inclusive world language teaching
Race and ethnicity in teacher education
Speaking blackness in Brazil: Racialized identities in second language learning
Improving Spanish language teacher retention and success among Black Spanish-language learners: An HSI-HBCU collaboration
When the foreign is familiar: An afro-dominican-american woman's experience translanguaging race, ethnicity and cultural heritage learning portuguese in Brazil
Racial Equity on College Campuses: Connecting Research and Practice
The taquito hot seat: Socializing monolingual bias through error correction practices in a Portuguese language classroom
Nina's Story: Race and Ethnicity in Classrooms and Outside
Translanguaging Identities
Rose's Story: Redefining Participation and Success
Didier's Story: Translanguaging Black Manhood in Multicultural Contexts
The African American Experience in Language Study: A Review of the Research
Communities and Investments in Learning a New Language
Telling Black Stories in Language Learning Research
Awards and Nominations
Penn State College of Education Outstanding Teaching Award
The American Association for Applied Linguistics First Book Award
ACTFL/Middlebury Research Forum Invited Scholar
USC Rossier School of Education's Faculty Teaching and Mentoring Award
Dartmouth College Thurgood Marshall Dissertation Fellowship
The Centro Latino for Literacy Manos Amigas Volunteer of the Year Award
The Eugene Cota-Robles Fellowship for Doctoral Studies at UCLA
Irene Diamond Fellowship for Graduate Study at Brown University
Phillips Academy at Andover Spanish Teaching Fellowship
Net Worth
Her estimated net worth is currently unavailable.
Social Media Handles
Instagram: UjuAnya
Twitter: @UjuAnya