Victor Mugubi Wanyama (Born 25 June 1991) is one of the top Kenyan footballers who has played in a different league as a defensive midfielder. He was the first Kenya player to score in the UEFA Champions League when he scored the first goal in Celtic's 2–1 win over Barcelona on 7 November 2012. He was the most expensive player sold by a Scottish club, to Southampton at £12.5 million surpassing the £9.5 million Russian club Spartak Moscow paid for Aiden McGeadyin in 2010.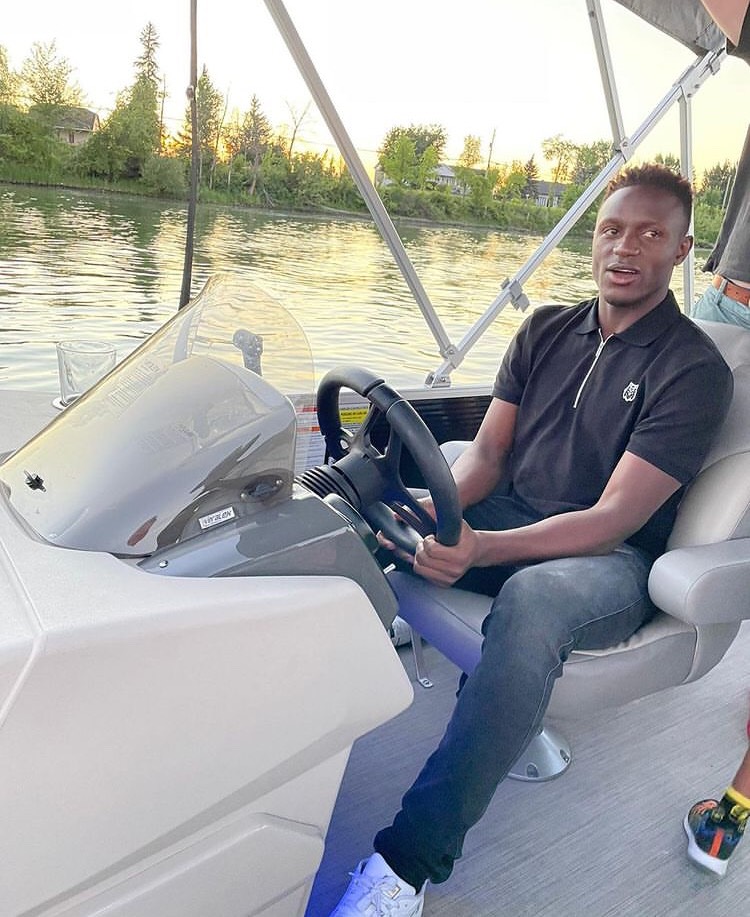 Victor Wanyama Biography
Full Name :
Victor Mugubi Wanyama
Date of Birth :
25 June 1991
Place of Birth :
Nairobi, Kenya
Position :
Defensive midfielder
Current Club :
CF Montréal
Height :
1.88 m (6 ft 2 in)
Net Worth :
$13.9 million
Social Media Handles :
Instagram @Victorwanyama
Twitter @Victorwanyama
Early Life and Education
Victor Mugubi Wanyama was born on June 25, 1992, in Nairobi, Kenya. He was born into a poor family of Mr. Noah and Mrs. Mildred Wanyama. He faced a lot of difficulties when growing up. He attended St Peter's Claver Primary School and then Kamukunji High School for his secondary school education. Victor used to owe school fees, and this resulted in him being chased home. Sometimes he would go without meals, but he never gave up. He started hustling by selling little provisions to keep his body and soul intact.
Career
Victor started his football career at an early stage after watching and falling in love with Patrick Vieira's football style. McDonald Mariga, his elder brother who was also a local footballer, then advised him to go into football.
After finishing his secondary education at the age of 15, he played for JMJ Academy for three years and joined Kenyan Premier League clubs Nairobi City Stars and AFC Leopards. He joined a Swedish club in 2007, Allsvenskan club Helsingborg where his brother McDonald Mariga played, but returned to Kenya after his brother's departure to Serie A side Parma in 2008.
Beerschot AC
Victor signed for Beerschot Ac after a successful trial on a four-year contract in the summer of 2008. He played there for two seasons. He was given three matches of suspension and a fine of £100 in September 2009 for a violent tackle on Matías Suárez of Anderlecht.
In the summer of 2010, Celtic a club in the Scottish Premier League wanted to sign him but Beerschot did not allow him to leave. CSKA Moscow also tried to sign him, but they failed as well.
Victor nets his first goal for Beerschot on 11 December 2010, which is an equalizer against Westerlo. In April 2011, he was suspended again for three matches after a video surfaced and showed evidence he had elbowed Brecht Dejaeghere of K.V. Kortrijk.
Celtic
After Celtic's failed attempt to sign him in the summer of 2010, on July 9, 2011, Wanyama was successfully moved to Celtic for the sum of £900,000. He became the first Kenyan to play in the Scottish Premier League (SPL) with a four-year agreement.
His first appearance at Celtic was in a 1-0 loss to St. Johnstone on August 21, 2011. Victor started the match for his club on September 29, 2011, in a 1-1 draw with Italian team Udinese in the Europa League. On 10 December 2011, he scored his first goal for Celtic against Hearts in Celtic Parks, his December performance made him earn the Scottish Premier League Young Player of the month award. His second goal happened on 2 January 2012 at East End Park in a 3-0 win against Dunfermline.
Victor also scored in Celtic's 2-1 win against Dundee United at Celtic Park and in the 4-0 victory against Hearts at Tynecastle. His performances so far for Celtic made him receive a nomination for the PFA Scotland Young Player of the Year for 2012-13, but the winner was Leigh Griffiths.
Southampton
Victor again became the first Kenya ever to play in Premier League after signing into a Premier League Club Southampton on 11 July 2013 for £12.5 million fee.
Victor said;
Southampton is a good club and it has good players, so I just want to train hard and work hard to be a part of the starting XI. We'll see where that will take me. It feels great and I am happy to be here. There were other options, but Southampton is a club with ambitions so I chose to come here. I'm very grateful to be here and I'm looking forward to playing in the Premier League.
On August 17, 2013, he made his debut in a 1-0 away win against West Bromwich Albion. He appeared 24 times in his first season, but injuries made him perform less at the club. Victor scored his first goal in a winning 1-0 match against Swansea City at the Liberty Stadium on September 20, 2014, under new manager Ronald Koeman, after replacing James Ward-Prowse in the 69th minute. He won African Player of the Month for September, due to his performances so far, and he stated, "It is wonderful being recognized as someone who has done well for his club."
Tottenham Hotspur
Tottenham Hotspur announced on June 23, 2016, that they had sealed an agreement with Southampton for the transfer of Victor, with a five-year contract for a fee of £11 million.
He met manager Mauricio Pochettino again at Tottenham after he brought him to Southampton in July 2013. Wanyama nets his first goal for Tottenham against Crystal Palace in the 82nd minute of a 1-0 league win for Spurs, and this goal made him the 138th different player to score for the club, extending its record for the most variety of goal scorers for a single club in the Premier League.
He was injured in the knee in a match against Chelsea in the early part of the 2017-18 season, which lasts for four months. He returned to training in mid-December. He was substituted in the away match against Swansea City on January 2, 2018, and that was his first appearance after his injury. His equalizer goal for Tottenham's 2-2 draw with Liverpool on February 4, 2018, was voted the Premier League Goal of the Month.
Wanyama suffered another knee injury in a pre-season game of the 2018-19 season against Barcelona. He started his first season two months later, after the injury in the EFL Cup game against Watford that Spurs won on penalties. At the end of August 2019, Tottenham had agreed to sell Wanyama to Club Brugge for £13 million, but he refused to go, and the deal broke down.
CF Montreal
Tottenham announced on 3 March 2020, that it had come to an agreement to transfer Wanyama to Major League Soccer club Montreal Impact (now CF Montréal), where he would become a Designated Player.
On March 11, 2020, Victor appeared for the first time for Montreal at Stade Olympique in the first leg of a quarterfinal in the CONCACAF Champions League, where he was named in manager Thierry Henry's starting lineup.
International career
Victor played for the first time for the Kenyan national team in May 2007 at age 15 in a friendly match against Nigeria. He also played in all six of Kenya's 2010 FIFA World Cup qualifiers. He was announced as the captain of his national team in 2013. He also represented the national team of Kenya at the 2019 Africa Cup of Nations. Victor retired from international football in September 2021, He played for the international team for 14 years.
Personal Life
Victor was from a family where every one of them was into the sport, his father was a footballer for A.F.C. Leopards in the 1980s, while his sister, Mercy, is a professional basketball player in the United States; McDonald was also a professional footballer; and Thomas and Sylvester, who are also football players in the Kenya Premier League,
ExtraTime Management manages Victor Wanyama, and he has a boot sponsorship deal with Adidas.
In 2015, Victor was featured in a short film production about football in Kenya called Mdudu Boy, written and directed by actress Ella Smith.
Awards
Celtic
Scottish Premier League: 2011–12, 2012–13
Scottish Cup: 2012–13
Tottenham Hotspur
UEFA Champions League runner-up: 2018–19
CF Montréal
Canadian Championship: 2021
Individual
PFA Scotland Team of the Year(SPL): 2012–13
SPL Young Player of the Year: 2012–13
SPL Young Player of the Month: December 2011
Net Worth
Victor is one of the richest footballers in Kenya. His net worth is estimated at $13.9 million
Social Media Handles
Instagram @Victorwanyama
Twitter @Victorwanyama