The Yoruba culture has many deities that are relevant to their beliefs. These deities are worshipped by the people who, in return, provide for their needs, welfare, and protection. Also, it is imperative to note that these deities have history; that is, there are reasons why people worship them. For some, it could be that they played a significant role in the creation of the earth (like Obatala and Orunmila) or that they were humans in existence when the community was experiencing famine.
For whatever reason, people, especially the Yorubas, believe that the only way to show appreciation to those humans is to immortalize and pay tribute to them. This cultural belief, however, has been passed from one generation to another. Also, in the Yoruba culture, these gods vary- the kind of god they serve in a compound may differ from another. This is because different families have their origins from different gods. The prominent ones are Yemoja, Sango, Oya, Ogun, Obatala, Esu, and Agboniregun, among others.
One of these gods, called "Sango", is significant to the history of the Yoruba. Prior to his posthumous deification, Sango served as the third Alaafin of the Oyo Kingdom, making him a royal ancestor of the Yoruba people. There are several other ways that Sango manifests, including Airá, Agodo, Afonja, Lubé, and Obomin. His potent axe is well-known and history called him Yorubaland's most powerful leader.
In this piece, I will be exploring the history of Sango, often known as the god of fire; why people worship Sango; and if people still pray to him.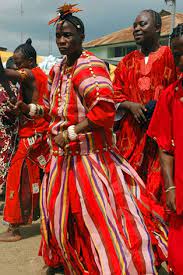 History
Sàngó, who came after Oranmiyan and Ajaka, was the third Alaafin of Oyo, and the Empire flourished under his leadership. According to history, he was a strong and harsh monarch, in contrast to his calm brother Ajaka.
According to myth, he, alongside 14 others, sprang from the goddess Yemaja's body after her son Orungan made a second attempt to rape her. Also, in another collection of tales, Sango is the son of Aganju and Obatala. According to legend, Obatala, the monarch of the white garment, had to cross a river while on the move. When the god of fire and ferryman Aganju refused to let him pass, Obatala withdrew, assumed the form of a woman, and exchanged her body for passage.
The cornerstone of Sango's unique character and personality would be this conflict between reason and emotion, symbolized by Obatala and Aganju. According to legend, Sango set out in quest of Aganju, who required him to jump into a lake of blazing fire in order to establish his ancestry.
In another myth, when Sango needed more strength to defeat his adversaries, he turned to a Babalawo (herbalist) who gave him his powers. He attained control over lightning, and after becoming possessed by the lightning spirit, he advanced to the rank of an Orisha. In addition, he was claimed to breathe fire and to have lived forever.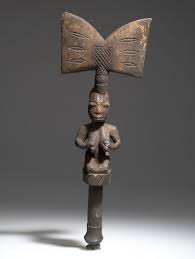 Alaafin Ajaka's cousin and ruler of Owu Kingdom regularly threatened war with Oyo Empire during Alaafin Ajaka's administration. Later, Olowu dispatched his soldiers to seize Alaafin Ajaka and deliver him to Owu. The Oyomesi sent for Sango in an effort to save Alaafin Ajaka. 
After saving Ajaka, Sango was crowned king, and Alaafin Ajaka was exiled. Timi Agbale Olofa-ina, who could shoot fire arrows, and Gbonka, who was similarly formidable, served as his two generals during his reign. As these two generals' influence rose, Sango took Oya's recommendation to get rid of them and appointed them to rule the border towns. Sango despatched Gbonka to capture Timi in his attempt to kill them both. Timi escaped to Ede, but Gbonka remained in Oyo to pose a threat.
Sango, who thought that Timi and Gbonka's bout in Ede was staged, requested a rematch, and Gbonka defeated Timi there. Sango gave the order to burn Gbonka to death because he was unable to carry out his two threats simultaneously. This was done out of concern that Gbonka may learn that Sango simply wanted him dead. After three days, Gbonka mysteriously reappeared and gave Sango a deadline to abdicate.
Infuriated, Sango demanded his Edun-Ara from Oya, who was in possession of it, but discovered that it was covered with menstrual blood. In a fit of rage, he is supposed to have fled the palace and descended onto a large rock with the palace in view. The thunder he summoned that day is claimed to have struck the palace and reduced it to ashes.
He departed the town, heartbroken, despite the chiefs and followers of his royal cult, Baba-Mogba, pleading for him to stay. After much convincing, some of the chiefs turned around as they neared an ayan tree in a region known as Koso with the rumour that the king had been hanged, but it was later proven to be false.
Only a few of the Baba-Mogba who stayed behind were aware that Gbonka had actually attacked Sango. Sango, who was unwilling to battle, vanished into thin air before reappearing in the sky later to destroy Gbonka with rage and flaming flames. He also vented some of his rages on the town that spread the false report about him hanging himself.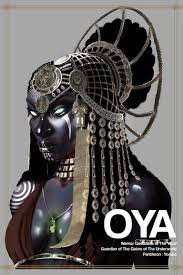 The Love Story between Sango and Oya
Oya was one of the most potent African deities as well as one of the most significant deities in the Yoruba pantheon. They believed she was untouchable by the enemy due to her power and bravery on the battlefield. Sango also had a relationship with Osun, the first of whom historians regarded as his legal wife. The first two wives were fierce rivals (Osun and Oya). They both lacked something, but Oya had it. She became Sango's favourite, and their relationship grew stronger as a result of their complementary superpowers. And they had great power when acting jointly.
She represents the elements of wind, lightning, powerful storms, death, and rebirth. Oya was a spirit that had the power to call down rain and change into various animals. Sango and Oya's relationship ended tragically. In general, Oya was more to Sango than just a wife. Oya got access to Sango's heart as a result of their close relationship. To speed Sango's fate, she might use Edun Ara or Sango's thunderbolt. According to rumours, Oya advised him to fire Gbonka and Timi Olofa Ina.
The sole wife who stuck by Sango through thick and thin, leaving Oyo with him and turning into a divinity when he did, Oya is Sango's favourite wife. Odo Oya, the goddess of the Niger River, presents herself as the wind that blows strongly before a thunderstorm.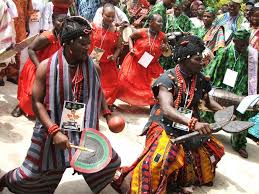 Modern Celebration of Sango
Sango is said to have ruled Oyo for only seven years, yet because of his strong leadership, he is regarded as the greatest king in Oyo history. The king's wives, known as the Ayabas, brag about how they sought advice from the Yemoja and the Sango priest and were able to prevent rain from raining during the 2021 celebration, which would have disrupted the ritual. Additionally, it is stated that Iwure Agba, or the elders' prayer, which is typically led by the Sango priest, marks the beginning of the festival.
The event to celebrate Sango, which is typically held in August and lasts for a week, now draws over 20,000 spectators from all over the world, including Brazil, Cuba, Trinidad and Tobago, and the Caribbean. This is because of its renaming in 2013. The UNESCO-recognized festival is held to encourage the return of Yorubas from the diaspora and to honour Sango, who is revered as the greatest hero in the annals of the Yoruba people.