In the Nigerian traditional system, research has revealed that women, especially the only woman in the ranks of high chiefs in the palace, are usually not recognized unless they exhibit a significant feature or they are known to reckon with for their exceptional skills and prowess.
The only woman who exhibits the same power as the other high chiefs in Yorubaland is called "the Iyalode," which translates to mean "Women Leader," that is, the leader of all the community women. The Iyalode is also one of the high chiefs, and she has a role to play in the decision-making processes of the palace administration.
In the Yoruba empire, especially Ibadanland, there has been a women leader whose impacts were barely known, but there was a particular Iyalode, who was powerful, influential, and wealthy, and who had the prowess that has remained in the hearts of chiefs in Ibadanland. She has also had her legacy, which is visible in Ibadan (a statue was built and a movie was produced in her name). Find out about some interesting historical places in Ibadanland.
This particular Iyalode is called "Efunsetan Aniwura." The second Iyalode of Ibadan and one of the most prominent slave dealers in Ibadan in the 19th century was Chief Efunsetán Anwrà. Her influence was felt in Ibadan's political, military, economic, and religious spheres.
She was revered as a successful trader and merchant. She is renowned for being possibly the most wealthy and powerful Yoruba woman to have ever lived. History has it that she was an authoritarian ruler who frequently executed rebellious slaves, which, according to observations in the past, has been attributed to the psychological breakdown brought on by the loss of her only child and her subsequent infertility.
The Early Life of Efunsetan
Efunsetan Aniwura was born in the 1820s in Ikija-Egba into the family of Chief Ogunrin, who was a warlord from Ikija. She is said to have gotten her entrepreneurial skills from her mother, who was from Ife and was a petty trader. Young Efunsetan used to follow her mother to the market, and there she learnt the art of buying and selling.
Shortly after the fall of Ikija, Efunsetan and her parents moved to Ibadan to settle in the 1820s. There, she (Efunsetan) got married multiple times and had a child, whom she lost at birth. At the time, rumour had it that the loss of a child was the reason for her fierceness and her trigger for being a successful woman.
Aniwura's choice to move to Ibadan was primarily motivated by two factors: First of all, at that time, her cousin was a well-known municipal leader. Second, she could launch a profitable business there because the town at the time was more entrepreneurial than other places. She is said to have had several farms, about 2,000 slaves, and exported agricultural goods to Porto-Novo, Badagry, and Ikorodu. Her two main businesses were trafficking in tobacco and slaves.
Additionally, she produced Kijipa, a regional cosmetic that was shipped to America. Although, it was said that her inability to have children caused her to become emotionally unstable because, at the time, having a successor was viewed as a key indicator of wealth, she remained committed to her business.
As a result of her childlessness, she was frequently melancholy, which at the time showed in the way she led. For instance, she established regulations preventing any slave in her household from becoming pregnant or causing anybody else to become pregnant, and she imposed the death sentence for violators. And as a result, history has it that she had confessed to have authorized the beheading of 41 of her slaves throughout her lifetime.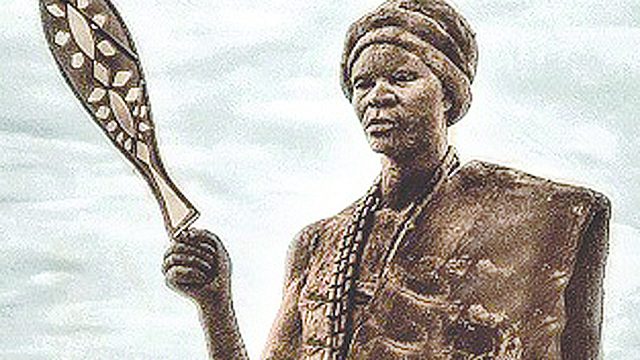 Efunsetan's Leadership
In the 1860s, Efunsetan Aniwura was appointed the second Iyalode of Ibadan. In recognition of her contributions to advancing Christianity in the neighbourhood, she was also named a patron of the Anglican Church in Ibadan.
Efunsetan provided the Latoosa and his warriors with credit facilities in the form of ammunition during their military operations in 1872, and she fielded 100 slaves as soldiers under her head slave, Ogidan, to accompany the Ibadan army on their trip to the Ekiti nation. She was able to contribute to the discussion about war and peace as a prominent female leader in Ibadan and a profitable armaments trader. She spoke out against Aare Latoosa's expansionist policies in Ibadan, which included bringing many communities under the city's control.
The political problems caused by Latoosa and the then-Ibadan chiefs' tardy refusal to pay off their debts and the levying of three accusations against her (her withholding of ammunition during combat, her withholding of supplies during the campaign, and her refusal to personally approach him outside the town wall to congratulate him on his safe return) were Efunsetan's first major offense to Latoosa.
Later on May 1, 1874, Aare Latoosa removed her as Iyalode on the grounds that are politically inclined, despite that she paid all the fines levied against her. The Aare Ona Kakanfo Latoosa, the de facto ruler of Ibadan, plotted to have her killed because of her influence within the community and disagreement with his political philosophies. Read about Aare Latoosa, the reason why Ibadan is eulogized for its supremacy.
According to history, as a result of her political stance among the high chiefs, this turned out to be challenging. Her adopted son, Kumuyilo, was betrayed by him and led to the execution site after receiving payment from him. Numerous explanations exist for Latoosa's desire to have Aniwura leave Ibadan.
Some historians believe it was because of sexism and jealousy, but others think it was because the city became overly dependent on her, particularly for military equipment that was purchased on credit. According to some observers in history, the reason he became irate with her was that she disobeyed Aare's rules.
Efunsetan Aniwura's Death
History has it that Kumuyilo and a few other members of her family were bought off by Latoosa and his allies to murder Efunsetan Aniwura. On the night of June 30, 1874, two slaves under the direction of Kumuyilo entered the apartment from the roof and dashed out her brain. They knew where she slept because her son knew everything about her. And so he revealed her whereabouts and had her killed.
Kumuyilo was then appointed as Efunsetan's family's head by Latosa. However, it was written by historians that Aare Latoosa had Efunsetan killed because he felt threatened by her wealth, political expansion, acceptance from other chiefs and militants, and her disobedience to him.