Asisat Lamina Oshoala is a skillful professional international footballer from Nigeria. She plays as a striker in a central forward position. She has played for many top-rated football clubs in the world, such as Arsenal, Liverpool, and the Chinese club Dailan. She also played in the Nigerian local league for Rivers Angels and FC Robo. At the present time of this publication, she plays for a Spanish league team, FC Barcelona Femeni, and the Nigerian women's national team. Asisat Oshoala is recognized as the greatest African female footballer of all time and one of the best in the world. She is also the most decorated African female footballer of all time with a record five-times African Women's Footballer of the Year.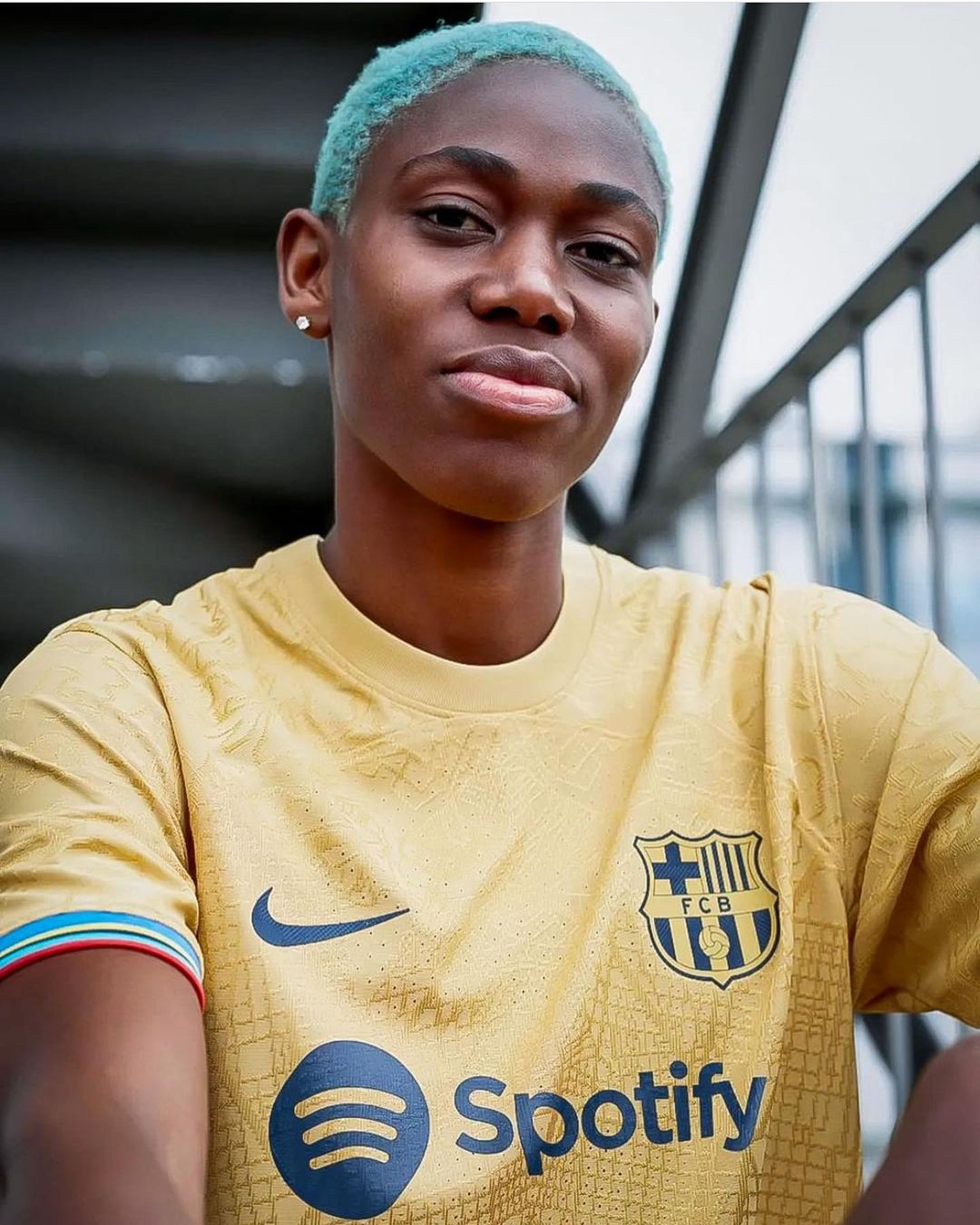 Asisat Oshoala Biography
Full Name :

Asisat Lamina Oshoala

Date of Birth :

January 21, 1994

Place of Birth :

Lagos State, Nigeria

Occupation :

Footballer

Club :

FC Barcelona Femeni

Net Worth :

$5 million

Social Media Handles :

Instagram: @asisat_oshoala
Twitter: @AsisatOshoala
Early Life & Education
Asisat Oshoala was born on the 21st of January, 1994, in Lagos State, which falls in the South Western region of Nigeria. She grew up in Lagos State. She went to Air Force Primary school in Victoria Island and Aunty Ayo International School, both in Lagos, for her primary school and secondary school education respectively. Asisat Oshoala graduated from secondary school in 2009. She started playing football in her early life when she was in secondary school in Lagos. Her parents were not in support of her passion for football when she started. It was only her grandmother who supported her.
Career
Club Career
Asisat Oshoala started her career shortly after she left secondary school. She started out playing for neighborhood teams before being seen by a scout, who persuaded her to join the FC Robo team in Lagos. She played for FC Robo from 2009 to 2013. In 2013, she secured a contract with the Rivers Angels, where she played from 2013 to 2015.
Oshoala joined Liverpool on January 23, 2015, in the Women's Super League of England. She was referred to as "one of the best young players in the world" by the club's manager, Matt Beard. Although there were rumors that she was interested in other teams, she was thrilled to join Liverpool. She was the first player from an African country to play in England's Women's Super League.
Oshoala's contract's release clause was triggered by an offer from Arsenal, according to a January 2016 report from Liverpool, and she was negotiating personal terms with the London club. Oshoala joined Arsenal in March 2016. On May 14, 2016, Oshoala assisted Arsenal in winning the FA Women's Cup. The victory was the club's 14th championship. During the 2016 campaign, Oshoala made 13 appearances for the team and registered two goals. On August 28, she scored the game-winning goal in a 2-0 victory over Notts County. Arsenal came in third position that season.
Oshoala signed a contract with Chinese club Dalian on February 10. She scored 12 goals in the 2017 campaign, which helped Dalian Quanjian win the league title. She received the league's Golden Boot title for scoring the most goals. Asisat Oshoala contributed four goals to the club's 5-3 victory over Shanghai in the 2017 Women's Super Cup, helping them win the title. She contributed to the club's second consecutive league triumph in October 2018.
Oshoala was signed by FC Barcelona Femeni, a Spanish team, on loan for the end of January 31. Barcelona announced her official move to the club and extended it until 2022 on May 31, 2019. During the 2018–19 season, she made seven appearances for the team and netted seven goals. Barcelona was placed second throughout the season. In a 4-1 loss to Lyon in the 2019 UEFA Women's Champions League Final, Oshoala scored Barcelona's lone goal. She was the first female to score the first goal in a Champions League Final by an African (and Nigerian).
Oshoala made 19 appearances for Barcelona in the 2019–20 season, scoring 20 goals. On September 19, 2019, she surpassed Atlético Madrid with a brace of goals, marking the start of her 2019–20 campaign. In October, she helped Barcelona to a 4-0 victory over Madrid with a second brace. Oshoala scored four goals in a 6-0 victory over CD Tacon on January 11, 2020. Barcelona had an unbeaten season record and took first place. With 20 goals, Oshoala was second in the league only behind teammate Jenni Hermoso's 23.
Oshoala extended her contract with Barcelona for an additional two years on March 10, 2022, keeping her there till June 30, 2024.
International Career
When Oshoala received her first senior cap against the world champions of Japan in a friendly match in September 2013, Oshoala's club coach, Edwin Okon, was acting as the temporary manager of the national team. With seven goals, Oshoala led all goal scorers in the 2014 FIFA U-20 Women's World Cup and was awarded the tournament's best player. She was also voted the Super Falcons team's best player and second-leading scorer during the 2014 African Women's Championship. 2015 BBC Women's Footballer of the Year was also awarded to her. Oshoala received the Order of the Nigeria designation in September 2014 from Nigeria's former President Goodluck Jonathan.
Oshoala's first goal at the 2015 FIFA Women's World Cup came on June 8 in Winnipeg, during the team's second goal in a 3-3 tie with Sweden. The team did not proceed to the knockout rounds after losses to Australia (2-0) and the United States (1-0). The Super Falcon team that won the African Women's Championship in 2016 and 2018 included Oshoala as a member. In Ghana for the 2018 edition, she scored three goals.
At the 2019 FIFA Women's World Cup in France, Oshoala served as vice-captain for the Super Falcons. She scored in the 75th minute to help Nigeria defeat South Korea 2-0 in the team's second group stage game. Oshoala was honored as the game's MVP. FIFA put her goal up for Tournament Goal of the Year. Nigeria went to the knockout rounds after placing third in Group A. There, they faced the two-time defending champions, Germany, and lost a contentious game 3-0.
Personal Life
Asisat has a daughter, but nobody knows who her father is. In terms of her marital life, Asisat was rumored dating Abu Azeez from the Shooting Stars Football Club. The football player did not, however, confirm or deny the rumors.
Awards & Honors
Rivers Angels
Nigerian Women's Championship: 2014
Nigerian Women's Cup: 2013, 2014
Arsenal
Dalian Quanjian F.C.
Chinese Women's Super League: 2017, 2018
FC Barcelona
Copa de la Reina: 2019–20, 2020–21
Primera División: 2019–20, 2020–21, 2021–22
Supercopa de España Femenina: 2019–20, 2021–22
UEFA Women's Champions League: 2020–21
Nigeria
African Women's Championship: 2014, 2016, 2018
FIFA U-20 Women's World Cup runner-up: 2014
Individual
African Women's Championship Golden Ball: 2014
African Women's Championship Golden Boot: 2016
African Women's Footballer of the Year: 2014, 2016, 2017, 2019, 2022
African Women's Youth Player of the Year: 2014
BBC Women's Footballer of the Year: 2015
Chinese Women's Super League Top scorer: 2017
EaglesTracker Nigeria Women's Most Valuable Player of the Season: 2020–21
FIFA U-20 Women's World Cup Golden Ball: 2014
FIFA U-20 Women's World Cup Golden Boot: 2014
IFFHS CAF Best Woman Player of the Decade 2011–2020
IFFHS CAF Woman Team of the Decade 2011–2020
Primera División Top scorer: 2021–22
Queen of The Pitch Award: 2014
Endearment & Ambassadorial Deals
She is an ambassador for NIKE.
She was selected for Forbes' 30 Under 30 list in 2021.
She was named to FIFA's technical advisory panel on the development and progress of women's football in October 2021. Jill Ellis is the group's leader, and Doreen Nabwire, an African, is also a member.
Influence & Impact
In 2019, Oshoala established the Asisat Oshoala Foundation, which aims to empower female football players in Africa. The organization organizes the Asisat Oshoala Foundation Football4girls competition every year in Lagos.
Net Worth
Asisat announced on social media in April 2020 that she had been named to the Forbes Africa 30 Under 30 list. This information demonstrates her current level of success. According to different online sources, Asisat Oshoala's net worth is estimated at around $5 million.
Social Media Platforms
Asisat Oshoala has active social media platforms. Both her accounts on Twitter and Instagram are verified. She has over 772,000 followers on Instagram, while she has over 308,000 followers on Twitter. You can follow her through the following social media handles.
Instagram: @asisat_oshoala
Twitter: @AsisatOshoala