Mokgadi Caster Semenya known as Caster Semenya is a South African Olympic athlete who is famously known for competing in middle-distance running track and field events.  
She is one of her country's most successful runners and is also on the list of the most famous people. Caster is an award-winning runner as she has won several medals home and abroad.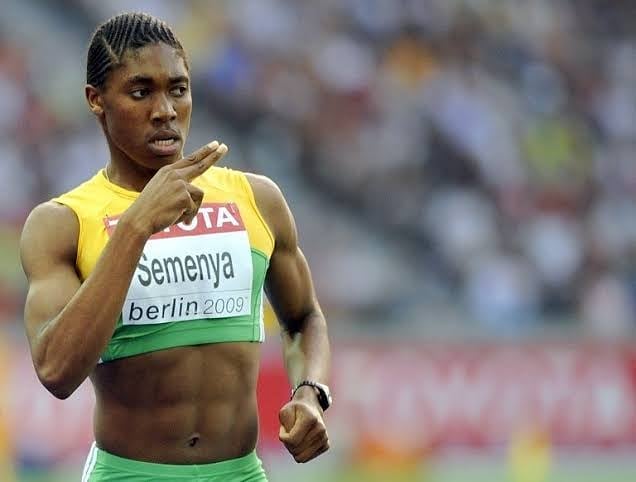 Caster Semenya Biography
Full Name

Mokgadi Caster Semenya

Nick Name

Caster Semenya

Date of Birth

7th of January 1991

Nationality

South Africa

State of Origin

Polokwane

Place of Birth

Ga-Masehlong

Occupation

Athlete

Parents

Dorus (Mother)

Jacob Semenya (Father)

Children

Oratile Semenya

Oarabile Semenya

Net Worth

$113 Million

Social Media Handles

Instagram: castersemenya800m

Twitter: @caster800m

Facebook: Caster Mokgadi Semenya
Early Life and Education
Caster Semenya was born on the 7th of January 1991 to Dorus and Jacob Semenya in Ga-Masehlong, Polokwane, South Africa. As a child, she went to live with her grandmother, Maputhi Sekgala, in the Village of Fairlie, Limpopo, South Africa.
Caster has three sisters and a brother. She attended Nthema Secondary school and usually play soccer at her school. After her graduation from secondary school, she enrolled at the University of North West, where she studied Sports Science.
Career
Caster started her athletic career while in school. She began running as training for association football and in July, she participated in the 2008 World Junior Championships in the 800m but didn't qualify. Later, Caster won gold at the 2008 Commonwealth Youth Games.
In 2009, Caster participated in the African Junior Championships and won both 800m and 1500m. In that race, she broke the 800m senior and junior South African records. Also in August, she won gold in the 800m at the World Championships with a time of 1:55.45 in the final. Again, in this race, she set the fastest time of that year.
In December 2009, Track and Field News voted her as the Number One Women's 800-metre runner of the year. The subsequent year, Caster was denied the chance to compete professionally because the IAAF has not released her results. On the 6th of July, the organization cleared her and she returned to the international competition.
Nine days after she returned to the competition, Caster won two minor races in Finland. On the 22nd of August 2010, she ran the same track as her World Championship victory. Although Caster started slowing she finished strongly, in 2 minutes for the first time since the controversy.
Caster did not compete in the World Junior Championship held in July 2010 but prepared for the Commonwealth Games coming in October of that year. In early September, she improved her season's best record at the Notturna di Milano meeting but her coaches forced her to pull out of the Commonwealth Games she has prepared for because of injury.
During the 2011 Championship, she easily won her semi-final heat and in the finals, she remained in the front until Mariya Savinova sprinted past her, leaving her to finish second. Later in 2017, the Doping Agency banned Savinova from doping and her results got rebuked. The organizers then awarded Caster with the gold medal.
During the 2012 Summer Olympics, Caster volunteered to carry the country's flag during the opening ceremony. Later, she won a silver medal in the women's 800m of the game, with a time of 1:57;23, which was her second best.
Caster came second to Savinova and won the gold in the race, finishing 1.04 seconds before Caster. In November 2015, the World Anti-Doping Agency suggested that Savinova and four other Russian athletes be given a lifetime ban for doping violations at the Olympics.
On 10 February 2017, the Court of Arbitration for Sport (CAS) officially disqualified Savinova's results from July 2010 to August 2013. She was also stripped of all her titles during this time. Five years later, Caster was awarded the win at the 2012 World Championships where she came second and the silver medal from the 2011 World Championships where she had previously finished third.
Dutee Chand, an Indian sprinter, filed an appeal in 2015 appealing the law implementing "gender tests." CAS ruled in Chand's favour, concluding that there was no persuasive scientific proof that these women had an "unfair" performance advantage over others due to their elevated testosterone levels. This resulted in the IAAF policy on a high level of testosterone in women being suspended and Caster and other women were no longer subjected to undergo the test again.
On the 16th of April, Caster became the first person ever to win all three of the 400m, 800m and 1500m titles at the South African National Championships. In July, Caster set a new record again for 800m and on the 20th of August, she also won another gold medal in the 800m at the Rio Olympics.
In the 2017 World Championships held in London, Caster won the bronze medal in the 1500 metres. She also won a gold in the women's 800m at the event. In September 2019, Caster joined the JVW F.C, a South African SAFA Sasol Women's League football club owned by Janine van Wyk.
In 2020, Caster revealed that she had decided to switch her Olympic event from 400m to 200m so that she could comply with the 400m to the one-mile limit. However, for her to qualify for the 200m, you would have to run a qualifying time of 22.80. Earlier in 2019, she had won the 5000m at the South African Champion.
At the 2022 World Athletics Championships in Eugene, Oregon, Caster ran in a 5000m race. The race was her first major international competition since 2017 and she finished almost a minute behind first place in her heat for the semi-finals. However, she didn't make it to the finals.
Controversies
Caster might be one of South Africa's best but she has had a couple of ups and downs in her career. Caster Semenya's rapid advancements on the track in 2009 drew criticism, and her sexual orientation was heavily debated. As a result, she was requested to take a sex verification test by the International Association of Athletics Federations (IAAF) to confirm that she was indeed a female.
Although the test results were never officially released, some of them were leaked to the media. Even previous athletes like Michael Johnson expressed displeasure with the IAAF's handling of the situation. In 2010, Caster Semenya receive a clean bill of health and resume competing in women's events.
Brand Endorsements
Caster was endorsed by Nike and she featured in their adverts which caused a bit stir for supporting athletes. She joined other US athletes such as Serena Williams and Colin Kaepernick, who like her have experienced discrimination of some sort in their careers.
In 2018, she officially became the ambassador of Discovery Vitality with other athletes such as the South African Olympians, Chad le Clos and Wayde van Niekerk amongst others.
Personal Life
Caster Semenya according to The International Amateur Athletic Federation (IAAF) is identified as a DSD or intersex athlete. Although she has a higher testosterone level compared to other women she hasn't come out to confirm that she is an intersex woman.
However, she is married to her long-time girlfriend, Violet Raseboya in an elegant white wedding. The couple's love is the definition of true love as they both care for each other intensely which led to them sealing their love in a beautiful traditional ceremony in Ga-Dikgale, Limpopo, in 2017.
Despite receiving many criticisms as regards their union, the couple announced the arrival of their first daughter, Oratile. In 2021, they welcomed their second child, Oarabile and pictures of their child were spread across their social media platforms.
Documentaries
Caster constantly voices out the injustice of numerous women with differences in sexual development. She does this through public speaking, social media post and TV interview. She has appeared in some film documentaries including;
Too Fast to be a Woman?: The Story of Caster Semenya
Being: Caster Semenya
Birthplace of Dreams
Achievements
Caster Semenya has won many races and gotten many medals. She has participated in national, regional and global records and has performed excellently. In her World Athletics profile, she has her best runs in the 500m, 800m and 1500m races.
Records
800m in the 2009 Africa Junior Championships – 1:56.72
1500m in the 2009 Africa Junior Championships – 4:08.01
800m in 2009's World Championships – 1:55.45
2010 Commonwealth Games 800m – 1:58.16
2012 Summer Olympics – 1:57.23
2016 South African National Championships 400m – 50.74
2016 South African National Championships 800m – 1:58.45
2016 South African National Championships 1500m – 4:10.93
2016 Rio Olympics – 1:55.28
2017 World Championships 800m – 1:55:17
Honours
Olympic champion – 2012/2016 IAAF
World Athlete of the Year nominee – 2016
World champion – 2009, 2011,
World Championships Bronze medallist – 2017
Commonwealth Games winner – 2008, 2018
All-African Games winner – 2018 World (Continental) Cup winner – 2010, 2018
South African National champion (18-time winner)
Track & Field Athlete of the Year 2018
Caster Semenya Net Worth
Caster is one of the most respected South African athletes as she was named among the Time's 100 Most influential people in 2019. The 31-years-old runner has earned money from being a professional runner and has a net worth to be $113 Million.
Social Media Handles
Instagram: castersemenya800m
Twitter: @caster800m
Facebook: Caster Mokgadi Semenya