Simidele Adeife Omonla Adeagbo (born July 29, 1981) is a Nigerian skeleton racer who participated in the 2018 Winter Olympics. She is the first female skeleton athlete from Nigeria and all of Africa. She represented her sport as the first ever black female Olympian. She triumphed in the women's mono bob competition at the German-hosted 2022 EuroCup. She thereby made history by being the first African athlete to triumph in a global sled race. Sinmidele competed in the triple jump prior to the skeleton, with his most recent performance occurring in 2008.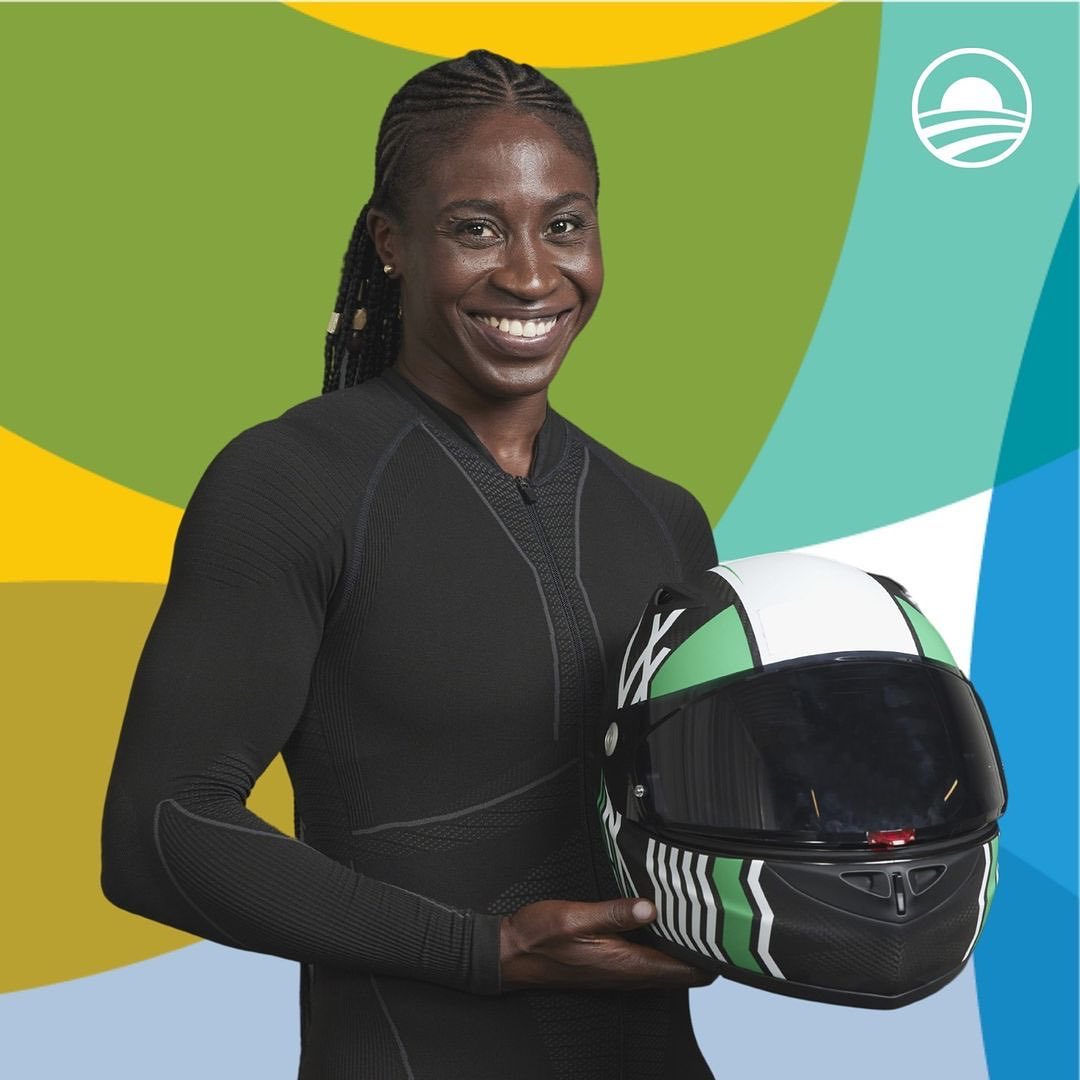 Simidele Adeagbo Biography
Full Name

Simidele Adeife Omonla Adeagbo

Date of Birth

July 29, 1981

Nationality

Canadian-Nigerian

Place of Birth

Toronto, Ontario, Canada

State of Origin

Lagos State, Nigeria

Sports

Track & Field Skeleton

Event(s)

Triple Jump, Skeleton

Net Worth

Unavailable

Social Media Handles

Twitter: @SimiSleighs
Instagram: simisleighs
Early Life and Career
Sinmidele was born on July 29, 1981, in Toronto, Ontario, Canada, to Nigerian parents; but moved back to Nigeria when she was an infant before leaving at age 6. She had a major part of her education in the United States where she attended the University of Kentucky.
Career
Sinmidele who once acted as Serena Williams' Nike body duplicate during a Nike kit unveiling. Since 2012, She has worked for Nike as a marketing manager in South Africa. Adeagbo presented to a packed house on August 18, 2018, as part of the TEDxLagos highlight event at the Muson Centre, along with other notable speakers. She appeared on stage alongside people like award-winning scientist Ade Olufeko, lawyer Supo Shasore, art curator Tokini Peterside, and media personality Banky W.
Sports Career
In high school, Sinmidele began competing in track and field. In June 2008, she stopped competing in track & field. She missed qualifying for the Olympics at the time by 8 inches. She held the University of Kentucky's triple jump record and was a four-time NCAA All-American.
When Sinmidele learned that the Nigeria bobsled team was vying to make the Olympics, she developed an interest in skeletons. She made her first attempt to make that team at tryouts in July 2017, where she was required to compete in a skeleton sled rather than a bobsled. In September 2017, she began skeleton. She received sponsorship for skeleton from her company, Nike.
Sinmidele, the first Nigerian to participate in the Winter Olympics, participated in skeleton as a member of the Nigerian team at the 2018 Winter Olympics. She carried the Nigerian flag during the closing ceremony of the Winter Olympics in 2018.
Personal Life
There is no information concerning her relationship life. It is however known that her lifestyle revolves around sports. Sinmidele has lived in Johannesburg, South Africa, as of December 2017.
Personal Bests
Track and Field
Event
Result
Venue
Date
Outdoor
100 meters
12.05 (wind: +1.7)
Baton Rouge, Louisiana
13 May 2000
100 meters
11.96 (wind: +3.1)
Coral Gables, Florida
17 Mar 2001
Long jump
6.20 m A (wind: +0.9 m/s)
Eugene, Oregon
19 Jun 2004
Long jump
6.36 m A (wind: +4.9 m/s)
Austin, Texas
06 Apr 2001
Triple jump
13.99 m A (wind: +2.0 m/s)
Eugene, OR
27 Jun 2008
Indoor
60 meters
7.59
Lexington
13 Jan 2001
Long jump
6.25 m
Nampa, Idaho
28 Jan 2005
Triple jump
13.40 m
Seattle
28 Jan 2006
Sinmisola Net Worth
Her net worth is unavailable.
Social Media Handles
Twitter: @SimiSleighs
Instagram: simisleighs