Paula Reto is a professional golfer that hails from South Africa. She is one of the most brilliant golf players South Africa has ever had. On the 28th of August 2022, Paula won her first-ever LGPA Tour title at the Ottawa Hunt and Golf club, defeating Nelly Korda of the USA and Choi Hye-Jin of South Korea.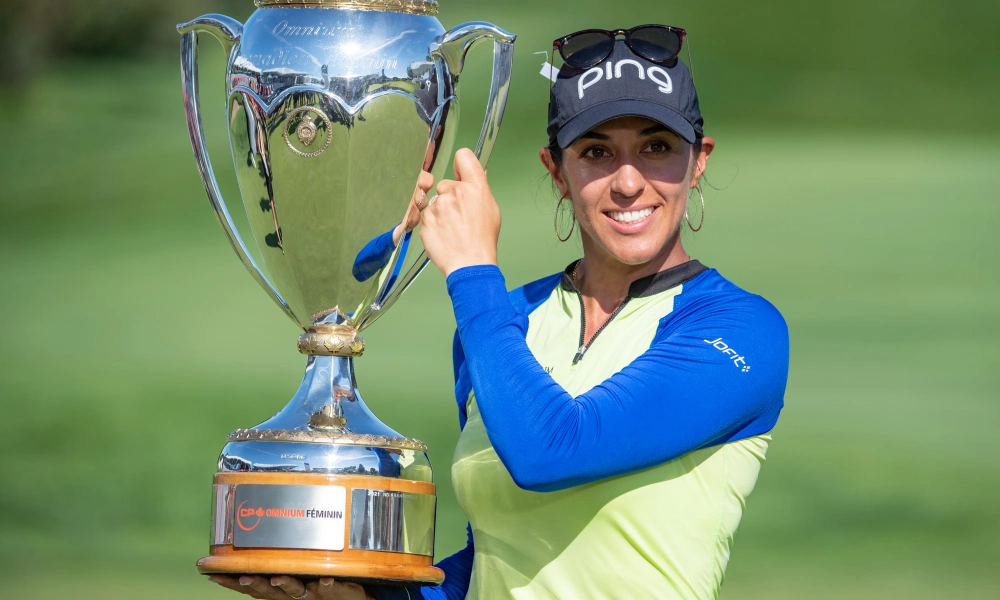 Paula Reto Biography
Date of Birth :
3rd May 1990
Place of Birth :
Cape Town
Birth Country :
South Africa
Early Life
Paula was born on the 3rd of May, 1990 to Belinda and Tony Reto in Cape Town, South Africa. She is one of the four children of her parents and her other siblings are Miguel, Llewellyn and Monique Reto.
Reto is originally from South Africa and belongs to the White African ethnicity. The background of her family is not exposed to the public but her family are fully supportive of her life and career choices.
Personal Life
Currently, Reto is single. She is not dating anyone and much information about her past relationship is unknown to the public.
Career
Paula Reto started her athletic career with field hockey and ran track. She started her golf career at 16. Between the years of 2009 and 2012; she became a member of the women's golf team for the Purdue Boilermakers, which contested and won the NCAA National Championship in 2010.
Reto got selected for the First Team All-Big Ten Conference each year from 2011 to 2013, and in 2013, she got tagged as the best in the First Team All-American. At the 2013 NCAA Championships, she finished in third place and got an award from the Mary Fossum Award in 2013 for having the lowest stroke average in the Big Ten conference. Her performance even won her an award.
In 2013, on her first attempt at LPGA Tour Q-school, Reto was successful and became a professional golfer after qualifying for the tour. For the 2014 season, she ended up in a tie for the 13th position, which was good enough for her to gain full status. Eventually, she ended the 2014 season 77th on the official money list for the LPGA and 7th in the race for the Louise Suggs Rookie of the Year award.
Also, Reto recorded a solo third at the 2014 Yokohama Tire LPGA Classic. After 36 holes, she had a three-shot lead in Prattville, Alabama and shared the lead after 54 holes. She continued to put in her best in her career and in 2019; she became the runner-up at the Firekeepers Casino Hotel Championship, winning by two strokes behind Ssu-Chia Cheng.
At the 2016 Summer Olympics, Reto finished tied 16th and qualified for the 2020 Summer Olympics. However, she eventually withdrew because of the COVID-19 protocol.
Being one of the best, Reto never stopped giving her best. She spiced up her game as she won her first LPGA Tour tournament at the Canadian Women's Open on the 28th of August 2022. This was her maiden LPGA Tour tournament win as she won with a score of 62 in the first round, which is a new record in that competition.
Net Worth and Salary
Paula Reto's current net worth is $1.5 million. She is among the richest Golfer and most popular in her country. She garnered all her wealth mostly from being a successful Golfer.
Reto makes about $200,000 on average per year. Unlike, other professional golfers, her income varies and depends on the number of tournaments she takes part in as well as her finishing position in those competitions.
This 32-year-old golfer also works on other jobs aside from golf and has several business ventures she owns. However, she is yet to hand in a multi-million dollar endorsement deal.
Social Media Handles
Instagram: paularetosa
Twitter: @paularetoSA
Facebook: Paula Reto