Olagundoye James Malcolm, popularly known as Chopstix, is a Nigerian music producer. He was the producer for the GRIP Muzik record label at first, and then, he gained notoriety after the song "Aboki," which he produced while working with Ice Prince, became a success in 2012.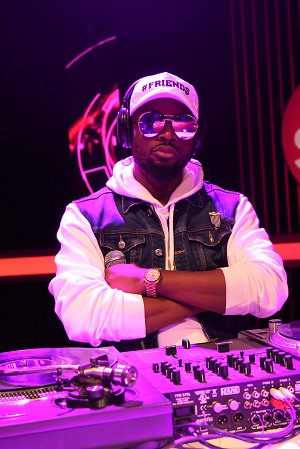 Chopstix Biography
Full Name :
Olagundoye James Malcolm
Date of Birth :
8th of April
Place of Birth :
Plateau State, Nigeria
State of Origin :
Lagos State, Nigeria
Record Label :
GRIP Muzik record label
Social Media Handles :
Instagram: Dchopstix
Twitter: @Dchopstix
Early Life and Education
Chopstix was born on the 8th of April in Jos, Plateau State, Nigeria. He had his primary and secondary school education in Plateau State, Jos. He is also an alumnus of the St. Murumba Secondary School in Jos, where the likes of Peter and Paul Okoye (PSquare) also graduated from. He also graduated from the University of Jos.
Career
Chopstix knew he wanted to be a music producer since he was in high school and worked hard to make it happen. Like many musicians, he began his career in the church. In high school, he played the bass and the piano. Among the best music producers in Nigeria and Africa right now is Chopstix. He started as the producer for GRIP Muzik at first. He gained notoriety after the song "Aboki," which he co-produced with Ice Prince, became a smash in 2012.
Among other artists, Chopstix cites as his influences in the music industry are Timbaland and DJ Premier. He has released the song "Stinking Sh't" with Yung L, Endia, and Ice Prince in advance of a potential debut album.
Personal Life
Chopstix is an individual who keeps his life private. He is not known to be in any relationship.
Discography
Albums
African Giant
Everybody loves Ice Prince.
Fire of Zamani
No Guts, No Glory (Phyno album)
Outside (Burna Boy album)
Rendezvous (playlist)
A Study on Self Worth: Yxng Dxnzl
Selected Songs
Ice Prince – Aboki
Endia – 48
Ice Prince – Thank you (co-produced by MI)
Kahli Abdu – Fear Fear Factor
Victoria Kimani-Oya
Reminisce – Government
Dee Money, Endia & Yung L – Dash Me Da Ting.
Net Worth
The estimate of his net worth is currently unknown.
Social Media Handles
Instagram: Dchopstix
Twitter: @Dchopstix