Pastor David Ibiyeomie is a Nigerian pastor, author, televangelist, and the founder/presiding pastor of Salvation Ministries, with its headquarters located in Port Harcourt, Rivers State, Nigeria. He heads one of the largest churches and congregations in Nigeria and the world at large. Since starting in 1997, the highly regarded pastor's church has expanded quickly, with more than thirty branches spread across the globe.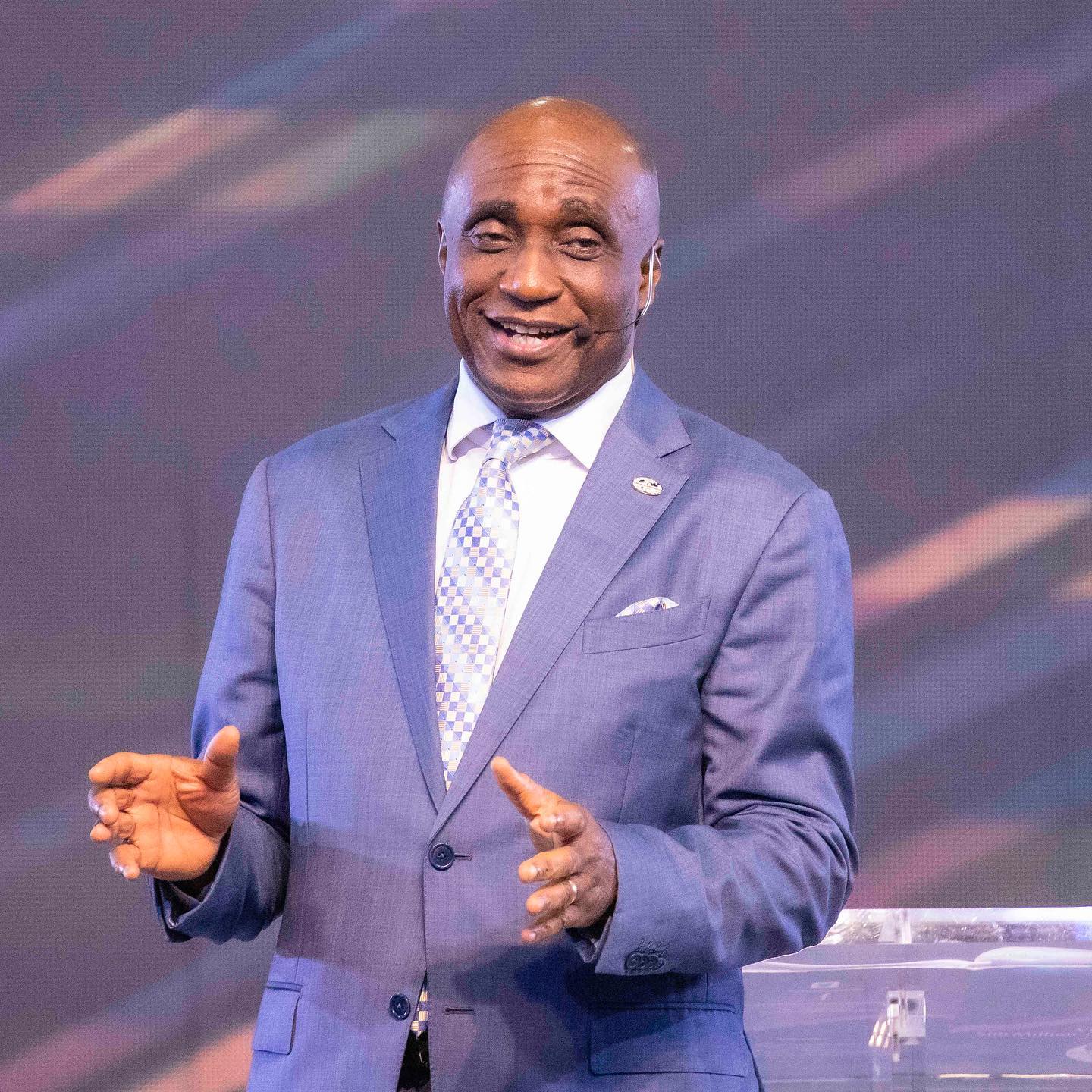 David Ibiyeomie Biography
Full Name

David Ibiyeomie

Date of Birth

21st October 1962

Nationality

Nigerian

Place of Birth

Bonny Island, Rivers State, Nigeria

State of Origin

Rivers State, Nigeria

Occupation

Pastor, Televangelist

Marital Status

Married

Spouse

Peace Ibiyeomie

Net Worth

$41 million

Social Media Handles

Instagram: david_ibiyeomie
Twitter: @DavidIbiyeomie
Early Life and Education
David Ibiyeomie was born on October 21, 1962, in Bonny Island, Rivers State. He is a native of Bolo Town in the Ogu/Bolo Local Government Area of Rivers State, Nigeria. His parents are the late Chief and Mrs Apollos Iganibo. His late father was in the service of the former Shell B.P., an oil exploration company in the Niger Delta.
He had all his schooling in Port Harcourt, where he first attended Banham Primary School Port-Harcourt before he moved to Government Comprehensive Secondary School, Borikiri. In 1980, he got admission to study Microbiology at the Rivers State University of Science and Technology, Port Harcourt. In 1995, he also enrolled full-time in the Word of Faith Bible Institute (WOFBI), a division of David Oyedepo's Ministries. The Bradley University of America gave him an Honorary Doctorate Degree in Divinity on May 15, 2004, in appreciation of his diligence and goal-oriented ministry.
Career
After finishing his education, David accepted Christ as his Saviour and was given the divine instruction by God to build his own church. He enrolled himself in the Word of Faith Bible Institute (WOFBI), the Bible school division of the Living Faith Church, also known as Winners' Chapel, in order to prepare himself for the ministerial journey. Following his graduation from Bible school, he adopted the moniker "Salvation Ministries." After finishing, he asked Bishop David Oyedepo, his spiritual father and mentor, for his approval and blessing before starting the task that God had given him: "To build the Kingdom of God on Earth by infallible proofs."
His spiritual father blessed him and gave him permission to form a home fellowship with his family at 1689B Buraimo Kenku Street in Victoria Island, Lagos. Later, David Ibiyeomie moved to Port Harcourt and on April 13, 1997, at Plot 35, Birabi Street, G.R.A. Phase 1, Port Harcourt, he established Salvation Ministries (Glorious Chapel). Thirty-four people, including himself and his wife, attended the church when it first started, including five men, 10 women, and nine children. The minister cited the presence of his spiritual father, Bishop David Oyedepo, in the Lagos region as one of the factors in moving his church to his home state. After settling in Port Harcourt, the church continued to grow in size as attendees increased, prompting it to relocate again from its site at Plot 35, Birabi, in July 1999, to Plot 17, Birabi Street.
On April 13, 1997, Salvation Ministries formally launched its full-time operations. Today, the ministry has over 100,000 adult regular worshipers in the headquarters alone, making it one of the Nigerian churches that are growing the quickest. Among the biggest auditoriums in the world is the Ministry's Cathedral Site (Hand of God) at Igwuruta, Port Harcourt, Rivers State, with modern, high-tech facilities installed for around N5 billion.
Salvation Ministries Growth
The church's mission is to take the gospel to every nation. The church is believed to have established over 1,000 satellite churches and over 20,000 home cell centres around the world to carry out its mission.
Church Expansion
David Ibiyeomie has been in the ministry for more than 25 years and currently addresses millions of people worldwide. While many people get to see him every Sunday in church, many others listen to him speak online. The church began its seven services on January 26th, 2020, with simultaneous interpretation in both native and foreign languages, including Igbo, Hausa, French, Spanish, Arabic, Portuguese, German, Russian, Chinese, Italian, and Dutch. The church currently employs well over 1,000 pastors (both full-time and part-time), and several missionaries help Pastor David carry out his God-given ministry. The minister also oversees "5 Nights of Glory," an annual event that has become a major world celebration.
In accordance with his divine plan, Pastor David Ibiyeomie broadcasts a television outreach programme called Hour of Salvation on a number of regional channels as well as international ones, including Daystar Television (U.S.A.), KICC (London), GodTV, Inspiration International (U.K.), and BenTV. Among others, they are WJYS (Chicago), MCTV (Chicago), and ACBN.
The church is thought to have gathered a lot of donations, vows, and tithes because thousands of members frequently attend most of its activities. Even the pastor himself admitted in one of his presentations that he once gave $1,000,000 as an offering at a Sunday service. His television ministry is a multi-million naira enterprise that gobbles more than N100 million a year.
In addition to the many church events that the well-known man of God hosts, he also oversees a nondenominational institute where candidates for ministry receive training. The school is comparable to Oyedepo's WOFBI, which he attended at the beginning of his ministry. It is a location where the Bible is taught with the intention of giving Christians the knowledge they need to effectively tackle life's challenges.
Word of Life Bible Institute (WOLBI)
The Basic Certificate Course, Advanced Certificate Course, and Diploma Certificate Course are just three of the three programmes offered by Ibiyeomie's WOLBI, which was initially introduced on December 8th, 1997. The pastor's wife, Peace Ibiyeomie, is credited with the excellent leadership of the institution that has educated thousands of people.
Personal Life
David Ibiyeomie is happily married to Pastor Peace Ibiyeomie. They got married on March 20th, 1996, and they are blessed with a son, David Ibiyeomie Jr.
Private Jets and Cars
The brand-new jet, which was reportedly purchased in 2020, arrived around the time David Ibiyeomie turned 55. The pastor claimed he was overqualified to purchase a plane since he previously gave God a million dollars as an offering at a Sunday sermon while celebrating his new family member.
The apostle's gorgeous mansion has a collection of expensive cars, the kind you would only find with the moguls, in addition to many other opulent objects. Most of the vehicles in his fleet are presents from friends and well-wishers around the world. Ibiyeomie said in October 2021 that Komaiya, the founder of The Master's Place International Church, purchased him 12 cars in a year and extended an offer of a million-dollar wristwatch. Several months prior to his admission, the minister had admitted to giving away 56 cars in a single month. Ibiyeomie's collection of luxury vehicles includes the Rolls-Royce Phantom, Limousine, and Range Rover.
Impact & Influence
He founded Chockhmah International Academy, the primary and secondary education division of Salvation Ministries, because of his love for learning and his pursuit of perfection. The Commission is also currently building the Pace-Setters University.
With the support of God, David Ibiyeomie takes on enormous initiatives like erecting a gigantic cathedral that costs millions of dollars and obtaining more than 200 hectares of land for the university project all at once without receiving any outside assistance, a bank loan, or any financial pressure.
Charity Works
His compassion for people has led him to provide aid to war-torn nations including Liberia, Bayelsa, and Jos as well as flood victims in those regions. Through his humanitarian programmes and scholarship initiatives, he also assists the poor. In 2016, he gave scholarships to 634 students in primary, secondary, and tertiary institutions. Through Salvation Ministries, David Ibiyeomie renovated and donated modern hospital equipment worth over $200k USD to the paediatric section of the University of Port Harcourt Teaching Hospital (UPTH) in Nigeria; doing so created a wonderful environment to hasten the patient's recovery. Ibiyeomie is dedicated to creating a kind and loving society, furnished with dignity and harmony.
In order to improve the quality of life in Port Harcourt, he also renovated the fence at the Central State Primary School in Igwuruta and erected various roadways. In order to allow senior citizens who need some assistance with daily chores and health care to age with dignity, he is currently constructing a home for the aged in Port Harcourt that will be furnished with cutting-edge amenities. For the convenience of the workers and pastors, he created living quarters with modern amenities, including Glorious Court, Success Court, Kings' Court, and Teachers' Quarters.
Controversies
Pastors of David Ibiyeomie's calibre occasionally face controversy. The minister, like many others of his kind, has come under fire for making certain debatable remarks that primarily worry the general population.
Hate Speech Against the Ogoni People
Ibiyeomie is accused of making anti-Ogoni statements in January 2017, which prompted the Movement for the Survival of the Ogoni People to demand an apology from him. It was said that the minister had called the Ogoni people the evilest and nasty tribe in Nigeria on January 16, 2017, during his 5 Nights of Glory Crusade, and that an Ogoni guy could drive someone insane with just N500.
The Movement for the Survival of the Ogoni People (MOSOP), the top Ogoni organisation, responded to the purported charges by describing them as an expression of extreme hatred for the Ogoni people and the motivation behind the crusade's timing when the country is making efforts to build national unity and integration.
Alleged Affair with Iyabo Ojo
Journalist Kemi Omololu-Olunloyo claimed in March 2017 that Ibiyeomie was having a relationship with Nollywood star Iyabo Ojo. Olunloyo was then detained for defamation and had her bail denied. She was nevertheless freed. Ibiyeomie vehemently refutes the charges.
Threat To Kill Daddy Freeze
The Salvation Ministries preacher was exposed in September 2020 for allegedly threatening to kill Daddy Freeze, a radio broadcaster and internet celebrity from Nigeria, because he had criticised Pastor David Oyedepo of Living Faith. Ibiyeomie continuously calls Daddy Freeze a bastard in the video, and he also threatens to kill him and rip him to pieces. Nigerians were divided by the remarks of the two well-known individuals, with many denouncing the minister for his threats.
Comment on the 2023 Election
In one of his sermons at church, Pastor David was seen in one of his sermons where he told his congregations not to vote for people who pee in their pants like babies. He quoted the bible by saying, "Woe betides any nation whose leader is like a baby." Supporters of Asiwaju Bola Ahmed Tinubu expressed their displeasure on social media because they felt the comments of the popular bishop were targeted toward the candidate of the All Progressive Congress (APC).
Publications
Pastor David Ibiyeomie has written a number of publications in addition to his work with the television ministry. With over 55 best-selling books to his credit, he is regarded as one of the foremost authorities on success, excellence, divine health, prosperity, and the holy spirit. His best-selling books include the following:
God's Creative Force
Enjoying Marital Bliss
Keys to the top
The Master key
The Blessed family
God's medicine
Total Dominion
The Profitable Business
The power of praise
The Faithful Father
The Power Of Commitment
The Power Of Obedience
Wisdom For Creativity
The Force Vengeance
Supernatural Abundance
The Totality Of a Man
Positioning for Success
Courage to Posses Your Possession
Business secret
Unveiling the power John 3:1
Wisdom Quotes (vol 1)
Wisdom Quotes (vol 2)
The helper of the helpless
Miracle in Your mouth
The prayer that works
The power of Resurrection
Lasting exploits
Success Pilar's
Releasing Your Destiny
Walking in the Anointing
The Real you
How to fulfil Your destiny
Dealing with Habits
Holy Spirit my helper
Understanding Divine Protection
How to hear from God
Powers in the name of Jesus
The wonders of faith
Recovering your inheritance
Awards & Nominations
IJAW Hero's Lifetime Award of Excellence by the IJAW Youths
He received an international award for condemning Yahoo! Yahoo (Internet Fraud)
Net Worth
The church industry is immensely lucrative, and like many other well-known pastors throughout the world, Pastor David Ibiyeomie has developed a number of strategies to amass a fortune. They consist of giving speeches, writing books, watching network TV, and, of course, giving offerings and tithes. Ibiyeomie is now regarded as one of the top five richest pastors in the world, which has undoubtedly helped him amass a tremendous fortune. He has an estimated net worth of $41 million.
Social Media Handles
Instagram: david_ibiyeomie
Twitter: @DavidIbiyeomie