Folashade Alice Oluwafemiayo is a Nigerian Paralympic athlete and a three-time world champion and gold medalist. She was given a two-year suspension in 2013 during a World Championship in Dubai, United Arab Emirates, where she tested positive for the illegal masking substance furosemide. She lost her gold medal in the 79 kg division of the competition, and her 125 kg world record lift was also nullified. From April 2013 until April 2015, the suspension was in place.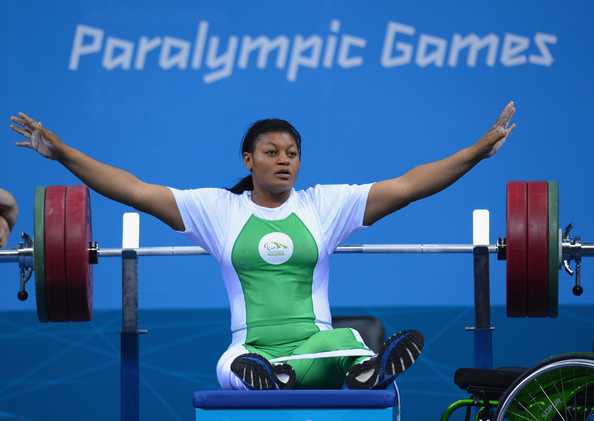 Folashade Oluwafemiayo Biography
Full Name :
Folashade Alice Oluwafemiayo
Date of Birth :
March 11th, 1985
Place of Birth :
Jos, Plateau State, Nigeria
State of Origin :
Southwest, Nigeria
Height :
1.80 m (5 ft 11 in)
Social Media Handles :
Nil
Early Life and Education
Oluwafunmilayo Folashade was born on March 11th, 1985, in Jos, Plateau State, Nigeria. She had a body impairment right from the cradle. Her impairment was a result of the effects of polio. Folashade fell sick and became impaired after being injected in the hospital. Folashade had her primary and secondary school education in Jos before venturing into weightlifting.
Career
Folashade participated in the 2012 Summer Paralympics where she took home a silver medal in the women's 75kg division while also breaking the world record. She won the gold medal in the powerlifting category at the 2017 World Para Powerlifting Championships in Mexico. The Paralympian was, however, barred from the competition a year later for violating anti-doping rules.
Folashade earned the gold medal in her division in the Tbilisi, Georgia, 2021 World Para Powerlifting Championships. As a result of her tenacity, she also achieved a new world record in this competition with 152.5 kg and was also awarded a gold medal at the 2022 Commonwealth Games in Bringham, London.
Personal Life
Folashade is married to a male Paralympian. The marriage is blessed with a child.
Medal Record
Paralympic Games
Gold medal – first place, 2020 Tokyo, 86 kg
Silver medal – second place 2012 London, 75 kg
World Championships
Gold medal – first place, 2017 Mexico City, 86 kg
Gold medal – first place, 2019 Nur-Sultan, 86 kg
Gold medal – first place, 2021 Tbilisi, 86 kg
Net Worth
Her net worth is currently unavailable.
Social Media Handles
Her social media handles would be available upon verification.